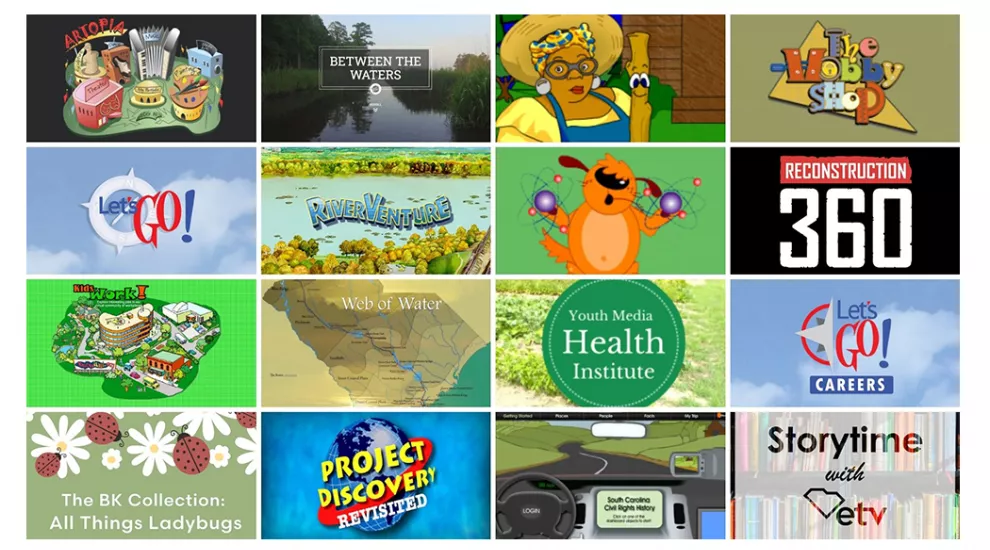 Has the summer heat sapped your energy? But it just doesn't feel like summer unless you head out and explore a few places you've never been?
Then sit back, relax, and take a plunge into KnowItAll! You can visit places throughout South Carolina—and beyond!
Our Series and Collections make it easy to find the summer explorations that interest YOU—right here on KnowItAll.org!
Our virtual tours, interactives and 360 videos are great for enlightening you on many subjects—and keeping your brain engaged while your body takes a well-deserved time out! And you still get to see lots of places without leaving the comfort of your favorite chair!
But first, we want to be sure you know about this content recently added to KnowItAll.org!
NEW ON KNOWITALL.ORG
From NETA
Beads, Baubles and Jewels (NETA)
Join us for season 2800 of, "The Elements of Jewelry Making". We're taking an in depth look with longer projects so that we can explore each element in greater detail. Our elements include, water, fabric, shapes and even the unexpected. Leading designers will take you every step of the way to incorporating every element into your contemporary jewelry making with Beads, Baubles and Jewels.
EXPIRES: 1/22/2023
Focusing The Universe (NETA)
Focusing the Universe tells part of the story of modern astronomy by detailing the development of Steward Observatory. From stars observed through one telescope in Tucson, to the construction of the largest telescope mirrors for the largest earth-based telescope, to precision cameras launched into space to search for the origins of the big bang, astronomers linked to Steward Observatory have made significant world-wide contributions to the exploration of the universe. The program features two timely and relevant astronomical developments; the launch of the James Webb Space telescope (designed to search for the origins of the Big Bang) set for launch March 30, 2021 and the creation of mirrors for the Giant Magellan telescope (set to be the largest terrestrial telescope when it gathers first light in 2021).
EXPIRES: 1/8/2022
Game On: Women Can Coach (NETA)
While there has been an explosion of women participating in athletics since Title IX, only about 40% of them are currently coached by women. When Title IX was enacted that number was 90%. Game On: Women Can Coach explores why women coaches matter and celebrates some women pioneers including four time national champion Head Coach and General Manager of the WNBA's Minnesota Lynx, Cheryl Reeve and the World Cup winning Head Coach of the USA Women's Soccer team, Jill Ellis. It also explores the barriers women face, the research by leading academics into the shocking statistic and dispels false narratives about women coaching.
EXPIRES: 11/15/2021
Into the Outdoors (NETA)
Creating pathways to environmental awareness and outdoor lifestyles that empower our next generation to become sustainable stewards of Planet Earth. 
EXPIRES: 6/2/2023
From SCETV
From small towns to southern icons, learn about South Carolina with these 60 second videos.
Let's Go! - Two new videos have been added to tours currently in development:
Booker T. Washington High School and Florence C. Benson Elementary Overview
In case you missed these previously –
Be sure to view this series now - and all through the summer!
View this enjoyable series and share it with your family and friends!
This online series promotes the love of reading and literary stories connected to South Carolina. In this series, Friends of ETV share and read literary favorites, many of which are connected to South Carolina. Packages include the reading and at least one supplemental teaching and learning activity.
And try out our...
Lesson Plans
And now to those summer explorations…
There are so many areas of interest – just scroll through our Series and Collections, pick a place or a topic that appeals to you, and dive in! Then do it again…and again!
Our Series take you to destinations all over South Carolina and beyond!
Our Collections make it easy to continue your travels – while focusing on topics that interest you!
The SCETV American Graduate Youth Media Institute focused on health and community engagement. Students used their video and reporting skills to create short documentaries on healthy food, farms and gardens. By focusing on sustainable food production and nutrition, the Youth Media Institute helped students make the connection between a healthy lifestyle and their own educations.
SCETV's immersive transmedia website showcasing the culture and history of Hobcaw Barony, a 16,000 acre historic site on the coast of South Carolina. Located between Charleston and Myrtle Beach, Hobcaw is a crossroads representing every era of human history, providing a lens through which many threads of the nation's story may be examined. Visitors to the Between the Waters website take a self-directed virtual tour of Hobcaw Barony, moving down the roads and rice canals, entering slave dwellings and grand houses, watching videos, examining photographs, and listening to historians and the first-person stories of former residents and relatives.
Our great state is known for many wonderful places, rich cultural traditions, beautiful and unique flora and fauna, and the source of a variety of products found nowhere else in the nation. This Carolina Stories special takes a lighthearted look at favorite places and homegrown things, spanning the alphabet to showcase all that South Carolina has to offer.
Series of stories gathered from around the state of South Carolina. From the mountains to the sea, South Carolina has so much to offer residents and visitors alike. ETV Shorts spotlights the beautiful state of South Carolina and highlights some amazing people.
The series explores science and integrates technology, while focusing on various careers. The videos are less than 10 minutes and are filmed through the eyes of the cameraman, D.V.
Virtual reality tours of some of South Carolina's most interesting historical sites on your desktop computer or the Matterport App. Each tour includes an overview video and photo gallery.
The history of the Lexington County Courthouse is told over its first 200 years. 
We could do a million stories on the beauty of this state. From the rolling mountains of the Upstate to the beautiful seas of the Lowcountry. Our state is truly unique, but what really makes South Carolina sweet is its amazing people. This series features stories of everyday South Carolinians living, working and experiencing all that the Palmetto State has to offer.  The series is a part of PBS Digital Studios. 
Created using the dramatizations produced as part of The Palmetto Special series. Events, people and places that shaped our state's history are shared through updated introduction segments with two young-adult hosts interwoven with re-purposed dramatizations that tell many of South Carolina's important stories. Produced by South Carolina Department of Education and ETV, these can be used as a resource in the study of South Carolina history on middle and high school grade levels. 
Video vignettes that characterize the natural, cultural, and agricultural landscapes of the Pee Dee region of South Carolina. Pee Dee Explorer is divided into chapters that provide various contexts for telling the story of the region. Each chapter contains a collection of video stories and accompanying text, based on well-known and "off the beaten path" landmarks found in the Pee Dee.
Edited versions from the popular live, interactive Project Discovery series. The condensed programs are hosted by students and feature the best on-site segments from the original program.
Designed to help teachers and students to learn about the people and the events, and the importance of the civil rights movement in South Carolina from the 1940s to the early 1970s.
Series that explored the architectural and cultural heritage of South Carolina's small towns and countryside. Host Joanna Angle explores historic houses, public buildings, and country stores, and talks with local artists, painters, sculptors, weavers, writers, storytellers, and musicians.
Rivers touch some aspect of our lives every day, quietly serving a need for drinking water, farming, power, industry and recreation. Educator Ian Sanchez kayaked from the mountains to the sea, making connections between our cultural and natural landscapes, and providing an inspiring look at his special brand of outreach and environmental education. Follow along and gain insight into how rivers, landforms and landscapes of South Carolina shape who we are, where we live and why we live there...
Enjoying your travels?
Topics include:
For more stories about South Carolina, its people and places, take a look at one of our perennial favorites - 
The Carolina Stories series highlights the rich cultural and historical landscape that is South Carolina. From the Upstate to the Lowcountry, the stories are as geographically diverse as their subject matter.
And now to our Interactives!
Try out our 3D Virtual Reality (VR) tours from Let's Go! These VR experiences were shot with a Matterport Pro 3D Camera. Experience the VRs using your preferred device (mobile or desktop) or use the apps with either Google Cardboard or Samsung Gear VR.
Tell your friends...
Be sure to visit our Knowitall Factoids at the beginning of each month to view the DATES FOR YOUR CALENDAR AND KNOWITALL RESOURCES! The July events are listed here!
*** Please note: The ETV Education newsletter will be sent on the first Monday of the month beginning with the August 2021 issue. This summer we will work to enhance our Holidays and Observances Collection and Knowitall Factoid Series. These real-time resources will be helpful for planning teacher lessons, classroom celebrations, family discussions, and more at any point during the year. ***
TO GET THE MOST OUT OF KNOWITALL, EXPLORE THESE AREAS!
Knowitall.org features over 9,000 mobile-friendly videos, worksheets, and interactives for preK-12.
Find topical content and lessons grouped together for your convenience.
Lesson plans for teachers that meet South Carolina standards.
Find featured content and helpful information on using KnowItAll throughout the month!
Find new content recently added. Visit often, so you won't miss a thing!
We welcome your questions and comments! We would love to hear from you!