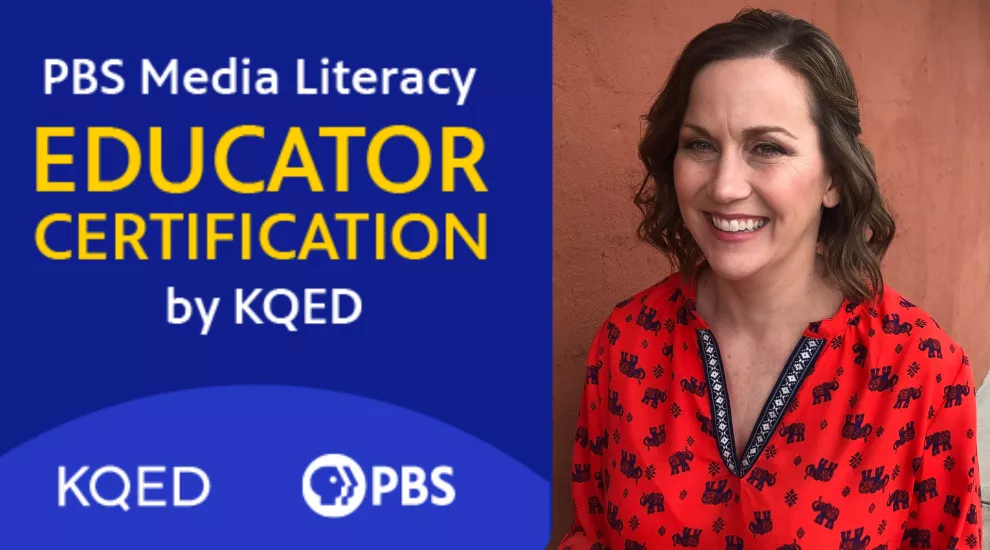 Congratulations to Tamara Cox, South Carolina's first educator to earn the PBS Media Literacy Educator Certification by KQED!
Educators are awarded the PBS certification by earning eight free micro-credentials that together demonstrate mastery with:
evaluating, creating, and sharing media effectively to support their own learning
designing and implementing instruction and assessing student learning of these same skills.
Ms. Cox, a librarian at Wren High School of Anderson School District One, is the leader of ETV Education's current media literacy cohort pilot. With recent honors that include being named a 2020 Library Journal Mover & Shaker and a 2020 SC Teacher of the Year Honor Roll educator, it's no surprise she's become the first SC educator to earn the PBS certification. Clearly, she's a leader in the field, further evidenced by her upcoming role as President-elect of the SC Association of School Librarians.
Marie Girolamo, a Library Media Specialist with Horry County Schools and a participant in ETV's media literacy pilot, notes, "Tamara deserves this recognition. She is so knowledgeable about media literacy, helping and supporting me along my own journey. Go Tamara!". Another pilot participant, Lekena Ackerman, Social Studies Department Chair at Richland School District One, shares, "Tamara has been amazing throughout this process! Wren HS is so blessed to have her in their number!".
Benefits to becoming a PBS Certified Media Literacy Educator include the possibilities of collaborating on conference presentations and/or delivering professional development sessions with or on behalf of ETV, KQED, and PBS. Educators, and their students' work, might also be featured via ETV's various social media platforms, blog, YouTube channel, Carolina Classrooms show, and more.
ETV Education is committed to helping teachers and students develop their media literacy and we look forward to helping other educators earn their certification too. Our current media literacy cohort pilot will help us learn ways to do just that.
You don't have to wait for a cohort group to get started though; KQED offers free courses to help you start learning the principles and skills involved. If you think you've 'got the goods' already, you don't even need to take a course; simply submit the required samples and information for micro-credential review. If you satisfy the requirements, you earn the credential!
There are lots of great ways students and educators can show off their skills too, like participating in these projects:
PBS American Portrait
This is a national storytelling project that asks people all over the country to submit their stories by responding to thought provoking prompts. Find related lesson plans and more on SCETV's PBS LearningMedia platform.
 
Youth Media Challenges
Youth Media Challenges are standards-aligned media making projects designed to get your students writing, producing and sharing media with peers from around the country — and, in some cases, on public media stations. The five current challenges, including Engineering for Good and If Schools Could Dance, range across multiple content areas and each come with ready-to-use curricular supports.
With the media literacy certification and its free resources, we can help our students learn to navigate the world of media and meaningfully contribute to it beyond the latest TikTok challenge, as fun as that may be.