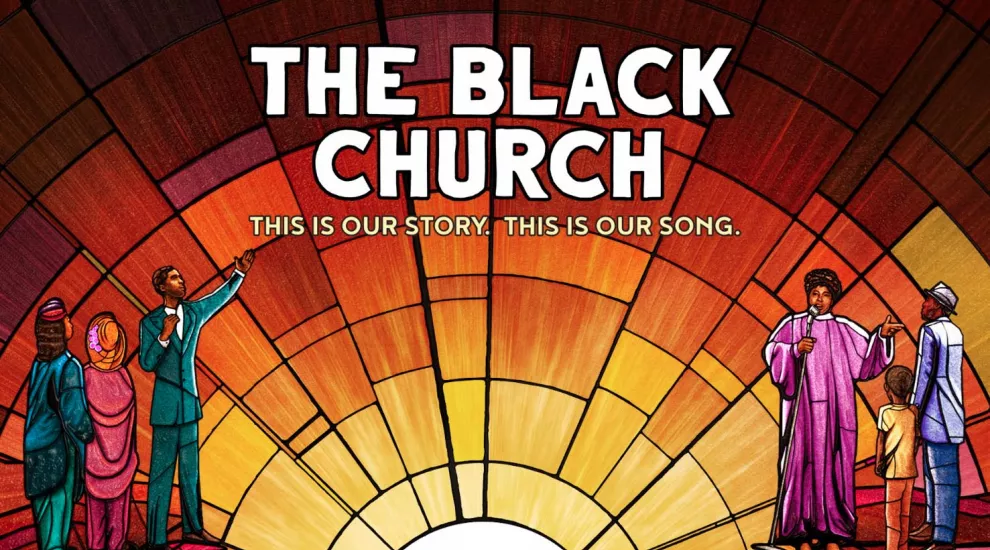 To view the full TV schedule, visit scetv.org/tv-schedule. Use the TV schedule to search for upcoming programs, air times and short descriptions.
The program highlights are subject to change. Check the schedule at scetv.org/tv-schedule or on the SCETV app to confirm program times.
*Denotes New Program/Episode
Watch SCETV Live at our website. Visit scetv.org and click "Watch" on the bar at the top of the page, and then "SCETV Live."
PBS KIDS
How to watch
Our main channel, SCETV
SCETV PBS KIDS (our .4 channel with antenna), running 24/7 for your children or students
Stream online at scetv.org/kids
Apps: SCETV app in the KIDS tab or PBS KIDS Video app
Pinkalicious & Peterrific: Cupid Calls It Quits - Premieres February 8.
In the new, one-hour special, it's Valentine's Day in Pinkville and Pinkalicious can't wait to make valentines for her class party. But when she befriends the Cupid, he offers her a trade that turns her plans upside-down! Tune in for this special event to see how Pinkalicious and Peter save Valentine's Day for all of Pinkville.
Xavier Riddle and the Secret Museum – New episodes February 1-2
Clifford the Big Red Dog – A new Valentine's Day episode and a week full of new episodes!
Clifford's Valentine Collection/Ready, Set, Vet!
Plus, tune in for a week of all new episodes of Clifford beginning February 15.
Local/National Programming
2/04     8:30 p.m.        Carolina Stories: Jail No Bail
This 30-minute long broadcast pays tribute to the 50th anniversary of the sit-in that introduced a new protest strategy and turned the tables on the establishment, while at the same time reinvigorating the Civil Rights movement nationally. The program also honors the Friendship Nine and the bold stand the men took in the face of extreme injustice.
2/04     10:30 p.m.      Carolina Stories: The Education of Harvey Gantt
In 1960, a talented African-American student from Charleston, Harvey Gantt, graduated from high school and decided to become an architect. Clemson College was the only school in South Carolina that offered a degree in his chosen field. In January of 1963, with the help of NAACP lawyer Matthew J. Perry, Gantt won a lawsuit against Clemson and was peacefully admitted to the college.
2/11     8:30 p.m.        Reel South: UnMarked
Much of America's rich history is being lost to time. In the South, vast amounts of African-American gravesites and burial grounds for enslaved persons have been disappearing over the years. In Virginia alone, stories of thousands at rest could vanish from history altogether if these locations are not restored. Those with personal connections to these burial sites have recently begun to uncover and maintain locations across the state. However, there is much work to be done in order to preserve this part of America's history. Unmarked not only explores these untold stories of the past but also the efforts underway to preserve them.
2/18     8:30 p.m.        Carolina Stories: Born to Rebel, Driven to Excel
In this film biography of South Carolinian Dr. Benjamin Mays, Andrew Young says it this way: "If there hadn't been a Benjamin Mays, there wouldn't have been a Martin Luther King, Jr." The legacy of this South Carolina native is explored in the film, Born to Rebel, Driven to Excel from South Carolina ETV.
2/25     7:30 p.m.        Carolina Classrooms: Education Equity*
Internet access, representation, racial inequities, and socioeconomic factors determine what students learn and their sense of belonging in the community. This episode of Carolina Classrooms will focus on issues affecting education equity in South Carolina.
Friday Night Programming
2/5       9 p.m.             In Concert At the Hollywood Bowl: Gustavo and Friends*
Watch a few of Gustavo Dudamel's favorite performances from throughout the years: "Swan Lake" with American Ballet Theatre principal dancer Misty Copeland, Dvorak's Cello Concerto with Pablo Ferrandez and the finale to Beethoven's Ninth Symphony.
2/5       10 p.m.           In Concert At the Hollywood Bowl: Fireworks!*
Bring home the fireworks with Katy Perry, Pink Martini and flamenco singer Diego El Cigala. Dudamel leads the LA Phil in Igor Stravinsky's "The Firebird" and John Williams conducts the orchestra in his iconic music from "Star Wars."
2/12     9 p.m.             In Concert At the Hollywood Bowl: Musica Sin Fronters (Music Without Borders)*
Vin Scully narrates "Lincoln Portrait" with Gustavo Dudamel and the LA Phil. Carlos Vives sings "La Tierra de Olvido" "La Gota Fria" while Cafe Tacvba performs "El Baile y El Salon." Siudy Garrido dances flamenco to Manuel de Falla's "El Amor Brujo."
2/12     10 p.m.           Lidia Celebrates America: A Salute to the First Responders
Join Chef Lidia Bastianich on a trip across the country to visit those serving on the front lines. From coast to coast, Lidia follows dedicated first responders, military and medical workers, and sees the prominent role food plays in their lives.
2/19     9 p.m.             Driving While Black: Race, Space and Mobility in America
Discover how the advent of the automobile brought new freedoms and new perils for African Americans on the road in this deep look into the dynamics of race, space and mobility in America over time.
New series
2/13     6 p.m.             Ultimate Guide to Fly Fishing (Series Premiere) Sat. at 6 p.m. on SCC.
Episode one - Basics of Fly Fishing: In this introductory episode host Tom Rosenbauer teaches the essentials of fly fishing. From the origins of fly fishing to how inexpensive it is to get started, this fascinating video will help you to understand more about fly fishing. Includes basics of casting and knot tying.
2/15     7 p.m.             Bare Feet with Mickela Mallozzi  (Mondays at 7 p.m. on SCETV)
In season four, Mickela kicks off the Carnival celebrations in The Guadeloupe Islands with food, parades, and dancing! She learns the rhythms of Gwo-Ka, the soul of the islands, and witnesses the powerful marches honoring its ancestors with Mas Ka Kle!
More shows to check out from PBS
Please note these revised dates and times:
NOVA | Beyond the Elements "Life" airs Feb. 17 from 8:00-9:00 p.m.
Europe's New Wild "The Land of the Snow and Ice" will air on Wednesday, March 17, 10:00-11:00 p.m.
2/02     8 p.m.             Finding Your Roots continues (weekly)*
2/03     9 p.m.             Beyond the Elements on Nova weekly* 3 episodes
2/03     10 p.m.           Europe's New World weekly*  4 episodes
2/04     9 p.m.             Jazz: A Film by Ken Burns - continues (weekly)
2/07     6 p.m.             Victoria Season 3 continues – check start time on 2/21
2/07     7 p.m.             Poldark Season 5 continues – check start time on 2/21
2/07     8 p.m.             Miss Scarlett and the Duke on Masterpiece continues weekly*
2/07     9 p.m.             All Creatures Great and Small continues weekly*
2/07     10 p.m.           Long Song on Masterpiece continues weekly*
2/08     9 p.m.             American Experience: Goin Back to T-Town*
2/14     5 p.m.             Amen: Music of the Black Church*
2/15     9 p.m.             American Experience: Voice of Freedom*
2/16     9 p.m.             The Black Church: This is Our Story, This is Our Song  pt. 1
2/17     8 p.m.             NOVA | Beyond the Elements "Life"
2/17     9 p.m.             The Black Church: This is Our Story, This is Our Song  pt. 2
2/23     9 p.m.             The Black Church: This Is Our Story, This Is Our Song, pt. 2  (encore)
2/25     8:30 p.m.        America's Forest with Chuck Leavell pt. 3-  Heir Property
South Carolina Channel (SCC)
CREATE Weekly Showcase         
**Saturdays        10 a.m. – 3 p.m.
    Sundays         12 p.m. – 5 p.m.
February 6/7                   Marcus' Food Tour
Binge on back-to-back episodes of No Passport Required as chef Marcus Samuelsson visits Miami, Washington, D.C., Boston, Houston and Queens for a taste of each location's culture and community.
February 13/14              Let the Good Times Roll
Add a little New Orleans flavor to your Mardi Gras celebrations with back-to-back episodes from three Kevin Belton's cooking series. From shrimp Po-boys to a complete gumbo fest, it's time to "Laissez les bon temps rouler!"
February 20/21              Milk Street
Christopher Kimball and the Milk Street Kitchen test cooks deliver international inspiration while adding a little kick, and convenience, to everyday American cooking. The menu includes: Middle Eastern delights, French desserts, Italian-inspired recipes, classic (and contemporary) Mexican meals and more!
ETV World
Black History Month
2/1       1:30 p.m.        Redeeming Uncle Tom: The Josiah Henson Story
2/8       1:30 p.m.        Historymakers On… (Series Premiere)
2/17     12 a.m.            Black Church: This Is Our Story, This Is Our Song – Episode 1 (NEW)
2/21     12 p.m.           George Washington Carver: An Uncommon Life
2/22     6 a.m.              Evening with Ossie Davis & Ruby Dee
              7 a.m.             Conversation with Henry Louis Gates Jr. (NEW)
2/24    12 a.m.            Black Church: This Is Our Story, This Is Our Song – Episode 2 (NEW)
            6 a.m.              Amen! Music of the Black Church (NEW)
            7 a.m.              Evening with Franklin Thomas
Other Programming
2/4       2:30 p.m.        Second Opinion with Joan Lunden (Season Premiere – New Host/Title)
2/13     7:30 a.m.        Me & My Robot (NEW)
2/14     7 a.m.              Great White Shark: New Perspectives on an Ancient Predator (NEW)
            12 p.m.           Pullman: America's Hotel On Wheels (NEW)
            3 p.m.             Connected: A Search for Unity (Series Premiere)
2/15     7:30 a.m.        Bloodline (NEW)
2/16     8 a.m.              Community First: A Home for the Homeless (NEW)
2/20     7 a.m.              To the Ends of the Earth: The Natural World - Pushing Boundaries (NEW)
2/23     7:30 a.m.        Opioids and First Responders: Answering The Call (NEW)
             8 a.m.             Prescription for Peace of Mind: An Option for the Terminally Ill (NEW)