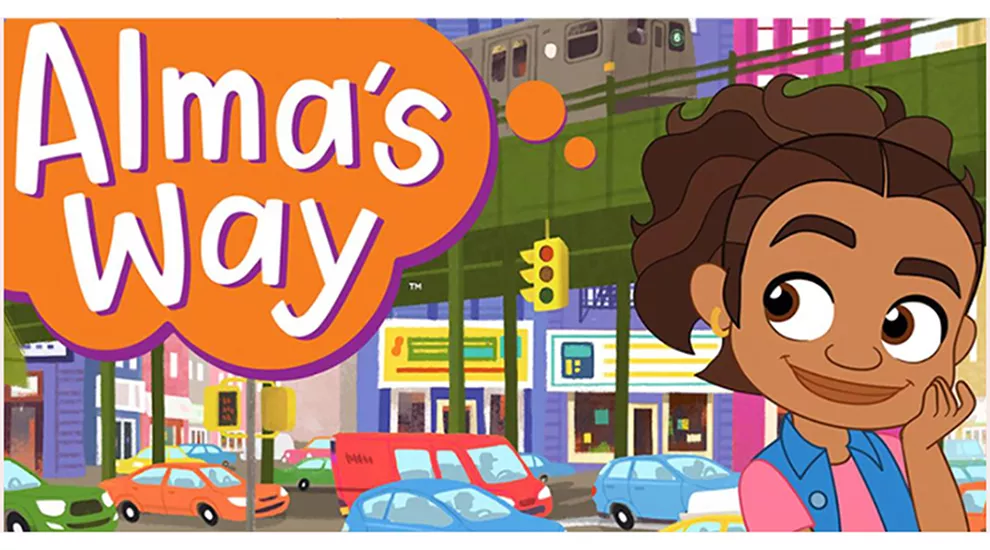 October is bringing cooler temperatures and we've got some cool things for you and the young students in your life too: a great NEW kids' series, an opportunity to celebrate PBS KIDS character Arthur's birthday with us, health and safety resources, and more – including Halloween resources too, of course!

Alma's Way is a show targeted to children ages 3-6 that focuses on diversity, critical thinking, agency, and social emotional learning. Alma is a curious 6-year-old Puerto Rican girl from the Bronx who in each episode, shares her observations and feelings. She works through challenges by using "Think-Through" moments to stop, listen, and process. If you are an educator who would like for your class to participate in a virtual screening for Alma's Way, please contact ETV's Early Learning and Literacy Coordinator, Ms. Bre Wilson. The show premieres October 4, 2021, however we will be hosting virtual screenings all month long!
Another great opportunity for fun and engagement with us this month is to join us in celebrating Arthur's 25th birthday. Arthur Read, our beloved PBS KIDS aardvark, is turning 25 this October! Can you believe it? Many of us grew up watching Arthur before or after school, and we now have students and children doing the same! SCETV will be celebrating Arthur's quarter-century birthday all October long! Contact Ms. Wilson for information on how your students can be a part of the celebrations!
Ready for turkey legs, the ferris wheel, and a candy apple? Meet us at the rocket! Yes, the South Carolina State Fair is back in-person this year, from October 13–24, 2021. Ok, so we won't exactly be at the rocket, but please do come visit us near the petting zoo on ETV Day at the Fair, October 19, from 10:30 a.m. – 9:30 p.m. We will have lots of goodies for your class or family! 
Before we get to all the excitement of Halloween, let's pause a minute and focus on health matters. October is Health Literacy Month after all, a time to recognize the importance of making health information easy to understand. Smart Cat, SCETV's original character, is known for reminding SC's children to eat healthy and exercise. Visit Smart Cat's webpage for videos and activities related to all aspects of health! Also, explore and download this handy calendar with great activity ideas for living healthy with the child/children in your life. Also, explore and download this handy calendar with great activity ideas for living healthy with the child/children in your life. 
October also features Fire Prevention Week, October 3-9, 2021. We urge you to honor the week and make a point to review fire safety with your children/students. Our "Meet the Helpers" series can help; it offers videos explaining to children who the helpers are in their communities, including firefighters, and who to call in case of certain emergencies. On our KnowItAll.org website, we also offer related documents including a fire safety tip sheet and a document to help you draw your emergency escape plan. Visit the National Fire Protection Association website for more safety information, including for those who are deaf or hard-of-hearing. 
Ready to talk Halloween? Wait, have your students submitted their report yet for our literacy contest? We pushed back the due date to October 22, 2021, so there's still time! Written, video or creative format reports are all fine so your children can really have fun with this in whatever mode they prefer. This would make a great activity to honor National Book Month which is held each October and focuses on the importance of reading, writing, and literature. We look forward to receiving submissions from the students in your life!
Ok, let's talk Halloween now! Got your costume lined up? While it is a day of fun and games, please remind the little ones in your life of safety measures to be taken. Smart Cat also urges them not to eat TOO much candy! This is a great time to share this KnowItAll.org 'A Trip to the Dentist' lesson with them; it describes the relationship between excessive sugar consumption and obesity, diabetes and tooth decay. Why do we love sugar so much anyway? This PBS LearningMedia video for Grades: 3-8 offers the answer. Share this fun one for Grades K-2 about the disguises of sugar.
Check out the PBS LearningMedia Halloween Collection too. It features fun, new ways to incorporate learning into your Halloween activities, scare-free videos, and more for grades PreK-5. PBS KIDS will also be airing some special and spooky episodes from October 18–31, 2021. There are new Halloween-themed episodes from Hero Elementary (October 11) and Clifford the Big Red Dog (October 18). One-hour Halloween specials include: The Cat in the Hat Knows a Lot About Halloween; Curious George: A Halloween Boo Fest; Wild Kratts: Creepy Creatures; and Arthur and the Haunted Tree House. We hope you enjoy each of these special episodes!
Finally, please note that World Teachers' Day is October 5, 2021. If you're an educator, please know that we salute you! Here's a fun activity from PBS KIDS to help your students or children make cards for their teachers to let them know how special they are!
As you can see, October is a jam-packed month for our early learners! Please feel free to send us pictures and videos of your October celebrations! We love to see you incorporate SCETV and PBS KIDS in your classrooms, homes, and daily lives! For more information about any of our initiatives, please contact Ms. Bre Wilson.