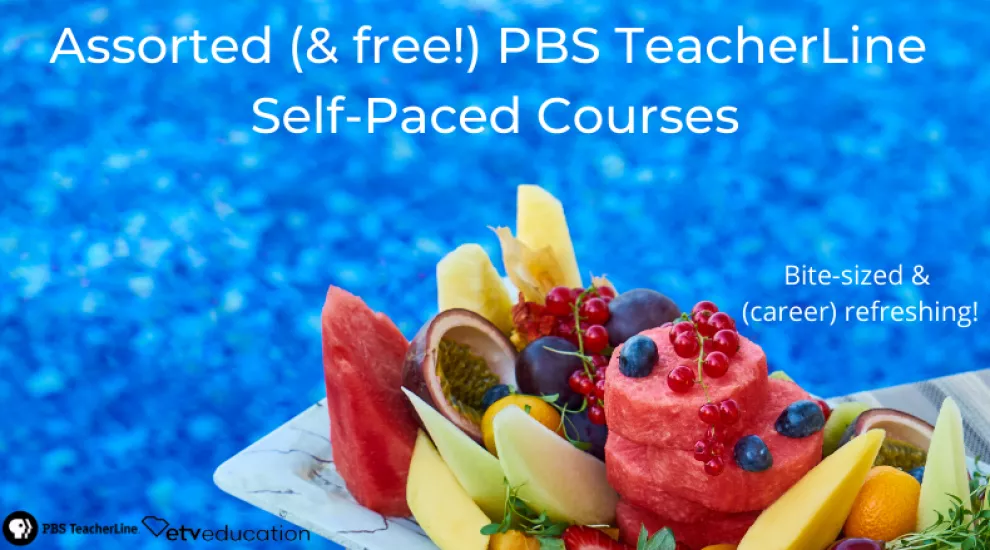 Take your pick and refresh yourself!
PBS TeacherLine 'bite-sized' self-paced courses are perfect for gaining new teaching ideas and inspiration. Even cooler - they're all FREE!
Sample self-paced courses offered include:
SAEL1001: Challenging Behaviors in Early Childhood
SAEL1003: Engaging with Families and Communities to Support Social-Emotional Learning
RDLA1202: Engaging Young Learners with Informational Text: A Multimedia Approach with MOLLY OF DENALI™
TECH1205: Approaches to Digital Assessment in Your Classroom
TECH1215: Integrating Technology into Project Based Learning
TECH1221: Digital Storytelling: Online Tools for Sharing Student Voices
INST1201: Thinking and Making with Media in PreK-2 Classrooms
LEAD1103: Positive Behavior in Schools III: Bullying Prevention
LEAD1141: GED® Test Info: Mathematics
LEAD1165: Demonstrating Formative Assessment in the Science Classroom: Using the FARROP to Inform Practice
LEAD1171: Classroom Video Production
SCIE1309: K-2 Science Tips: Energy & Motion
View them all at www.teacherlinesoutheast.org/SelfPaced.htm.
In each course, you can explore course content, watch videos, complete interactive labs, and take self-assessments at your own pace for up to one year after enrolling.
Try a 'bite', and start the new school-year energized!
* Check with your school/district for any possible credit acceptance.
For pre-approved courses offering renewal or graduate credit, view the PBS TeacherLine facilitated courses.
New to TeacherLine? View our FAQs or contact us at teacherline@scetv.org or 800-277-0829.