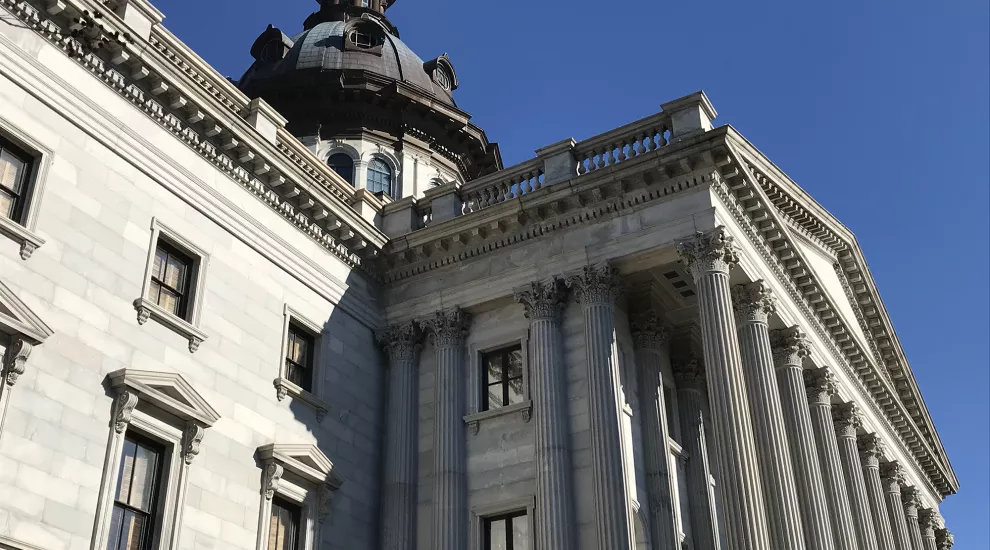 State House Daybook provides you with the information you need to navigate the South Carolina General Assembly. Each edition provides a snapshot of the legislative day with meeting schedules, agendas, news and other resources in one place.
Follow reporter Gavin Jackson's Twitter for the latest legislative coverage.
LEGISLATIVE COVERAGE
Summary
On Thursday the House amended and gave second reading to a bill that would increase penalties for soliciting a prostitute, S. 194 by a vote of 113-0. Current law treats the prostitute and the person soliciting a prostitute as the same, this bill increases the fines on the person who solicits a prostitute. Rep. Jonathon Hill (R-Townville) asked if the bill would apply to members of the General Assembly as well as members of the public—it would. Since the bill was amended it now returns to the Senate, which will either deny the changes, make additional changes or approve them and send it to the governor. After being in session for nearly six hours the House adjourned at 3:43 p.m.
Senate lawmakers debated their education bill S. 4.19 and adjourned after two hours of business.
Newly installed University of South Carolina President Bob Caslen visited the Statehouse and met with lawmakers.
Gov. Henry McMaster will deliver his third State of the State address Wednesday at 7 p.m. South Carolina ETV and South Carolina Public Radio will broadcast the speech live along with the Democratic message and reaction from lawmakers. 
Senate
The Senate gavels in at 2:00 p.m. Watch live here. Calendar. Journal.
House
The House gavels in at 12:00 p.m. Watch live here.  Calendar.  Journal. 
Combined meeting schedule
10:00 a.m. SC Legislative Black Caucus, Blatt Room 427
10:00 a.m. Senate Property Tax Subcommittee on S.497, S.545 and H.3596, Gressette Room 207, Agenda Available
10:00 a.m. House Ways and Means Constitutional Subcommittee, Blatt Room 511, Agenda Available
11:00 a.m. House Majority Caucus, Blatt Room 112
11:00 a.m. House Ways and Means Transportation and Regulatory Subcommittee, Blatt Room 318, Agenda Available
11:00 a.m. House Minority Caucus, Blatt Room 305
11:00 a.m. Senate Finance Committee Gressette Room 308, Agenda Available, Live Broadcast
11:00 a.m. Senate Judiciary Subcommittee Gressette Room 105, Agenda Available, Live Broadcast
11:30 a.m. Senate Judiciary Subcommittee on S.290 and S.1007, Gressette Room 105, Agenda Available, Live Broadcast
12:00 p.m. House of Representatives, State House, House Chamber, Live Broadcast
2:00 p.m. Senate, State House, Senate Chamber, Live Broadcast
Upon Adjournment of the House, Minority Caucus, Blatt Room 112
1 hour after the House adjourns or 2:00 p.m., whichever is earlier, E.P.W. K-12 Subcommittee on H.4760, Blatt Room 433, Agenda Available, Live Broadcast
2:00 p.m. House 3-M Subcommittee I, Health and Environmental Affairs, Blatt Room 110, Agenda Available, Live Broadcast
1.5 hours after adjournment of the House, Ways and Means Economic Development and Natural Resources Subcommittee, Blatt Room 317, Agenda Available
1.5 hours after adjournment of the House, Ways and Means Public Education and Special Schools Subcommittee, Blatt Room 521, Agenda Available
1.5 hours after adjournment of the House, Ways and Means Law Enforcement and Criminal Justice Subcommittee, Blatt Room 305, Agenda Available
1.5 hours after adjournment of the House, Ways and Means Healthcare Subcommittee, Blatt Room 108, Agenda Available
2:30 p.m. or adjournment of the House, whichever is later, Ways and Means Higher Education Subcommittee, Blatt Room 321, Agenda Available
NEWS
Episodes of This Week In South Carolina 
Families Still Question Mother Emanuel Donations Despite State Inquiry South Carolina Public Radio
SC is one of the least educated states, according to a WalletHub study The State
2020 Democratic contenders link arms in MLK Jr. Day march AP
Women and LGBTQ voters in SC say lawmakers don't care about them, poll finds The Post and Courier
Charleston, SC chosen as site for upcoming Democratic presidential debate The Greenville News
2020 presidential hopefuls refocus on SC, return for historic King Day at the Dome The State
Unpacking the political and cultural weight of MLK Day in South Carolina The Post and Courier
'Gives us hope': Presidential hopefuls channel MLK's legacy at SC's King Day at the Dome The Post and Courie
Education overhaul bill set for debate in SC Senate AP
RESOURCES
Find your representative and senator 
South Carolina Judicial Department