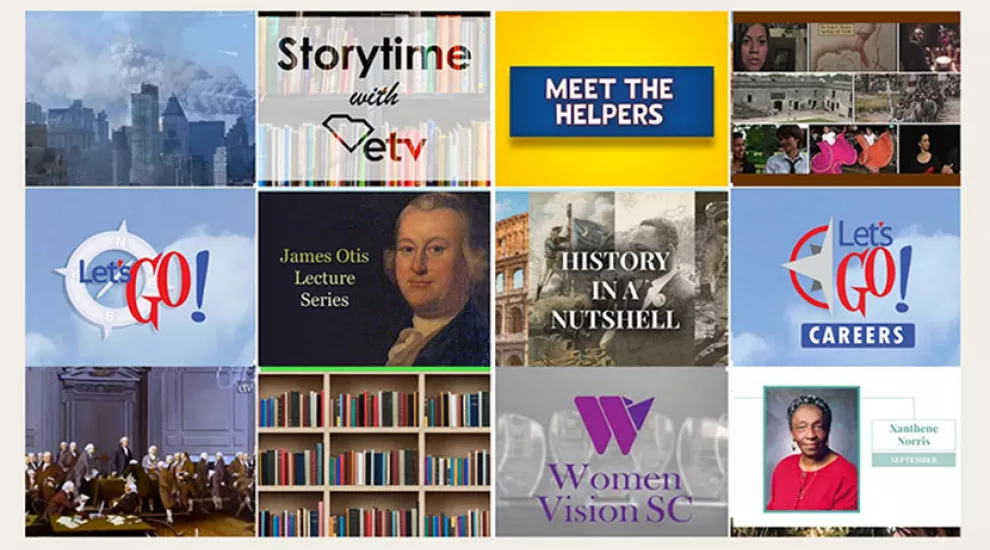 This month, we share content for International Literacy Day through our Libraries, Literature & Learning Collection, and we remember our heroes from September 11, 2001. We explore our Hispanic Heritage and share numerous resources for International Day of Democracy, Constitution Day and International Day of Peace. We also offer content for World Rhino Day, International Day of Sign Languages and World Tourism Day!
We are excited to tell you that in October, we will premiere our new Knowitall.org website that will combine lesson plans from LearningWhy into Knowitall.org – with all resources in one place! Knowitall.org
There are many ways to locate resources on Knowitall.org.
To locate content by Subject Area, click on Subjects in the navigation at the top right of the home page.
Or if you prefer, view by Series, Collection or grade level (see the groups below) and make your selections from the lists you will see there. These areas are all available at the top of the Series page.
You can also view the full lists below and choose content by Series or Program title.
NOW AVAILABLE ON KNOWITALL.ORG!
We'll just take a moment to recap our new content added over the summer:
In case you missed any of our stories produced over the summer, here is the full list:
Summer 2020
*SC educators – Please note that some videos have rights restrictions. To access this content, please log in with your LearningWhy account.
This edition of History In A Nutshell travels back to antiquity; to some of the earliest days of Western Civilization: Ancient Rome! These three segments briefly cover the rise and fall of Rome, including: founding, transition from monarchy to republic, The Punic Wars, the fall of the republic, the reign of the emperors, Christianity, and Rome's collapse.
Please note: Some topics regarding Ancient Rome may not be suitable for younger audiences. Please conduct further research at your own discretion.
Dr. Benjamin E. Mays' childhood home is the focal point of the Dr. Benjamin E. Mays Historical Preservation Site, a destination for individuals and groups interested in learning about the life of one of the nation's most influential Civil Rights leaders and the African American experience in South Carolina. 
Learn more about Dr. Mays by watching the Carolina Stories documentary, Born To Rebel, Driven to Excel.
Using career profiles and 360 videos, Let's Go! CAREERS bring students virtually inside the work environment, especially in areas that need skilled workers.
South Carolina ETV honors 11 women leaders in second year of the 'Women Vision SC' initiative. Our honorees share their stories, vision, values and talk about the 100th anniversary of women gaining the right to vote.  
Congratulations to our 2020 Honorees!
SC African American History Calendar:
September Honoree – Xanthene Norris
As an educator and community leader, Xanthene Sayles Norris has established an exemplary career of public service and civic engagement.
Born in Winston Salem, N.C., Norris grew up and attended public schools in Greenville, S.C. She graduated from Sterling High School in 1946 as the valedictorian of her class. She earned a bachelor's degree from Clark College in Atlanta, Ga. and a master's degree from Furman University in Greenville. She is a retired educator who served as a Greenville County teacher, high school counselor, and adult education director.
Norris was the Past Executive Director of the local Miss America Palmetto Scholarship Program, and presently is Chairman of the A.J. Whittenberg Academic Scholarship. She has been an annual Greenville County Democratic Party State Convention delegate since 1997 and was a State Democratic Party delegate to the 2004 and 2012 Democratic Party National Conventions.
Because of her diplomacy, initiative, and determination to honor the legacy of Dr. Martin Luther King Jr., Greenville County officially observed the Martin Luther King Jr. holiday for the first time, on January 16, 2006, and as a continuing national celebration.
Presently, Norris is a Greenville County Councilwoman. She has been elected for five terms since 1997 and represents District 23. Councilwoman Norris is Chairman Pro Tem of Greenville County Council. She currently serves on the Finance Committee and is Vice Chairman of the Public Safety and Human Services Committee. She is a Trustee, the College Ministry Chair, and the Personnel Chair of the historic Springfield Baptist Church. Additionally, Norris is a life member of Alpha Kappa Alpha Sorority, Inc., a life member of the NAACP, a board member of the Peace Center, and the past United Negro College Fund Upstate Chair. In 2016, the Greenville Business Magazine selected Norris as one of the fifty most influential people in Greenville.
Presented through a partnership between the South Carolina Department of Education and South Carolina ETV. 
Download the SC African American History Calendar here. 
The Series is available here. 
Dates for Your Calendar and Related Knowitall Content
Sept. 8 - International Literacy Day
International Literacy Day, celebrated annually on September 8, shines a spotlight on global literacy needs. The International Literacy Association's mission is literacy for everyone, everywhere. We encourage you to celebrate the power of literacy!
Sept. 11 – Remembering Our Heroes
On September 11, 2001, over 3,000 people were killed during the 9/11 attacks in New York City and Washington, D.C., including more than 400 police officers and firefighters.
September 15 - October 15 – Hispanic Heritage Month
The day of September 15 is significant because it is the anniversary of independence for Latin American countries Costa Rica, El Salvador, Guatemala, Honduras and Nicaragua. In addition, Mexico and Chile celebrate their independence days on September 16 and September 18, respectively. Also, Columbus Day or Día de la Raza, which is October 12, falls within this 30-day period.
Sept. 15 – International Day of Democracy
After retiring from Morehouse College, Dr. Mays was the first African American elected to the Atlanta Board of Education. Atlanta schools were desegregated and integrated without incident. In recognition of his influence in education and racial equality, Dr. Mays received more than sixty-five honors from organizations at the state, national, and international levels. Dr. Mays died on March 28, 1984, and his legacy is one of inspiration, equality, and overcoming challenges, no matter what the odds. Dr. Mays used Christianity, education, and democracy to fight for equality, and for African Americans to have level access to achieving goals, and for improving society. 
Released from prison in 1924, Hitler realized the Nazis must come to power legally. "Democracy must be defeated with the weapons of democracy," he said. 
 It wasn't until January 1760 that the Cherokee became enraged that they were being taken advantage of, by dishonest traders, and also became alarmed at the loss of their hunting grounds, that the Cherokee went to war.  Lt. Col. James Grant of the British Army was sent to suppress the uprising. The war lasted almost two years. On December 18, 1761, a treaty was signed. This ended the Cherokee threat in the Upcountry for a period of time. The war provided three South Carolinians with the experience they would later need, in defending the principles of democracy against British tyranny. Serving in a provincial regiment during the Cherokee War were William Moultrie, Francis Marion and Andrew Pickens. 
In 1862, Robert Smalls, an enslaved crew-member of the CSS Planter, steals the boat, sails it past the heavily armed defenses of Charleston Harbor in South Carolina and delivers it into the hands of the Union forces further out. The bold act makes Smalls a hero in the North, an outlaw throughout the Confederacy and a powerful symbol of hope and freedom to the enslaved people of the South.
Smalls was a founding member of the Republican Party in S.C. and was a delegate to the 1868 Constitutional Convention. He was elected to the S.C. House, and the S.C. Senate, and the U.S. House. In 1895, Sen. "Pitchfork" Ben Tillman, a former governor of S.C., became the ring leader of the convention that would wipe out the reforms of the 1868 Constitution. Smalls and the other five black delegates attending the Convention delivered speeches on the rights of African Americans. In the end, Tillman got what he wanted and the S.C. Constitution of 1895 was ratified. African Americans were robbed of the rights that define a true democracy. 
"Establish those contacts and networks that can put you with other people who are aspiring to be participants in the legal profession … We have a unique talent at making democracy work that we learned in the atmosphere of law school."
The American government and its Constitution and Bill of Rights are important documents that helped to create this country. They help to ensure that the government is run by the people. This gives an important voice to all the people in a country where freedom, rights and opportunities are available to everyone.
America is a democracy. The first government to have a democracy was Ancient Greece. The word "democracy" comes from two Greek words, "demos," meaning the people and "kratos," meaning rule. So, democracy means ruled by the people. In a democracy, each person gets one vote. An example is given on how democracy (one vote) is used in everyday life. 
America: A Land of Many People explores the many people who live in America today and stresses the value of that diversity. Also explored are the ways in which diversity can be a challenge for a country. What makes an American, when people can be so different in many ways? Americans hold in common certain values and beliefs, such as freedom of religion and freedom of speech. These are defined in the Bill of Rights, an important document that supports the freedoms of Americans. This program teaches why it is so important to honor diversity in America.
In America. all people have the same rights and freedoms including access to education, holding a job, buying a house and practicing the religion of one's choice. All Americans, regardless of race, sex, skin color and religion, have the same rights.
*SC educators – to access this content, please log in with your LearningWhy account.
Sept. 17 Constitution Day 
On September 17, 1787, members of the Constitutional Convention signed the final draft of the Constitution. Learn about the South Carolina delegates and find other resources to be utilized for teaching about Constitution Day.
Sept. 21 – International Day of Peace
Bernard M. Baruch, the "Park Bench Statesman," made his fortune on Wall Street, but his greatest challenge and his greatest satisfaction were his service to his country as an economic adviser during both World Wars I and II and as a confidante to six presidents.  When Woodrow Wilson was re-elected president and war was looming, he called on Baruch for advice because of the latter's understanding of the nation's economy and industrial resources. Baruch was chairman of the War Industries Board, which controlled the industrial establishment of the country for three years. With the end of the war imminent, he helped President Wilson negotiate the peace agreements in Paris.
The First World War ended with the surrender of Germany "at the eleventh hour, on the eleventh day, on the eleventh month." This headline in "The State" newspaper on November 11, 1918, brought news of the end of that war to South Carolinians. Woodrow Wilson, the president who had grown up in Columbia, had hoped to lead the world to lasting peace through a plan known as the Fourteen Points, promising the Germans what seemed to be fair treatment without vindictive punishment if they would end the war. But when Wilson traveled to Versailles to work out the details of the peace, his English and French allies were less generous.
Although the Treaty of Versailles did have the League of Nations built into its provisions as a means of resolving national differences in an international forum, punishing reparations payments were demanded of the Germans; their empire of colonies was divided (with many of their former colonists given only limited freedom as "mandates" of Germany's former foes). Under the terms of the U.S. Constitution, the Senate must ratify all treaties by a two-thirds majority for them to become binding on the U.S. Many senators feared that an international body would limit American sovereignty and freedom of action. In the end, the Senate rejected the Treaty of Versailles and the League, and the United States did not sign a separate peace treaty with Germany.
James Francis Byrnes (see Governor James Byrnes) rose to prominence in South Carolina and the nation, first in the House of Representatives, and then in the Senate. A supporter of Roosevelt's New Deal programs, he was appointed to the United States Supreme Court in 1941. When the war came, he resigned from the Court to take on an extensive role in mobilizing the economy. As secretary of state under Harry S. Truman, he signed the peace treaties ending the Second World War on behalf of the United States on January 20, 1947. Senator Vandenberg is on the right, and Senator Connelly on the left.
"King Hagler" was the leader of the Catawba Indian Nation. He had a reputation as peacekeeper with other tribes and colonists. In 1751, Hagler signed a treaty with the Six Nations. In 1756, Catawba Indians fought alongside George Washington during the French and Indian War. King Hagler signed the Treaty of Pine Tree Hill in 1760, which provided a reservation for the Catawba.
Dr. King traveled around the world giving speeches and organizing peaceful protests. He met with presidents to urge support for civil rights. His "I Have a Dream" speech was delivered in Washington, D.C., during the March on Washington for Jobs and Freedom in 1963. The speech is remembered as one of the most eloquent and persuasive speeches of the civil rights movement. Seen here are some of the 250,000 civil rights marchers who attended the March on Washington in 1963. "I have a dream that my four children will one day live in a nation where they will not be judged by the color of their skin, but by the content of their character." - Dr. King
Like Gandhi, Dr. King committed his life to peacefully helping people attain civil rights. Much of Dr. King's work concerned the civil rights of African Americans. During the 1950s, there were fewer education and job opportunities for African Americans than there were for other people. African Americans also had little representation in government. Segregation, or the separation of African Americans and whites, caused problems that sometimes resulted in violence. The phrase "separate but equal" meant that whites and African Americans were entitled to the same quality of treatment, but used separate facilities. Facilities for African Americans were rarely equal, and often poor in comparison to those of white people. Dr. King believed that civil rights activism through protest, boycotts, and marches was the peaceful solution to these problems. Dr. King believed in passive resistance, or using nonviolence, to achieve his goals. Seen here are protestors in a public display of civil rights activism. "No society can possibly be built on a denial of individual freedom." - Dr. King
In 1968, Dr. Martin Luther King, Jr. told a crowd of 250,000 people, "I have a dream." To many people, Dr. King is considered the leader of the civil rights movement. What did Dr. King mean by this message? His "dream" was to make sure that everyone could live in peace and have equal rights. Dr. King organized nonviolent marches and protests to spread his message of peace throughout the United States.
Dr. King's efforts would lead to wider recognition of equal rights, education and political representation for African Americans and other minorities. For his work, he earned a Nobel Peace Prize in 1964. Dr. King was the youngest man to ever receive the prize, considered one of the highest honors in the world. Today, we celebrate Martin Luther King Day every January to honor the work and achievements of Dr. King. His work in civil rights encouraged many people to think about how they were treated and how they treated other people. Dr. King is remembered as one of the most important leaders of the civil rights movement. Dr. King's wife, Coretta Scott King, continued his legacy of civil rights activism. She stands to the far left of President Reagan, who in 1983, signed legislation creating Martin Luther King, Jr. Day.
"M" is for McNair, Robert Evander [1923-2007]. Attorney, legislator, governor. During World War II, McNair served 23 months in the Pacific theater. After the war, he graduated from USC and moved to Allendale—the hometown of his wife, Josephine. From 1951 until 1963 he represented Allendale County in the South Carolina House of Representatives. In 1962 he was elected lieutenant governor. When Governor Donald Russell resigned in April 1965, McNair became governor. He was elected to a full term in 1966. The McNair administration coincided with major civil rights initiatives and significant protests and demonstrations. Except for the tragedy at Orangeburg and the incident at Lamar, he saw the state peacefully through difficult times—and guided it through the first year of total desegregation of the public school system. After leaving the governorship in 1971, Robert Evander McNair never held any other public office.
Part 6 of the Commemoration of the Orangeburg Massacre on its 40th anniversary: 
Amid a background that includes the FBI's refusal to reopen the case of the Orangeburg Massacre, residents of Orangeburg discuss their views of Orangeburg today and its progress in regard to healing and moving forward. Dean Livingston, former publisher of The Orangeburg Times & Democrat; Bill Hamilton, Sports Information Director at S.C. State; and Rev. Larry McCutcheon, Pastor of Trinity United Methodist Church, and Paul Miller, Mayor of Orangeburg, share their reflections and thoughts about whether times have changed in Orangeburg. Jack Bass closes by reflecting on why the event was called the Orangeburg "Massacre," paralleling the Sharpeville Massacre in South Africa. Dr. Sellers states that his concern is the quest for justice that continues, not only in regard to this event, but across the state of South Carolina, for those who have always hoped and thought that their government would be on the side of justice, equality and peace.
Osceola ( -1838), the celebrated Seminole Chief, died in captivity at Fort Moultrie on January 30th, 1838. Osceola's death marked the end of a long and determined resistance by his people to the transporting of Native American tribes west of the Mississippi, a program begun and carried out by Andrew Jackson. Using the swamps of Florida as a hiding ground, the Seminoles outmaneuvered 7 successive United States generals, killing 1500 soldiers in the process. Osceola was captured when General Jessup called for peace talks and seized him in spite of having come in under a flag of truce. Despite popular protests, the chief was imprisoned in Fort Moultrie, where he died a martyr.
In comparison to other wars, particularly in South Carolina, on a scale of remembrance, probably World War II is right up there at the top. Civil War would be next, but World War I may be a forgotten war. Originally, South Carolinians wanted to stay out.  While Europeans began fighting the Great War in 1914, the people in South Carolina were still healing wounds from an earlier battle. South Carolinians, economically, were in a sad state as a result of the Civil War. In early 1917, on the eve of America's entry into World War I, South Carolina was more rural than urban, with many people living on farms and relying on horses for transportation. The textile industry was growing, but farm labor, including picking cotton, was still done by hand. Jim Crow laws meant South Carolina was strictly segregated. For African Americans and whites, poverty was widespread, education was limited, and poor health, common. With their own problems at home, South Carolinians showed little interest in fighting a war across the Atlantic, but by spring of 1917, that attitude was changing.
The slogan, "He kept us out of the war," was how President Woodrow Wilson had won reelection. By late winter 1916, Wilson's determination to find a peaceful solution was no longer enough. In March, the Germans sank three U.S. ships, and on April 2, 1917, Wilson urged Congress to keep the world safe for democracy.  On April 6th, America declared war. In South Carolina, Governor Richard Manning supported Wilson.
 Penn School closed its doors in the late 1940s and redirected its efforts to address social injustice. 
1964 was the height of the civil rights movement. Dr. Martin Luther King. Jr. and his group were going throughout the country holding workshops, meetings, and staff retreats. King knew about the Penn Center, and because a lot of people who worked in the movement were from Charleston and South Carolina, they selected the Penn Center as a meeting place. It was one of the places where Blacks and whites could meet together in peace and harmony. When the Voters Registration Act of 1965 was passed, Penn was very involved in getting people to register to vote.
Other hardships began facing community members. When land loss became an issue, people turned to the Penn Center for help. Part of Penn's mission is to preserve and promote the Sea Island history and culture. The root of all of that is land. Beaufort's land was becoming a national commodity. People were looking to come to Beaufort, and while residents saw swampy land, people from outside were looking at the land as waterfront property. Unfortunately, people were taking advantage of the poor residents. Penn started a land retention program that included how to deal with heirs' property,  how to make a will and how to hold on to owned property.
An act of Congress made sure the Gullah culture will not be forgotten. The Gullah/Geechee National Heritage Act was passed by Congress in 2006. It was introduced into the United States Congress by Congressman James E. Clyburn. The act covers a National Heritage Area, which stretches from Wilmington, North Carolina all the way to Jacksonville, Florida, which has been populated by African American and Gullah/Geechee people for the last 300 years.
John F. Kennedy rode to his inauguration with the outgoing president, Dwight Eisenhower. Robert Frost read one of his poems at the ceremony. Frost had written a poem for the occasion called "Dedication." As he approached the microphone he was blinded by the sun's glare and he was unable to read it and recited instead "The Gift Outright," from memory. In this picture Vice President Lyndon B. Johnson is to the right of Kennedy. Can you recognize anyone else?
Probably the most famous line from Kennedy's inaugural address is, "And so, my fellow Americans: ask not what your country can do for you — ask what you can do for your country." As President, he launched the country on its longest sustained expansion since World War II. In 1962 he went to the brink of nuclear war in the Cuban missile crisis but in 1963 he secured an important nuclear test ban treaty with the USSR. He also established the Peace Corps and the Alliance for Progress.
John Fitzgerald Kennedy was the youngest man elected President of the United States. He was a World War II Naval hero and a senator from Massachusetts. He narrowly defeated Richard M. Nixon to become the 35th President in 1961. On November 22, 1963, when he was hardly past his first thousand days in office, John Fitzgerald Kennedy was killed by an assassin's bullets as his motorcade wound through Dallas, Texas.
By: Rose Blue and Corinne Naden
Illustrated By: Don Tate
Read by: Alfred Turner, South Carolina Public Radio
Nine-year-old Ron loves going to the Lake City Public Library to look through all the books on airplanes and flight. Today, Ron is ready to take out books by himself. But in the segregated world of South Carolina in the 1950s, Ron's obtaining his own library card is not just a small rite of passage—it is a young man's first courageous mission. Here is an inspiring story, based on Ron McNair's life, of how a little boy, future scientist, and Challenger astronaut desegregated his library through peaceful resistance.
In 1955, Rosa Parks, a seamstress living in Montgomery, Alabama, wanted to peacefully demonstrate what civil rights meant to her. She was arrested for sitting at the front of the bus, a place reserved for white people only. Dr. King came to help her because he believed that everyone should have the right to use the buses. In order to raise awareness for this problem, he organized a peaceful protest of segregated buses that lasted 382 days. The protest led to a Supreme Court decision that said segregated buses were unlawful. Because of this success, Dr. King became known as a leader of the civil rights movement.
"Memories of our lives, of our works and our deeds will continue in others." - Rosa Parks. Rosa Parks and Dr. King inspired a boycott of buses to protest segregation in Alabama. Rosa Parks died in 2005.
"The world will tell you what success looks like, but truly success looks differently for different people."  The words of Dr. Shaniece Criss.  She has defined her own success by fulfilling purpose in three main areas:  government, media, and academia.  And she has succeeded in all three. She was the first African American female to be elected to the Travelers Rest City Council in the Upstate.   She is an assistant professor of Health Science at Furman University.  And as a public health practitioner, Dr. Criss served as producer and host for a national television show for the Ministry of Health in Guyana, South America, during her Peace Corps service.  She received her Doctor of Science degree from Harvard TH Chan School of Public Health.  At the Harvard Kennedy School of Government, she was awarded a Presidential Public Service Fellowship.  She serves on the board of directors for Prisma Health, Public Education Partners, Dining for Women and SC YMCA Youth in Government and Teen Achievers. 
Snowbird Cherokee discuss a historical site that was submerged under water, and the archaeological dig that sought to preserve the site and its artifacts.
In the eyes of European whites, America's land was a commodity to be used and exploited. To Native Americans, land was shared communally by their tribe. Like the new white settlers, the Cherokees were primarily farmers, yet the settlers believed that Indians were simply tenants-at-will upon the landscape of America and should be removed when in the way of progress. This was not the inclusive vision of America shared by Washington and Jefferson and other Founding Fathers. Ironically, in 1803, it was Jefferson who first suggested the ideal solution to the Indian question, their removal to distant Western lands.
Road construction and dams have forever changed the landscape. This segment details this development and some of the environmental consequences. Before construction of the Tennessee Valley Authority began, an archaeological dig of Echota by John Greene revealed the site where the Council house once stood. Echota was formerly the capital of the Cherokee Nation, and was not only the focal point of business and religious transaction, but it was a city of peace. Anyone who entered the boundaries was safe, regardless of any crime they might have committed. There were no jails, no sheriff, but every Indian acted on his honor.
The Constitution of 1776. Even before the Declaration of Independence was written, members of the Continental Congress recognized that, because the English officials had fled from Massachusetts and South Carolina, new forms of government were needed. They specifically advised the Provincial Congress of South Carolina to establish a form of government that would "effectually secure the peace and good order in the colony, during the continuance of the present dispute between Great Britain and the colonies." The document you see, adopted in March 1776, is a result of that recommendation. Intended to be only a temporary measure, the South Carolina Constitution represents a logical development from 1776 colonial conditions. The King's instructions to the governors of royal colonies had outlined the frame of government and defined the duties, powers, and limits of its officers. The preamble of this constitution mentions that the new document was necessary since Governor Lord Campbell had carried away the royal instructions.
This new constitution contained similar instructions, but this time they came from the people of South Carolina. The legislative branch of the new government consisted of two "houses." Members of the lower house were elected by the people, and the upper house members selected by the lower. Called the Legislative Council, this upper house would have thirteen members. Instead of a governor, there was a president who was chosen by both houses and could not be reelected. One of the unique features of this constitution is the great power that the President was given, including the power to veto legislation. The judicial branch remained virtually unchanged from the colonial system.
By 1939, after seizing land in Czekoslavakia and promising England's Prime Minister, Neville Chamberlain, that he would remain at peace, Adolf Hitler began World War II. Germany invaded Poland and bombed many targets. The German army came through the towns and burned them, including the homes. The Jews were required to wear the Star of David on their sleeves. If they were out without it and were asked if they were Jewish and they were, they were taken away and shot, and never returned.
Through her tears, the recollections of a 12-year-old girl whose entire family were taken away, including her siblings and both parents, are shared. The girl's mother insisted that she stay in hiding and told her daughter that she would survive. The girl eventually found the strength to get out of the trunk she was hiding in and go outside. When asked about being Jewish, she lied, saying she was visiting a Jewish friend, and then she ran and ran for miles.
With its navy destroyed, the Japanese have come to recognize that their last line of defense is through suicide attacks on American ships. From the American ships, the kamikazes looked like a swarm of bees. They targeted big ships and every ship they could find, including hospital ships. The casualties were horrendous. Okinawa happened almost in a vacuum of good news coming from Europe, the Potsdam Conference, the Allies were insisting on an unconditional surrender, and the Russians were beginning to negotiate, and the Japanese high command was hopeful that they would come in on the side of the Japanese, or that the Russians would be the broker that brought Japan to the peace table. There was hope that the Americans would recognize the horrendous cost on Okinawa, as they had on Iwo Jima.
Veterans provide advice to future generations, and reflect on the responsibilities that come with freedom, and their wishes for a world without war. They remember those who didn't survive, and they express their hopes for peace throughout the world.
Born in Charleston, the third surviving child of Eliza Lucas and Charles Pinckney, the younger brother of Charles Cotesworth Pinckney (see Charles Cotesworth Pinckney, In His 6th Year, and Charles Cotesworth Pinckney), Thomas Pinckney (1750-1828) accompanied his parents to England in 1753 where he was educated at the Westminster School and Christ Church College. He also attended the French Military Academy in Caen, France. After studying law at the Inner Temple in London, Pinckney was admitted to the bar and began a law practice in Charleston in 1774. When the Revolutionary War began, Pinckney was a member of the state Commons House. He became an aide to Count d'Estaing at the siege of Savannah, and served as an aide to General Gates during the Battle of Camden, in which he was wounded, captured, and held prisoner in Philadelphia for a year. After the war, he returned to his law practice in Charleston and in 1787 was elected to the first of two one-year terms as governor of South Carolina.
During his administration, the State House was destroyed by fire. As governor, he led the struggle in the state for ratification of the proposed Federal Constitution. Pinckney was appointed United States Minister to Great Britain by President Washington in 1782. He served until his appointment as Special Commissioner and Envoy Extraordinary to Spain in 1795. In this capacity, he negotiated the treaty of San Lorenzo, or Pinckney's Treaty, which assured free navigation of the Mississippi River and defined the boundary between Spanish Florida and the United States. After returning home in 1796, Pinckney ran unsuccessfully that year as the Federalist party's candidate for Vice President. He was elected to the United States House of Representatives in 1797 and served until his retirement in 1801. Pinckney came out of retirement to serve as a Major General in the United States Army during the War of 1812. Although he saw no active fighting, he did play a vital role in the peace negotiations which ended the Creek War in 1814. Pinckney died in Charleston in 1828.
At the 17th annual Waccamaw People's Festival in Aynor, S.C., Phil White Eagle, 2nd Chief Judicial with the Waccamaw, describes the Pow Wow as a gathering in which not only tribal people attend, but the neighbors who live in the area all come together to honor each other, and to celebrate peace and enjoy plenty.
This is the story of Ben Franklin, who wrote poetry and prose, became a vegetarian, read a great deal, became expert at swimming, used a kite to pul him along while swimming, studied arithmetic, and constructed what he called "magic squares," one of which had rows of eight numbers that, when added up and down, or across, equaled 260. He read a book and learned how to argue.  He made up his own list of rules on good behavior. He moved to Philadelphia, worked as a printer, married his wife Debbie, and they opened a store. He formed the nation's first circulating library, helped to organize Philadelphia's fire department, and suggested ways to light the streets, deepen the rivers, dispose of garbage, and keep people from slipping on ice in winter. He invented a way of locking the bolt on his door using a cord that he could pull from his bed. He invented a stepladder-stool with a seat that turned up, becoming stairs. He cut a hole in his kitchen wall and put in a windmill to turn his meat-roaster. He invented an iron stove with a pipe leading outside that produced more heat, cost less to operate, was less smoky, and became very popular  He published an almanac, "Poor Richard's Almanac," which sold very well for 25 years. His biggest idea was that lightning and electricity were the same. He used a kite to conduct electricity during a storm. He invented the lightning rod and attached it to a bell that rang when lightning struck. He organized a new postal system that expedited the delivery of mail, helped organize a fire insurance company, a hospital, and an expedition to seek the Northwest Passage. He went to England and stayed for a number of years. Meanwhile, the Revolutionary War started. When he returned, he served in the Continental Congress and worked on the Declaration of Independence. He traveled to Europe to seek the support of France and other countries. France joined America in the war, and Franklin helped to write the peace treaty. He served as president for three years and attended the Constitutional Convention. He died at the age of 84 in 1790. 
*SC educators – to access this content, please log in with your LearningWhy account.
During International Women's Day, people from Europe, Britain, and the United States attended marches and rallies to support equal rights and recognition for women. International Women's Day was a way of making both a local and a global appeal for women's rights. Many people who participated lived in countries that did not allow women the opportunity to vote, hold public office, attain higher education, or choose a career. International Women's Day is still observed annually on March 8 and is officially recognized by the United Nations. The goals of the modern International Women's Day have been to increase participation of women in political and economic areas and to unite women in the peacemaking process. Women's History Month gives us an opportunity to celebrate the achievements of women! 
William Orpen Painting - The Signing of Peace in the Hall of Mirrors, Versailles, 1919
View the full fotonovela - La Ropa Sucia
La Ropa Sucia is a fotonovela produced by ETV and designed to target both Hispanic and non-Hispanic teenagers; the title, which means "Dirty Laundry," is based on the Hispanic adage, "La ropa sucia se lava en casa." ("Dirty laundry is washed at home," or "Don't air your dirty laundry."). View the credits page to learn more about the project. View the video to learn more about a fotonovela from the Spanish presenter, John Mark Reed. Then, download the English and/or Spanish episodes from La Ropa Sucia.
Sept. 22 – World Rhino Day
Calvin Benson of Harlingen, Texas devotes his life to the conservation of the Black Rhinoceros. The Black Rhinoceros is an endangered species, and at the time this segment was made, there were only 50 left in the world. These Rhinoceroses are taken care of in a ranch just outside of North Hidalgo County. Overhunting, poachers, and poor legal protection are to blame for this species of rhinoceros going into near extinction in African countries.
The Black Rhinoceros is featured in these lessons at the intermediate level in French, German, Japanese and Spanish:
The black rhinos are located throughout eastern and southern Africa and from northeastern Sudan to as far west as northeastern Nigeria. This rhino is actually gray in color, and it weighs about 2,500 pounds and stands between 5 and 6 feet tall at the shoulder. These animals are usually found resting in muddy water during the hottest part of the day because they have no sweat glands. Unfortunately, this animal is becoming scarce because of the poaching for its horn.
SciShorts in Foreign Languages - View the Full Series
Produced in French, this series contains 20 lessons on the beginner level for teachers to use in foreign language science study. All lessons are approximately one minute.
Produced in French, this series contains 20 lessons on the intermediate level for teachers to use in foreign language science study. All lessons are approximately one minute.
Produced in German, this series contains 20 lessons on the beginner level for teachers to use in foreign language science study. All lessons are approximately one minute.
Produced in German, this series contains 20 lessons on the intermediate level for teachers to use in foreign language science study. All lessons are approximately one minute.
Produced in Japanese, this series contains 20 lessons on the beginner level for teachers to use in foreign language science study. All lessons are approximately one minute.
Produced in Japanese, this series contains 20 lessons on the intermediate level for teachers to use in foreign language science study. All lessons are approximately one minute.
Produced in Spanish, this series contains 20 lessons on the beginner level for teachers to use in foreign language science study. All lessons are approximately one minute.
Produced in Spanish, this series contains 20 lessons on the intermediate level for teachers to use in foreign language science study. All lessons are approximately one minute.
The black rhinos are located throughout eastern and southern Africa and from northeastern Sudan to as far west as northeastern Nigeria.  This rhino is actually gray in color, and it weighs about 2,500 pounds and stands between 5 and 6 feet tall at the shoulder. These animals are usually found resting in muddy water during the hottest part of the day because they have no sweat glands. Unfortunately, this animal is becoming scarce because of the poaching for its horn.
Sept. 23 – International Day of Sign Languages
Designed to teach sign language to teachers and parents of deaf children, this innovative series can also teach signing to classroom students. Through animation, real-life segments, and direct instruction by the series' hosts, students can learn the fundamentals of this language in order to communicate with friends and classmates who use signing as their primary means of communication. (From our Streamline collection)
Sept. 27 – World Tourism Day
These Series take you to destinations all over South Carolina and beyond!
Inevitable Evolution of Fort Frederick
Let's Go! - 3D Tours
Literary Tour of South Carolina
Road Trip Through SC Civil Rights History
These Collections make it easy to continue your travels – while focusing on topics that interest you!
Explore South Carolina and find content on these topics:
Ghosts and Legends of South Carolina
Libraries, Literature and Learning
Featured This Month
Many children have questions and can feel uneasy when emergencies occur in their communities. The Meet the Helpers toolkit is designed to introduce "helpers" and explain the role they play in emergency situations. Included in the toolkit are videos and hands-on activities that provide educators and families with developmentally appropriate resources for young children. For more information on this WUCF initiative, visit meetthehelpers.org.
Videos:
Activities to Help to Prepare - Printable Documents to Complete:
Created by SC DHEC to prevent the spread of flu and contagious illnesses.
A comprehensive web-based experience for students, covering the visual and performing arts. Students will learn art history via animated one-minute movies, be guided on how to closely examine important works of art, and view videos of professional artists at work.
Knowitall has produced Q&A video profiles with national authors and illustrators who visit South Carolina. These interview opportunities are provided by partners like the South Carolina State Library.
Between the Waters is SCETV's immersive transmedia website showcasing the culture and history of Hobcaw Barony, a 16,000 acre historic site on the coast of South Carolina. Located between Charleston and Myrtle Beach, Hobcaw is a crossroads representing every era of human history, providing a lens through which many threads of the nation's story may be examined. Visitors to the Between the Waters website take a self-directed virtual tour of Hobcaw Barony, moving down the roads and rice canals, entering slave dwellings and grand houses, watching videos, examining photographs, and listening to historians and the first-person stories of former residents and relatives.
View the "Between the Waters" documentary. Closed captioning has been provided for this broadcast program.
View also the original documentary, "The Baruchs of Hobcaw Barony."
South Carolina Educators, a recertification course is available.
This website is a resource for those who are interested in learning more about the diverse natural and cultural history of the park.
During the summer of 2009, Congaree National Park partnered with several organizations including South Carolina ETV for a special technology camp. The campers included a group of rising 5th graders from Gadsden Elementary School. The purpose of the camp was to engage students in re-telling "Congaree Swamp Stories" in their own voices, through photos, videos, and their written words.
Watch some of the camp speakers and view more about the history of the Congaree in "Roots in the River" from Carolina Stories.
Generations of Heroes started as a project that offered South Carolina educators and students a chance to document the living memories of heroes and civilians who have served the United States from World War II to today's soldiers serving in Iraq and Afghanistan. ETV's Knowitall.org and the S.C. National Guard teamed up with Perry McLeod, a history teacher at Richland Northeast High School in Columbia, S.C. to develop the project that featured the student-produced videos.
GullahNet and its host, Aunt Pearlie Sue (Anita Singleton-Prather), introduces Gullah culture and language to children on the web.
These stories from Gullah Tales have been upgraded and will play on mobile devices in both English and Gullah! You can also view the Videos in both English and Gullah.
Be sure to visit and sing along with Gullah Music!
Aunt Pearlie Sue and Reverend Leroy take you on a musical journey!
History In A Nutshell provides videos that address topics on which few resources were previously available. These videos will be fewer than ten minutes long and will tell the story of an entire event from our history, in a fast-paced, engaging style!
Learn about World War I, how the war started, the U.S.' involvement, fighting the war, and the aftermath with the Treaty of Versailles.
In January of 1918, a deadly H1N1 strain of Influenza called the "Spanish Flu" began sweeping across the globe. This flu, also known as "Strain A" or "Avian Flu", took its toll worldwide, infecting mainly young adults, and even South Carolinians had to face this flu without any real forms of medicine. Learn how the Pandemic first arrived in South Carolina, along with its socio-economic effects, and measures taken to combat its spread.
After the American Revolution, the new United States of America needed to form a permanent government of its own. Why did the Articles of Confederation fail, and how did the U.S. Constitution come to be? This episode of "History In A Nutshell" answers those questions!
In the late 1950's, and throughout the 1960's, the U.S. was in the middle of The Cold War with the Soviet Union. Both sides tried to out-perform one another in every way, including scientific advancements and setting records. The Soviet Union had kicked off the "Space Race" when they launched the first man-made satellite called "Sputnik."  In this episode of History In A Nutshell, follow the events leading up to the U.S. landing on the moon; from test pilots and Project Mercury, through Gemini and the Apollo program! 
Also included in this episode is a bonus feature! For the 50th anniversary of the Apollo 11 moon landing, the South Carolina State Museum hosted a special screening of the PBS documentary Chasing The Moon. During this event, Knowitall.org and SCETV got the opportunity to interview two South Carolinians who helped recover Apollo spacecraft after they returned from their journeys to the moon! 
The French and Indian War played a significant role in shaping North America as we know it today. Although it officially began in 1756 as part of the Seven Years War, the French and Indian War had engagements taking place years prior. Between the British and French colonists, and the Native Americans all living on the same continent, a conflict was only inevitable. The French and Indian War was a fight for supremacy of the Ohio Valley region, between the Allegheny and Monongahela Rivers, also known as "the Forks of the Ohio."
Part one takes place between 1754-1756 - outlining how the conflict begins, with escalating political and economic tensions in the Ohio Valley. Part two briefly takes viewers through the war itself, after war is officially declared in 1756 (1756-1763). Find out how the results of the French and Indian War set the stage for the American colonies declaring independence from Great Britain!
This edition of History In A Nutshell travels back to antiquity; to some of the earliest days of Western Civilization: Ancient Rome! These three segments briefly cover the rise and fall of Rome, including: founding, transition from monarchy to republic, The Punic Wars, the fall of the republic, the reign of the emperors, Christianity, and Rome's collapse.
Note: Some topics regarding Ancient Rome may not be suitable for younger audiences. Please conduct further research at your own discretion.
Edited by Constance B. Schulz with Preface by Lewis P. Jones
The images contained in The History of South Carolina Slide Collection have been divided into ten topical sections. Each image has accompanying text, describing the image and its place in South Carolina history.
The resources accessible on this website are intended strictly for educational use. All other usage is prohibited. If you intend to copy or otherwise reproduce a resource for educational use, credit must be given to the contributing institution.
For additional information about the graphics used in this collection, please refer to Acknowledgments. There you will find information about the people who possess the original photographs and artwork used in The History of South Carolina Slide Collection.
Learn how velocity and distance work in this balloon blast game. A catapult is a military device that was used in ancient and medieval times to hurl stones, spears, and other objects. There were many different types of catapults developed and used throughout history. The most  well-known catapult is the bucket catapult, which used a winched down - arm with a bucket on the end to toss objects. The catapult used in our Balloon Blast game is called a trebuchet.
Learn how to use a compound microscope and a dissecting microscope.
Choose and customize a rocket. Launch your rocket and learn about Newton's Laws.
Keep It Real is a TV and Web project for teens produced to help educate them about the consequences of inappropriate risk-taking behavior. The TV show provides teens with Realistic Education About Dying Young, based on Palmetto Health Richland's Project READY program in Columbia, South Carolina. In an effort to stay true to the hospital's reality-based education, we have included graphic images and footage of real trauma in the productions.
For ages 14 and up - viewer discretion is advised. 
A virtual community of workplaces designed to give students an interactive job exploration experience that connects school work to real work. Each area includes History, Job Play activities, Work Zone and Real People at work.
In each workplace, please be sure to start with the History area, then proceed to Job Play, then to Real People, and finally to the Work Zone area at each work site!
La Ropa Sucia is a fotonovela produced by ETV and designed to target both Hispanic and non-Hispanic teenagers; the title, which means "Dirty Laundry," is based on the Hispanic adage, "La ropa sucia se lava en casa." ("Dirty laundry is washed at home," or "Don't air your dirty laundry."). View the credits page to learn more about the project.
Junior Achievement of Central South Carolina and The State newspaper established the South Carolina Business Hall of Fame in 1985. The criteria for selection include a demonstration of business excellence, courageous thinking and acting, inspired leadership, and community mindedness. Since its inception, 63 laureates have been celebrated. This collection features profiles and interviews on these leaders.
Virtual reality tours of some of our state's most historic sites - now featuring 9 different locations! Experience the VRs using the Matterport phone apps with either a Google Cardboard or Samsung Gear VR.
Using career profiles and 360 videos, Let's Go! CAREERS bring students virtually inside the work environment, especially in areas that need skilled workers.
The history of the Lexington County Courthouse is told, over its first 200 years. 
NASA CONNECT™ is an inquiry-based and standards-based, Emmy® award-winning series of mathematics-focused, instructional programs for students in grades 6 -8. The series includes a 30-minute instructional broadcast, a companion lesson guide, and an interactive web-based application.
Programs in the series establish a connection between the mathematics, science, and technology concepts taught in the classroom to those used every day by NASA researchers. The lesson guide, containing a hands-on activity and the web-based application reinforce and extend the objectives presented in the program.
Find math simulation video segments that have been excerpted from the full-length program, NASA CONNECT.
The NASA SciFiles™ is an inquiry-based and standards-based, Emmy® award-winning series of 60-minute instructional programs for students in grades 3-5. Programs are designed to introduce students to NASA; integrate mathematics, science, and technology through the use of Problem-Based Learning (PBL), scientific inquiry, and the scientific method; and to motivate students to become critical thinkers and active problem solvers.
Students learn about these topics and scientific principles while having fun!
*For the version that plays on a mobile device, be sure to click on the "Go To Interactive" link just below each of these simulations.
A Natural State explores how people express a love for nature by shaping, twisting, carving, and weaving materials collected from the landscape. Some of the arts and crafts featured in A Natural State reveal the cultural heritage of South Carolina, while others employ concepts from the world of modern art.
NatureScene was one of the most successful series by South Carolina ETV, taking viewers for a field trip in nature with Naturalist Rudy Mancke from 1978 to 2003. Along with Rudy were hosts Beryl Dakers and Jim Welch, and Director of Photography Allen Sharpe.  Some content has been included from our Streamline collection. We are only offering South Carolina-based shows at this time. 
What does it mean when someone says they are from the "Pee Dee" of South Carolina? A place is bigger than its physical geography. A "sense of place" weaves together our experiences with the land, its culture and lifestyle. SCETV partnered with the Pee Dee Land Trust to create a website highlighting the many natural, cultural, historic, and agricultural landmarks of the Pee Dee region of South Carolina. 
Pee Dee Explorer features over six hours of video vignettes that characterize the natural, cultural, and agricultural landscapes of the Pee Dee region of South Carolina. Pee Dee Explorer is divided into chapters that provide various contexts for telling the story of the region. Each chapter contains a collection of video stories and accompanying text, based on well-known and "off the beaten path" landmarks found in the Pee Dee.
Learn about popular monthly observances.
Civic engagement of youth is a classic win-win proposition. Young people benefit from involvement in the civic life of their communities, and their communities become more democratic when youth have a voice in the decisions that affect their lives. Ready To Vote is designed to help teachers introduce middle and high school students to one of their most important activities as a citizen – voting. Ready To Vote also provides facts about the principles of the Constitution, the branches of U.S. Government and explores how the electoral process works.
Reconstruction 360 uses a 360 degree video platform as a storytelling device that lets the audience step inside pivotal Reconstruction events. By clicking on icons within the 360 video the user can access short documentaries that offer the perspectives of multiple characters. Reconstruction 360 also includes lesson plans, primary documents, curriculum standards and a geolocative walking tour of Reconstruction sites in downtown Columbia, S.C. This module, 40 Acres and a Mule, focuses on the theme of land and labor at the close of the Civil War. It is a prototype for a larger project that will include five more themes.
The story of South Carolina's cultural and natural landscape as told by its rivers. RiverVenture will take you on a virtual "float-trip" across South Carolina, following the Saluda, the Congaree, the Santee, the Cooper, and the Catawba Rivers.
.
Learn about the people and events, and the importance of the civil rights movement in South Carolina from the 1940s to the early 1970s.
We have two areas to visit and both have now been made accessible on mobile devices.
Cove forests are unique ecosystems found exclusively in North America, in the southern Appalachian Mountains of the United States. They are a special type of forest known as mixed deciduous, meaning that forest's trees lose their leaves in fall. Cove forests are restricted to mountain "coves," which are bowl-shaped valleys with very rich, fertile, damp soil. Many cove forests have streams wandering through part of the forest. The cove forests of the South exhibit the greatest plant and tree diversity of any forests in the United States.
The cove forests of South Carolina are restricted to the northwest portion of the state, extending from the north of Westminster to north of Greenville, Jones Gap State Park, Table Rock State Park, Oconee State Park, and Caesars Head State Park all contain cove forest communities.
Salt marshes are found around the world, but the one you are about to tour can be found right here in South Carolina on the North American continent. Salt marshes are located only along the coast. This is because a salt marsh is an area that is flooded by saline (salty) water. The salt marshes are better developed as you move farther south in South Carolina.
Girls tend to lose interest in science and technology during middle school. For three-year, ETV coordinated a pilot project called TECH TEAM. To conclude this three year project, ETV partnered with the National Science Foundation, the Girl Scouts of America, and community schools and groups, to host an all-day science festival that stimulated and encouraged middle school girls' interest in science, technology, engineering and math careers. The 2005 Science Splash was a girl's odyssey of hands-on science and math activities, speakers, shows and exhibits—all designed to educate, inspire, stimulate and entertain middle school girls ages 10-14. 
The South Carolina African American History Calendar is a 12-month calendar that profiles individuals from across the state who have had a positive, compelling impact on South Carolina and, often, across the country.
The Southern Campaign was critical in determining the outcome of the American Revolutionary War, yet the South's importance has been downplayed in most historical accounts to date.  
Eight online educational lessons are based around short video segments produced in a documentary style, consisting of historical reenactments, demonstrations, interviews with historians, period artifacts and music, artistic renderings, and maps.  Lesson plans are at SCETV's LearningWhy.org.
National Museum Wales, known for having one of the finest Impressionist art collections in Europe, sent to the U.S. highlights from its remarkable Davies Collection, an extraordinary group of 19th- and early 20th-century paintings that were renowned for its beauty and quality. These works, which helped shape the course of Western art, were assembled between 1908 and 1923 by sisters Gwendoline and Margaret Davies.  
Turner to Cézanne: Masterpieces from the Davies Collection, National Museum Wales was on display at the Columbia Museum of Art from March 6–June 7, 2009. This one of a kind collection was on view in South Carolina for the first time in the United States. The exhibition only traveled to five venues in the U.S. and the Columbia Museum of Art was the opening venue. The Columbia presentation was made possible by the Blanchard Family.
In 1941, an all African American flying squadron was established in Tuskegee, Alabama. The purpose of this Army Air Corps program was to train African Americans to fly and maintain a combat aircraft. The people involved in this experiment acquired the name "Tuskegee Airmen." Tuskegee Institute, founded by Booker T. Washington, was selected as the training ground for the pilots. The school had the facilities, technology and climate for training year-round with airplanes. By World War II, the Tuskegee program had expanded and become the center for African American aviation. The Tuskegee Airmen paved the way for full integration of African Americans into the U.S. military.
ETV partnered with the Celebrate Freedom Foundation to provide coverage of the Tuskegee 60th reunion events in Camden, South Carolina. Watch captured clips from this historic event for Knowitall.org.
Rivers touch some aspect of our lives every day, quietly serving a need for drinking water, farming, power, industry and recreation. In the spring of 2008, educator Ian Sanchez kayaked from the mountains to the sea, making connections between our cultural and natural landscapes.
Web of Water includes videos shot on location of Ian's three week adventure, teacher and student resources, map and diagram collections, and additional streaming video from the broadcast documentary. "Webisodes" provide an inspiring look at Ian's special brand of outreach and environmental education, and insight into how rivers, landforms and landscapes of South Carolina shape who we are, where we live and why we live there.
KNOWITALL SERIES – FULL LIST
*South Carolina educators: To gain access to titles that are accessible to SC teachers, please create an account in LearningWhy.
Beyond Barbados: The Carolina Connection
Career Aisle - Career Explorations! Collection (Included  here because it contains a number of Series)
Career Aisle Technology Education Center Videos
Conversations with Scientists & Astronauts
Creating a Career with the Arts in Mind
Creating a Career with the Media Arts in Mind
Detective Bonz and the SC History Mystery
Flu PSAs – Illness Prevention Tips & Wash Hands Song
Foreign Language Scholastic Series – French*
Foreign Language Scholastic Series – Spanish*
Gettysburg: The Soldier's Battle*
Healthy Hannah's Healthy Choice Heroes
History of Arts Education in SC
History of SC Slide Collection
Idella Bodie's Ghost Tour: A Writer's Guide
Inevitable Evolution of Fort Frederick
Keep It Real (for ages 14 and up)
Lexington County Courthouse: 200 Years of Service
Literary Tour of South Carolina
Nature Comes Back – 25 Years After Chernobyl
Reading, Safety & Internet Safety Minutes
Road Trip Through SC Civil Rights History
Scholastic American History Series*
Scholastic Children's Stories*
Short Takes with Naturalist Rudy Mancke
Smart Cat: Exercise with Smart Cat
South Carolina African American History Calendar
South Carolina Elects Its Leaders
South Carolina Public Radio - Podcasts
South Carolina State House Specials: Legends and Legacy
Southern Campaign of the American Revolution
Stories Behind the Carols We Love to Sing
Teaching American History in SC
Where the Jobs Are: Exploring Career Clusters
World War I Symposium – Lander University
Our Collections allow you to zero-in on topics that are of interest to you during monthly observations or at any time during the year!
About Persons with Disabilities
Higher Education & Workforce Development
Libraries, Literature & Learning
Coloring Pages and Bookmarks to color are available on Knowitall.org!
Print these coloring pages from Kids Work! and Smart Cat!
Knowitall bookmarks to color are also available on the About page.
Please visit our Knowitall Factoids to extend learning throughout the month!
Be sure to visit the September Factoids!
It's an easy way to stay updated on all the content recently added to Knowitall!
For content added during the 2019-2020 school year, visit our year-end highlights (2019-2020).
As always, we invite you to contact us with questions or comments. Thank you!