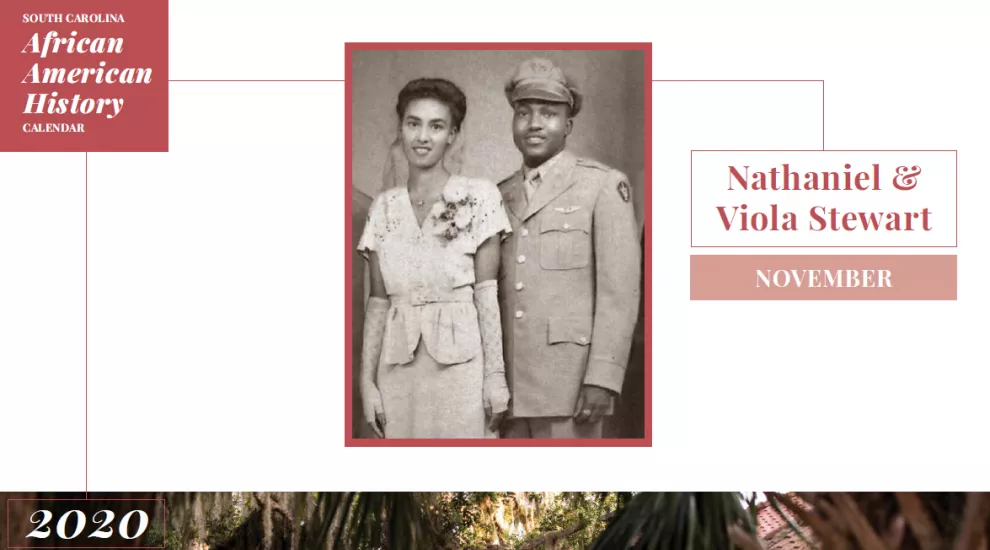 Nathaniel and Viola Stewart were a trailblazing couple who left an enduring mark in African American history. They met on a blind date in 1945, and after falling in love, were married for more than 50 years.
Viola Duvall Stewart, born June 30, 1919, in Charleston, S.C., was an unsung educational justice advocate and civil rights pioneer. She earned a B.S. degree in chemistry in 1941 from Howard University, where Nobel Peace Prize winner Ralph Bunche was one of her instructors. While a teacher at Burke High School in Charleston, Viola was recruited by the South Carolina NAACP to be the plaintiff in an African American teachers' equalization salary case. Her case went to trial in 1944 and she was represented by NAACP Chief Counsel Thurgood Marshall with federal judge J. Waties Waring presiding over the case. In less than 15 minutes, without either side making an argument, the case was decided in favor of the plaintiff, Viola Duvall. The case, Duvall v. J.F. Seignous et al., led to other lawsuits that challenged inequities in African American teacher salaries across South Carolina.
Later in Viola's career, she became an itinerant special education instructor with visually impaired children in the Philadelphia, Pa. public schools. She retired in 1981. She was a Charter Life member of Alpha Kappa Alpha Sorority, Inc., where she served as Epistoleus and delegate to the 1944 regional conference. She later became the sorority's Philacter or corresponding secretary. Mrs. Stewart passed away on December 10, 2010.
Nathaniel C. Stewart, Viola's husband, was born July 8, 1922 in Ft. Motte, S.C. He earned the rank of Second Lieutenant, in the 99th Pursuit Squadron of the United States Army Air Corps, as a member of the famed Tuskegee Airmen. He was an integral part of the successful effort that fought and defeated foreign fascism and racial segregation in the United States military. After his discharge from the Corps in 1946, he went to work at the Philadelphia General Hospital as a staff pharmacist. Once promoted to Director of Pharmacy, he was designated as the first African American to hold a senior administration position at the hospital. Nathaniel was a Lifetime Member of the Kappa Alpha Psi Fraternity, Inc. Mr. Stewart passed away on April 6, 2000.
Participants in the 1963 March on Washington where Dr. Martin Luther King Jr. delivered his "I Have a Dream" address, the Stewarts remained active in the civil rights movement as NAACP Life Members. In 2010, their lifetime commitment to justice and equality were recognized by the Honorable James E. Clyburn in the Congressional Record.
Presented through a partnership between the South Carolina Department of Education and South Carolina ETV.  
View the series on Knowitall.org here.  
Download the SC African American History Calendar here.