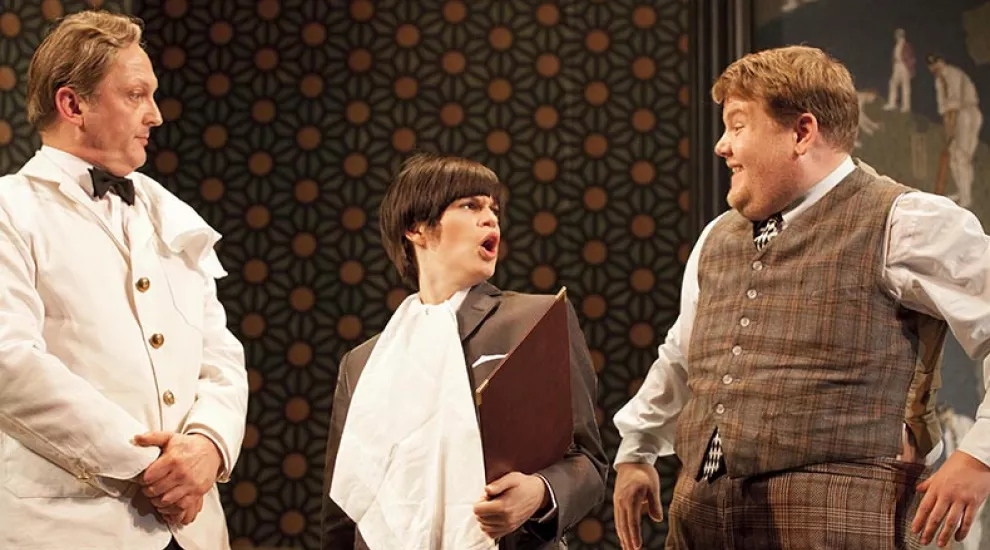 To view the full TV schedule, visit scetv.org/schedule. Use the TV schedule to search for upcoming programs, air times and short descriptions. The program highlights are subject to change. Check the schedule at scetv.org/schedule or on the SCETV app to confirm program times.
*Denotes New Program/Episode
Watch SCETV Live at our website. Visit scetv.org and click "Watch" at the top of the page for a live stream of our television broadcast.
PBS KIDS
How to watch
·Our main channel, SCETV
·SCETV PBS KIDS (our .4 channel with antenna), running 24/7 for your children or students
PBS KIDS in November and December
November
An Arthur Thanksgiving
In this new, one-hour special, Arthur and his family are getting ready for Thanksgiving and it couldn't be busier! Dad is whipping up his famous turkey dinner while the Lakewood elementary kids are preparing for the annual Thanksgiving parade. But when things start to go off course, Arthur and his friends must find a way to save the Thanksgiving celebration. November 16 at 8 a.m.
Also premiering on November 16 is a new Thanksgiving themed episode from Pinkalicious and Peterrific.
A PBS KIDS movie marathon takes over the schedule on Wednesday, November 25 from 6 a.m. to 7 p.m. The marathon will feature:
Ready Jet Go!: Back to Bortron 7
Wild Kratts: Amazin' Amazon Adventure
Xavier Riddle and the Secret Movie: I Am Madam President.
An Arthur Thanksgiving
Curious George: Follow That Monkey
The Daniel Tiger Movie: Won't You Be Our Neighbor?
Pinkalicious & Peterrific: A Pinkaperfect Birthday
The Cat in the Hat Knows a Lot About Space!
Nature Cat: The Return of Bad Dog Bart
Wild Kratts Alaska: Hero's Journey
Odd Squad: The Movie
There will also be new episodes of Elinor Wonders Why on Mondays in November, and several new episodes of Sesame Street sprinkled throughout November.
December
Winter holiday fun is plentifully this month with one-hour specials and holiday-themed episodes from December 4 to December 27. Look out for these seasonal specials!
Curious George: A Very Monkey Christmas
Wild Kratts: A Creature Christmas
Nature Cat: A Nature Carol
Let's Go Luna!: Luna's Christmas Around the World
The Cat in the Hat Knows a Lot About Christmas!
Peg + Cat + Holidays
New episodes
Three new episodes from Molly of Denali will premiere December 7-9, including a new seasonal story, "Tooey's Hole-i-day Sweater."
There is also a new holiday-themed episode from Pinkalicious and Peterrific. "Gingerbread House/Christmas Tree Trouble" premieres December 7.
New episodes from Sesame Street will premiere December 7 & 14.
What Not to Miss in November & December on SCETV
Roadkill on Masterpiece
Ambition knows no bounds, nor does corruption in a political thriller written by David Hare and starring Hugh Laurie as a scheming UK government minister. Crime may not pay, but politics sure does. Sundays at 9 p.m. beginning November 1.

Messiah
Messiah is an eight-part docuseries on ancient Israel and the early Church. Filmed at nearly 30 locations in the US, Israel, the West Bank and Italy, Messiah covers over two thousand years of history from the call of Abraham to the fall of pagan Rome. Sundays at 6 p.m. and 6:30 p.m. beginning November 1.
Start Up
Season 8, where we talk to small business owners about some of the most challenging times that they have ever endured. Throughout this relevant and important season, we look at the ways that small businesses are fighting to overcome a multitude of obstacles that come with operating during an on-going pandemic and beat the odds. Mondays at 7 p.m. beginning November 2.

PBS NewsHour Election Night Coverage
Watch live coverage of election results, anchored by Judy Woodruff. November 3 at 8 p.m.

Vietnam: An Inner View
Three-combat-tour Marine veteran Marc Waszkiewicz chronicled day-to-day life in Vietnam across his three combat tours, sending home roll after roll of exposed 35mm & 16mm, color and black & white still images providing a look into life in 1968 Vietnam in charming, alarming, and occasionally hilarious detail. November 5 at 9 p.m.
Rise of the Nazis
See how Adolf Hitler and the Nazis rise to power. In 1930, Germany is a liberal democracy. Just four years later, democracy is dead, Germany's leader is a dictator, and the government is in the hands of the Nazis. Tuesdays at 9 p.m. beginning November 10.

Great Performances – Fridays at 9 p.m.
One Man, Two Guvnors
Revel in this 1960s-era comedy featuring a Tony-winning hilarious performance by James Corden. November 6 at 9 p.m.
Fiddler: A Miracle of Miracles
Travel through the history of the iconic musical exploring its reach across time and cultures featuring appearances by Jerry Bock, Sheldon Harnick and more. November 13 at 9 p.m.
Lea Salonga in Concert
Enjoy hits from the internationally acclaimed singer performed at the Sydney Opera House. November 27 at 9 p.m.
Secrets of Royal Travel
Discover the inside story of the British Royal Family on the move, taking viewers inside some of the most famous, yet exclusive, transport systems around the globe with select interviews of royal staff. In this two-part series, viewers will discover the fascinating worlds of royal travel by train and air. November 15 and 22 at 10 p.m.
Sisterhood South Carolina Suffragists: The Rollins Sisters – Reconstruction Through 1985
Airs December 17 at 9 p.m. on SCETV. Learn more.
Sisterhood South Carolina Suffragists: The Pollitzer Sisters – Turn of the Century Through 1920
Airs December 17 at 9:30 p.m. on SCETV. Learn more.
Governor's Carolighting
Governor Henry McMaster and First Lady Peggy McMaster will celebrate the beginning of the holiday season with the 54th Annual Governor's Carolighting at the South Carolina State House. Airs December 24 at 8 p.m. with a repeat on December 25 at 7:30 p.m. on SCETV.
Holiday Specials
Christmas-Holiday specials
12/14 9 p.m.          Christmas with the Tabernacle Choir: Christmas Day in the Morning*
12/15 8 p.m.          Ella Wishes You a Swingin Christmas with Vanessa Williams*
                             Repeats on 12/18 at 9 p.m.
12/15 9 p.m.          Christmas At Belmont 2019
12/18 10 p.m.        Lucy Worsley's 12 Days of Tudor Christmas; repeats 12/25 at 8 p.m.
12/19 5 p.m.          Chef's Life Holiday Special (repeat)
12/19 2 p.m.          America's Test Kitchen Special: Home for the Holidays
12/19 6 p.m.          Lawrence Welk: Christmas
12/23 9 p.m.          Christmas At Belmont 2019
12/24 8 p.m.          Governor's Carolighting 2020*. Repeats at 10:30 p.m.
12/24 9:30 p.m.     St Olaf Christmas Festival: A New Song of Joy and Hope*
12/25 7 p.m.          Christmas with the Tabernacle Choir featuring Killi O'Hara and Richard Thomas
12/25 9 p.m.          Call the Midwife Holiday Special*
12/25 7 a.m.                    Nature Cat: A Nature Carol
8 a.m.          Wild Kratts: A Creature Christmas
9 a.m.          Let's Go Luna! Luna's Christmas Around the World
10 a.m.        Cat in the Hat Knows A Lot About Christmas
11 a.m.        Curious George: A Very Monkey Christmas
12 p.m.        Pet+Cat+Holidays
2 p.m.          Let's Go Luna! Luna's Christmas Around the World
3 p.m.           Nature Cat: A Nature Carol
4 p.m.          Wild Kratts: A Creature Christmas
5 p.m.          Cat in the Hat Knows A Lot About Christmas
South Carolina Channel
Just A Game 
Part of SCETV's Carolina Stories series, this one-hour documentary explores the rivalry between the South Carolina Gamecocks and the Clemson Tigers. The film seeks to answer the question, what is there about this rivalry that makes it so important?  November 16 at 8 p.m. on South Carolina Channel.

Jazz at Lincoln Center Presents: A Swingin' Sesame Street Celebration
See some of your favorite feathered and furry friends like Big Bird and Elmo sing classic Sesame Street songs alongside the world-renowned Jazz at Lincoln Center Orchestra with Wynton Marsalis. November 10 at 9 p.m. on South Carolina Channel.
Create Weekly Showcases (Saturdays, 10 a.m. – 3 p.m.; Sundays, 12 p.m. – 5 p.m.)
December 19/20            Magical Christmas
Oh, there's no place like Create for the holidays! Join America's Test Kitchen, chefs Rory O'Connell and Leah Chase, P. Allen Smith and other experts as they show you how to prepare a feast and decorate your home for Christmas. Three specials will also whisk you away to experience the old-world charm of traditional European Christmas markets.
December 26/27            Best of 2020
We're saying "so long!" to 2020 with a showcase of fan favorites from the past year—from the far-flung adventures of travelers Rick Steves, Samantha Brown and Joseph Rosendo to the masterful culinary creations of chefs Jacques Pépin, Lidia Bastianich and Marcus Samuelsson.
ETV World
While I Breathe, I Hope
This feature documentary film explores what it means to be young, Black and Democrat in the American South through the experiences of South Carolina politician Bakari Sellers. November 10, at 11 p.m. on ETV World.

Roadtrip Nation: Single Mom's Story
Follow along as Gabby, Kiera and Maliaq—three single moms eager to explore how to find meaningful careers and navigate post-secondary success—travel across the country to talk with other single mothers who've found fulfilling work as microbiologists, professors, authors, artists and more. November 20 at 2 p.m. on ETV World.
South Carolina Public Radio
Election 2020
SC Public Radio will be simulcasting SCETV's election night program, which will be anchored by the network's Gavin Jackson. Throughout the broadcast, he will be joined by SC Public Radio reporters located across the state. Coverage begins at 7 p.m., followed by national coverage from NPR at 8 p.m. SC Public Radio will break in throughout the night to offer local updates.

Nature Notes
Rudy Mancke, the University of South Carolina's Naturalist in Residence, shares his knowledge of plants and wildlife each weekday on NatureNotes. These one-minute snippets offer a chance to find out about diverse topics, from the inner workings of our world's ecosystems, to plants and animals unique to South Carolina, to tips on beautiful sites to visit. And if you need help identifying wildlife in your backyard, feel free to email Rudy a picture through our website, SouthCarolinaPublicRadio.org. Learn more about the world around you on NatureNotes. Weekdays during "Morning Edition" and "All Things Considered" on all SC Public Radio stations.

On The Keys
SC Public Radio's On the Keys is about the most versatile of instruments, the piano. But it also features the organ, the harpsichord and most anything that has a keyboard or manual. All genres are fair game, including song cycles, concertos, sonatas, amplified piano, even the piano in the symphony orchestra. Join host David Kiser each Thursday night for an hour of moving performances. Thursdays at 8 p.m. on news/music stations.

Roots Musik Karamu with Osei Chandler
SC Public Radio's Roots Musik Karamu broadcast its first show in April 1979 and has been going strong ever since. Produced and hosted by Osei Chandler in Charleston since 1979, Roots Musik Karamu ("karamu" is the Kiswahili word for "feast") centers on reggae music and brings you the sounds of calypso, soca, blues, jazz, gospel, Juju and more. Saturday nights at 10 p.m. on all SC Public Radio stations.