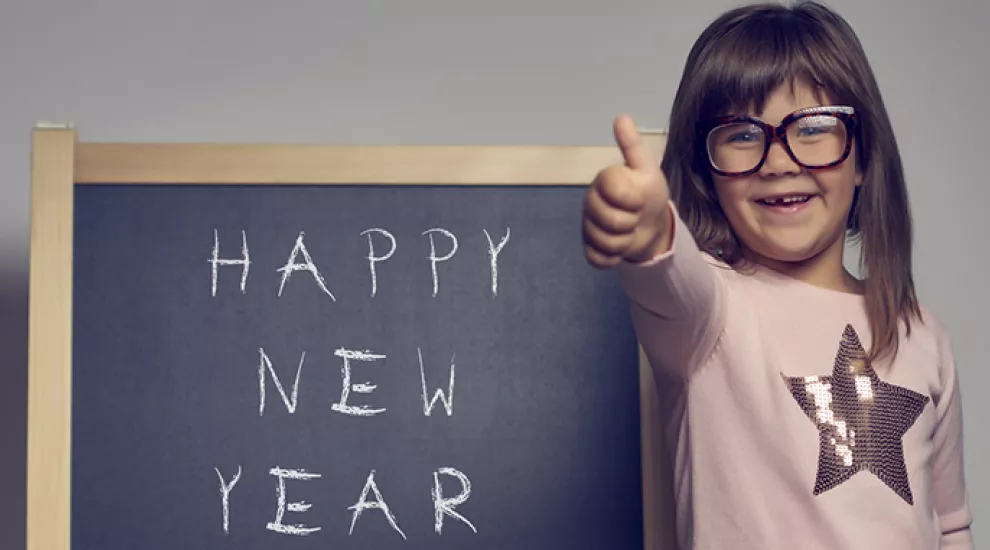 It's a new year, which means new opportunities and new goals, for many people. Some of us may have new year's resolutions, such as to lose weight, to save more money, to buy a house, or to learn a new hobby. Having a new year's resolution can make you feel re-charged, optimistic, and in control of your life, which all feel good!
While setting resolutions for ourselves, we could also help the little ones in our lives come up with their own resolutions. Kids may not necessarily understand the whole "new year, new me" concept, but early learners can certainly comprehend goal setting, and what better way to teach them accountability and responsibility in the new year than creating resolutions that they can achieve?
Need ideas? I'm glad you asked…
Because literacy is so important, especially in the early stages of one's life, a resolution for an early learner could be to practice reading daily. They could read books, flash cards, magazines, or anything else that can be found around your home.
If your early learner has their eyes set on a toy that they want, they could make it their New Year's Resolution to save up enough money for that toy. Having them earn and save money will not only teach responsibility but will also teach them how to count money.
If the early learner in your life is a virtual student, one New Year's Resolution could be for them to move their bodies more since they are on a computer for the greater portion of their weekdays. Challenge them to complete at least one set of exercises each day for the entire year. This will enhance their physical health and overall wellness.
Other resolutions for kids could be for them to eat more fruits and vegetables, for them to clean their rooms every other day, or for them to produce good grades all through 2021.
Help the early learner in your life create and stick to their resolutions by creating a strategy. First, writing them down with them or create a visual representation, and helping them to create a routine or plan that includes incentives and will produce the desired results. Rewards do not have to be monetary or tangible; you can reward them with additional playtime, a warm hug, or words of affection.
New Year's Resolutions are meant to help us grow and become better versions of ourselves, but they should also be fun and attainable. For little ones, a list of 1-3 resolutions to work on for the year 2021 is recommended.
If you need any assistance with creating a New Year's Resolution with your little one, please feel free to contact me at bmwilson@scetv.org. Also, please download the Growing Up with Smart Cat workbook, found at to help your early learners with any educational goals they may have in the new year. The workbook consists of activities from all SC Early Learning Standards and is for children ages 3-7 years old. Remember that SCETV is here to help, and Happy New Year, and we cannot for you and your little ones to set and accomplish resolutions this year!