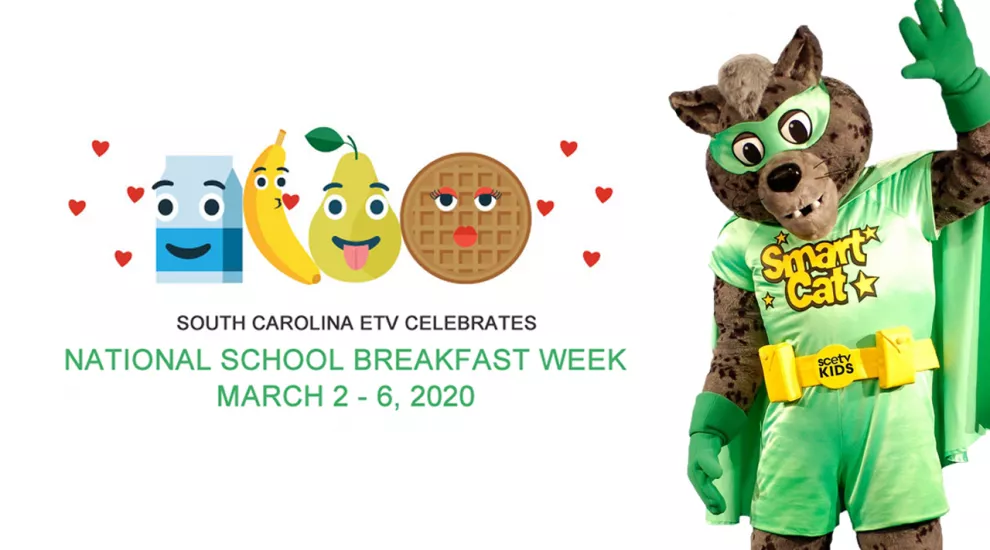 Regardless of the time, breakfast is the most important meal of the day. March 2 – 6, ETV Education will be celebrating National School Breakfast Week in collaboration with Colleton County School District, Richland County School District 2, and Williamsburg County First Steps.
According to the School Nutrition Association, the National School Breakfast Program serves more than 14 million children every school day. Research shows that a healthy breakfast improves student academic performance, behavior, and overall health. In fact, the Food Research and Action Center reports that students who skip breakfast are less able to differentiate among visual images, show increased errors, and have slower memory recall. Studies also show that intake of fiber, calcium, iron, vitamin C, and other important nutrients is more likely among students who participate in school breakfast.
The week of planned activities is designed to promote healthy lifestyle choices among early learners and elementary students. SCETV's mascot SmartCat will be joining the staff to motivate students to make healthy nutritional choices and to lead them in a series of exercises. For SmartCat approved nutrition activities and exercise videos visit www.scetv.org/kids.
More resources to help celebrate National School Breakfast Week at your school are available in the National School Breakfast Week toolkit.
If your school plans to celebrate National School Breakfast Week, please share outcomes with us social media using the hashtags: #SmartCatApproved, #SCETVKids, #NSBW2020
Happy National Breakfast Week and a special thanks to all school nutrition staff!