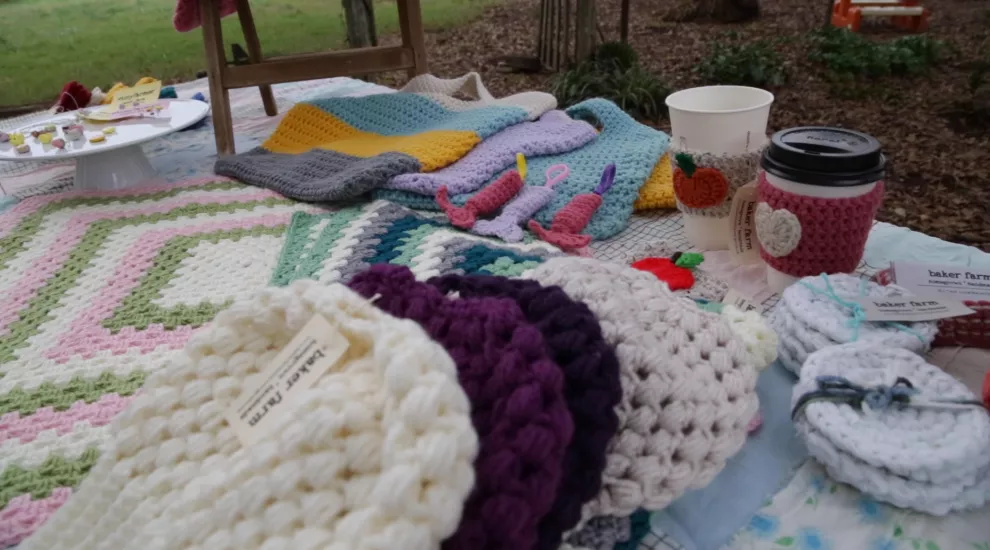 COVID-19 concerns are causing small businesses to undergo a significant financial burden. It is therefore more important now, than ever, to shop local and support the community. Made Here is a digital series that explores small business in South Carolina and surrounding areas. Below is a list of small businesses featured on Made Here that have adapted to restrictions caused by COVID-19  and are still selling their products.
Critter Creek Farm, located in Rock Hill, is usually busiest in the Spring. However, they have had to cancel Goat Yoga events until the end of April, and due to several spring weddings being canceled, their flower sales have decreased, as well. To adjust, they are selling $15 pre-ordered bouquets that can be purchased with an online payment and that will be left at the farm gate for pickup to maintain social distancing. The bouquets are being posted on their Facebook page. They can also be contacted at terri@crittercreekfarm.com.
Geechie Boy Mill has lost 80% of their business due to restaraunts they sold to closing. They are still operating and filling orders on their website. 
Lou Moon Candle Co. is receiving orders directly on their website. If you need to contact them about a purchase, you can head over to their Instagram account. They currently have some discounted candles and $5 flat rate shipping.
Despite not being able to attend vendor shows, Rockin' Rags has a large collection of bears, dolls, and quilts available for purchase. They can all be found on their facebook page.
Haute And Baubled is a handmade jewelry business. They are doing sales out of their Facebook group. Anyone interested in purchasing jewelry, or placing a custom order, can also contact them through email at hauteandbaubled@gmail.com. They can request to join their private Facebook group, which is where most new jewlery will be posted and sold.
Exotic Wooden Art by Phil DeCarlo is still taking orders and commission requests on their website.
Mrs. Fakely's Fun Felt Food is open for business and purchases can be made through their website or through email. Their email is mrs.fakelys@gmail.com.
DJJ Store of Hope in Columbia has closed its physical location. However, they still have youth-made, hand-crafted home décor, furniture, and one-of-a-kind gifts available. These goods are offered to the public via their Facebook page. Customers can purchase these items over the phone by calling (803) 896-6286, and either arrange to have them picked up curbside, or have them removed from the showroom floor and held until the customer is comfortable with coming to get them. Receipts are sent via email or text. They are also offering shipping for smaller items such as wooden pens, metallic palmetto trees, and wine bottle stoppers.
Charleston Hemp Company is still open. Customers can purchase online or visit their store located at 4060 Hwy 17A S, Ridgeville, S.C. They are offering 35% off all products until the end of March.
Glassie Ladies in Columbia is open and they are keeping their regular hours unless they are mandated to close.
Cosmosis Stones is selling their jewelry and taking commissions on their website.
Excellent Extracts is selling their natural extracts on their website.
Wildly Urban Co. has their air plant decor available online.
The Quilted Rose Co. has products available on their etsy page.
The Swankey is selling their beverage tote on their website.
Baker Farm is selling their crochet and farm products through their website.