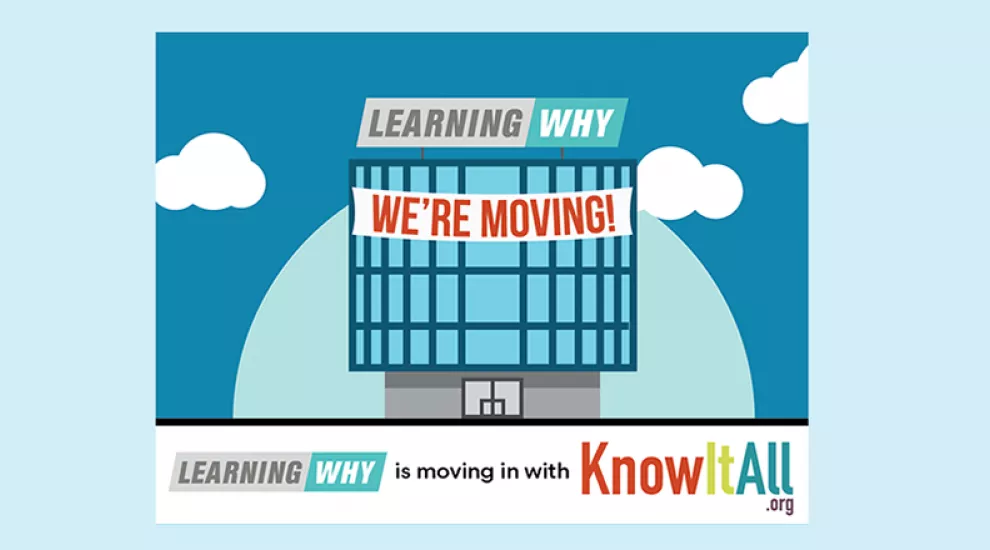 In just a few weeks, when you go to www.learningwhy.org you will not find it!
No worries, LearningWhy is moving in with KnowItAll.
We've combined LearningWhy.org and KnowItAll.org after speaking with South Carolina educators about the best parts of each platform and the areas that need improvement.
What are the benefits of the new KnowitAll.org? We're glad you asked!
The new KnowitAll.org:
Includes all educational activities, videos, interactives, and lesson plans in ONE place. This includes all lesson plans formerly housed on LearningWhy.org.
Includes additional share features beyond Google Classroom.
Includes enhanced search features to like filters by grade, subject, standard, and asset feature.
Includes password protected content specifically for educators. 
If you already have a LearningWhy or KIA account, your username will remain the same. But, you must reset your password.
To reset your password:
Go to knowitall.org/user/login
Click the "Reset Your Password" button
Enter your Username or Email Address and click Submit. Password reset instructions will be sent to you via email.
The email you receive will look something like this:
___
SUBJECT: Replacement login information for "your_username" at Knowitall.org
Your_username,
A request to reset the password for your account has been made at Knowitall.org.
You may now log in by clicking this link or copying and pasting it into your browser:
https://www.knowitall.org (special url for this user only)
This link can only be used once to log in and will lead you to a page where you can 
set your password. It expires after one day and nothing will happen if it's not used.
___
We hope that you find that this change makes your search for just the right educational content a more efficient way to provide our wealth of SC educational related content right at your fingertips. We are happy to answer any questions that you may have concerning the platforms and look forward to welcoming you to the new KnowItAll.org!