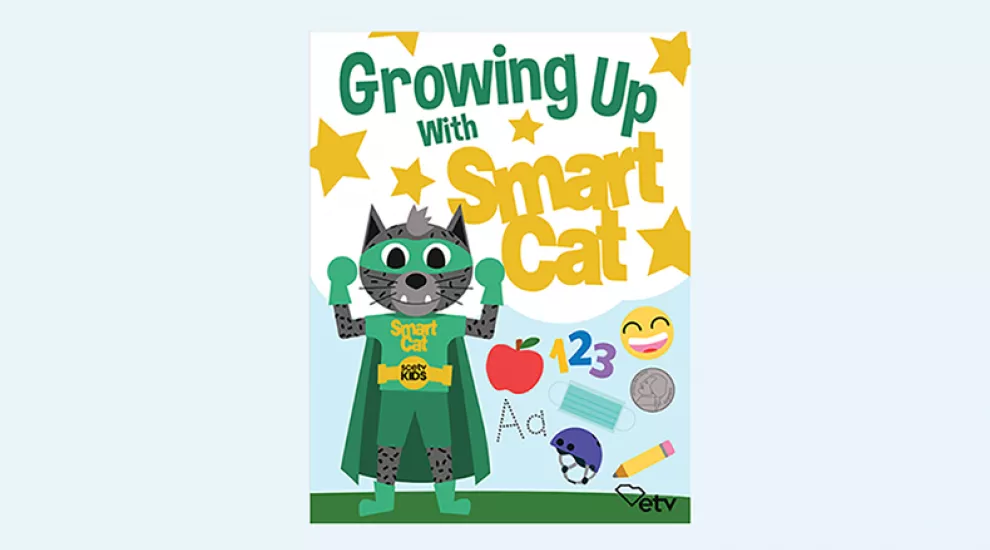 We are closing out 2020 with a big treat for early learners! Smart Cat is growing up and learning new lessons every day and the same is true for South Carolina early learners. Keep reading for updates on new content and opportunities.
Growing Up with Smart Cat
SmartCat is growing up and learning new lessons every day. To document Smart Cat's growth SCETV produced 11 new interstitials focusing on smart and health life choices. The interstitials are aligned with South Carolina Early Learning Standards and the First Steps Profile of the Ready Kindergartener. Topics covered include safety on wheels, germs and hygiene, manners, money, and diversity.
We are also excited to announce that a "Growing Up with Smart Cat" workbook will also be made available free of charge. The workbook includes learning activities that align with the interstitial content, plus a few bonuses!
Growing Up with Smart Cat will air on SCETV and SCETV Kids starting November 16th.
The "Growing Up with Smart Cat" workbook will be available on www.scetv.org/smart-cat. 
Kids Club
Don't forget to sign up for the SCETV Kids Club. Kid's Club members get exclusive announcements, access and benefits to include:
An official Kids Club membership certificate
Access to special SCETV PBS Kids activities and events
VIP and behind the scenes ETV exclusives
To sign up visit www.scetv.org/scetv-kids-club.  Plus, it's free!
Bright by Text
Could you or someone you care about use caregiving tips for early learners? If so, we can help with Bright by Text!
Bright by Text is a free texting service that provides FREE, quality information from SCETV, PBS, and other trusted partners. Messages are designed for caregivers of children prenatal to eight years old and cover topics pertinent to developmental milestones, safety, and caregiver resilience. Signing up is EASY, just text "SCETV" to 274448.
For more information about these initiatives and services contact etveducation@scetv.org.