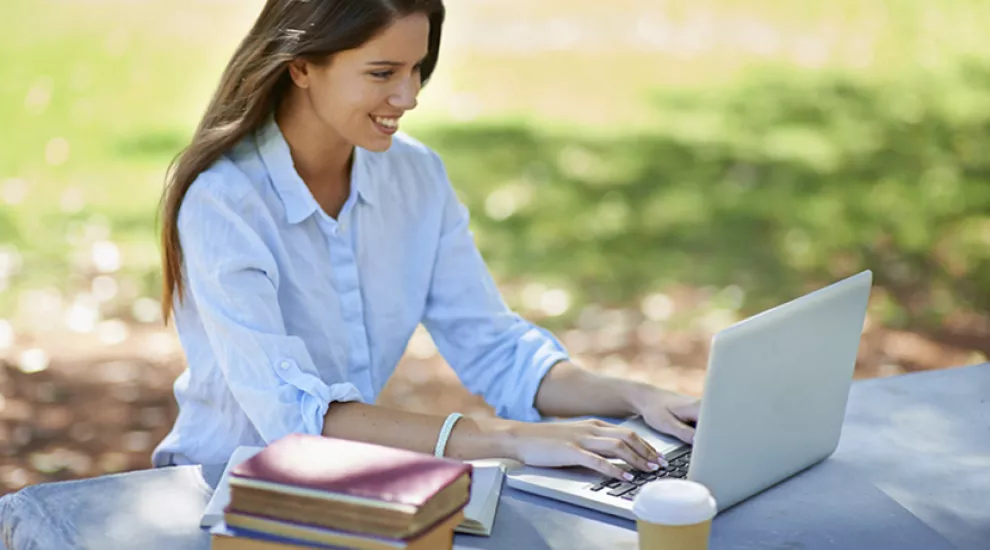 ETV Teacher Recertification offers South Carolina teachers a variety of online, self-paced courses approved by SDE for 20 renewal credits. Earn your recertification credit at home, anytime 24/7!
Spring II session starts May 11 and ends June 16. Credit earned in this Spring II session will meet SC teacher's recertification needs by the June 30 SC Department of Education renewal cycle deadline. Register for Spring II session by end of day May 26 … OR …
Don't need credit by June 30 SDE renewal cycle deadline? Then plan to register for the Summer session when registration opens June 2. The Summer session opens for work July 1 and ends August 17.
SPRING II – Register May 1 thru May 26 / Session open to start work May 11, complete work by June 16
SUMMER – Register June 2 thru July 17 / Session open to start work July 1, complete work by August 17
All ETV Teacher Recertification courses:
Approved for 20 renewal credits each by SC Department of Education (NO graduate credit)
Online; self-paced (work from anywhere 24/7; start when session opens/complete by end date)
Enroll in one to six courses per session (each course takes at least 15 hours to complete)
ELA, Science, Social Studies, The Arts, Career Ed, Environmental Ed, Natural History & more!
$75 per course; register online and pay online by credit card or send check
FREE OFFER: 
Register for ANY 20 renewal credit course in Spring II session and receive the NEW Natural History in North America & Beyond, Series III course FREE in this session. Series III focuses on South Carolina as we learn about the distinctive geography and flora/fauna in the regions of our state with Naturalist Rudy Mancke! Good for K-12 teachers/all subject areas. To receive FREE offer, register/pay for ONE course then immediately email title of course you registered/paid for and ask for free offer for Spring II session: bjamison@scetv.org
NEWER courses – offered in both sessions, 20 renewal credits each:
Natural History in North America & Beyond, Series I and Series II
Both courses highlight the 4 regions of the U.S. as we learn about the biodiversity of each area, looking at the distinctive geography and the variety of plant and animal life forms along with their remarkable habitats to understand how they are connected. This study allows K-12 educators to integrate Natural History into their teaching, making connections students can relate to anywhere in the world. Award-winning "NatureScene" programs provide a rich, up-close experience with unprecedented access and exceptional photography. Naturalist Mancke conveys additional information in separate segments to extend, reinforce and connect. (Recommended for teachers of all grade levels, all subject areas)
Natural History in North America & Beyond, Series III – NEW … Focuses on South Carolina!
Series III highlights areas in South Carolina. Rudy relates the biodiversity, looking at distinctive geography and the plant and animal life forms along with remarkable habitats. Follows same format as Series I and Series II, using "NatureScene" programs and "Rudy" content segments. (Recommended for teachers of all grade levels, all subject areas)
Between the Waters: History Across the Curriculum at Hobcaw Barony, Series I and Series II*
These innovative courses provide engaging ways to integrate history using SCETV's immersive website Between the Waters. Series I walks participants through the site, guiding an exploration of Hobcaw Barony's history from Native American life through slavery, Reconstruction and both World Wars by examining focus sites on topics including food, hunting, sports, architecture, religion, art, and nature. Educators must complete first BTW, Series I course before taking the second course. Series II continues the exploration the BTW website to explore the history and natural history of this Georgetown treasure, examining other focus sites with a concentration on African-American life in the low country area of our state. "Hobcaw Witness" interviews and historical footage provide a rich history. (*NOTE: Educators MUST complete BTW, Series I course prior to taking Series II. You may sign up for BOTH courses in a session, but complete Series I first!)  (Recommended for teachers of grades 3-12, all subject areas)
Teaching and Learning in Carolina Classrooms, Series I and Series II
Teaching and learning today is much more than the traditional lecture-based classroom. Teachers are the facilitators of learning and must be learners themselves. The ETV/PBS programs share messages of courage in education – to take risks, to advocate, to lead, and to share ideas. Series I topics include: teacher training and retention, digital literacy, education options, college/career readiness for all students. Series II include: recruiting and supporting teachers, bullying and suicide prevention, science education and careers, adult education, and using digital media to create classroom lessons. In both courses, we'll meet recent SC Teacher of the Year finalists. Similar to the popular SC Teachers on Teaching courses. (Recommended for teachers of all grades/all subject areas - classroom & special area teachers, media specialists, guidance professionals, administration)
Connecting with Literacy Through Storytelling  
Storytelling should be part of a student's educational experience because it is a literacy activity, a listening activity and a means of appreciating cultural diversity! In this course, now a favorite with SC educators since added in 2018, renowned storytellers from across our nation share selections of stories from folk tales to animal tales to their own creations. Interviewed by SCETV, the tellers share information on the storytelling process and provide useful tips. And, they each demonstrate good storytelling techniques that both teachers and students can emulate. (Recommended for teachers of all grade levels, all subject areas)
Other popular courses – go to website for complete course descriptions:
Career Education for Student Success and The Arts and Career Connections (good info for all teachers)
SC Teachers on Teaching, Series I & II (features SC Teacher of the Year, other outstanding educators)
A Literary Tour of SC, Series I, II & III (useful tips on writing process from SC-connected authors)
Making Connections with Natural History Featuring Rudy Mancke, Series I & II (learning thru nature)
Take on the South with Dr. Walter Edgar (debates on key issues, incl. Southern lit, music & foods!)
SC Chronicles, Series I - VII (also with Dr. Edgar, walks thru SC history, discussions on people & places) 
Course descriptions/Register/Pay: http://www.scetv.org/teacher-recertification
Questions/Need Help? (Toll free) 1-888-761-8132/1-800-277-3245 or (Local) 803-737-9915/737-3245