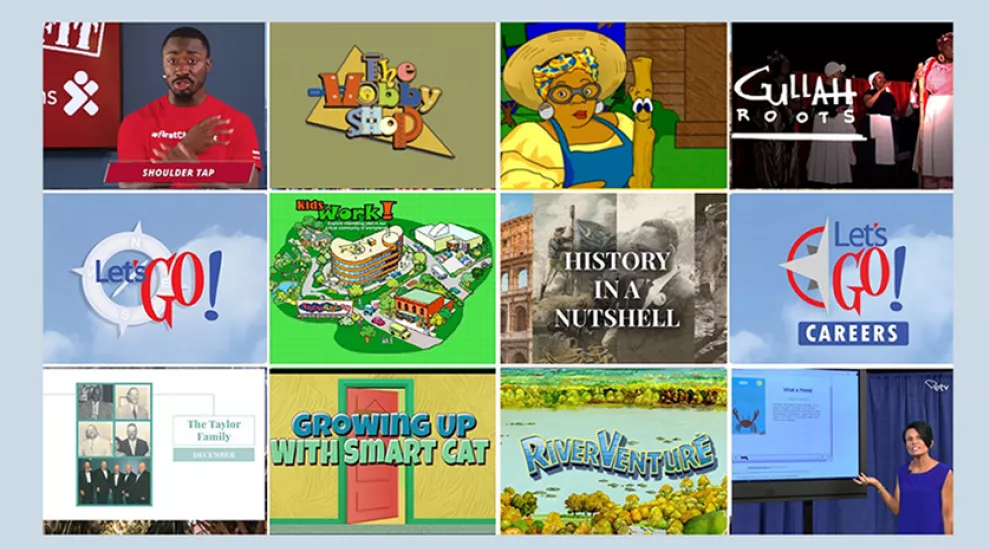 We are excited to share four new series, an assortment of interactive Activities, and numerous Series and Collections on a wide array of topics that may surprise you – all right here on KnowItAll!
Favorites include such well-loved Activities as Artopia, GullahNet, Hobby Shop, Kids Work!, NASA CONNECT Math Simulations, NASA Online – Science Simulations, and RiverVenture, plus virtual tours from Let's Go! and Let's Go! CAREERS. For those who love history, we offer History In A Nutshell, Between the Waters, Congaree Swamp Stories and Carolina Stories! All provide excellent ways to extend the learning – all through the holidays!
NEW ON KNOWITALL
Columbia Museum of Art - Let's Go!
Glenna Barlow gives a brief overview of the Columbia Museum of Art, its history, and mission. 
The Columbia Museum of Art sparks powerful connections through art from around the corner and around the world in an environment that is welcoming to all.
The Columbia Museum of Art is the cultural heart of a revitalized downtown Columbia. This museum boasts a wide variety of original and historic art pieces, from thousands of years ago, to present day.
We are excited to share four new series this month on KnowItAll.org!
Asynchronous Studio Lessons have been produced by South Carolina ETV in partnership with SC Department of Education to enhance the At-Home Learning schedule.
Marcus Lattimore from First Choice Community Center in Columbia demonstrates fun and easy exercises that can be done at home.
South Carolina ETV has launched Growing Up with Smart Cat – an education initiative featuring a new workbook and short video series. Both generated to align with specific curriculum standards, the workbook is available for download now, and episodes of the short video series will be published each Wednesday at 1 p.m. on the @SouthCarolinaETV Facebook page. The video segments will also appear on air during SCETV's kids programming blocks.
Achieved with support from both EdVenture Children's Museum and SC First Steps, Growing Up with Smart Cat content targets students Pre-K – 2nd grade and covers all subject areas and multiple developmental skills. The short video series features 11, 45-second episodes, each focused on a different topic, such as roadway safety, money, choosing friends, germs, manners and diversity.
In addition to this initiative, SCETV's Education team recently launched a new SCETV Kids Club. Designed for children 12 and under who love SCETV and PBS KIDS, SCETV Kids Club members receive an official membership certificate, access to special SCETV PBS KIDS activities and events, a birthday message from Smart Cat and a surprise gift in the mail each quarter. Printed copies of the Growing Up with Smart Cat workbook will also be available for club members. There is no membership fee to join the club.
Gullah Roots | Carolina Stories
Gullah Roots dives deep into South Carolina's ties with West Africa, educating viewers about Gullah heritage, including spiritual, musical and artistic traditions.
South Carolina African American History Calendar:
December Honorees – The Taylor Family
For four generations, the Taylor Brothers Construction Company, Inc. has operated an African American owned heavy construction business in Columbia, S.C. Started in the late 1930s by Samuel Thomas "Papa" Taylor, and aided by a mule and a drag pan, the company prepared commercial and residential sites and sold wood.
The business expanded during the 1940s into hauling and building material delivery when Papa Taylor's sons, Robert and Samuel, returned from World War II. Soon Robert and Samuel's wives, Mary Clarkson "Mae'' Taylor and Onalee Davis Taylor joined the company as staff in a small office on Gervais Street, in the historic Waverly community. During this period, the Taylors excavated the location for the Bellas-Hess department store in downtown Columbia and prepared the site for one of Columbia's first shopping centers, Midlands Shopping Center on Two Notch Road. Taylor Brothers also became one of the first minority-owned subcontractors to provide hauling services to a new United States Air Force Base in Horry County.
The family's high standards and commitment to the community continued in the 1960s when Robert "Butch" Jr. and the late Kenneth Taylor, graduates of Benedict College, became the third generation to join the company. The two were followed by Collier, a Midlands Technical College graduate, and fraternal twins Donald and Ronald in the 1970s, both of whom are Hampton University graduates. As subcontractors, the company specializes in on-site preparation, trucking, hauling, water, sewage, demolition, and recycling work with the SCDOT and other general contractors. The business was incorporated in 1982.
Driven by the desire to improve the quality of life for its community, associates, families, and clients, Taylor Brothers Construction, Inc. has developed a diverse regional portfolio. The company's projects include basements on Columbia's Main Street, subdivisions, office parks, places of worship, and the University of South Carolina's Darla Moore School of Business and School of Law.
As a family and business, Taylor Brothers fosters the development of other minority contractors, faith-based organizations, schools, and community events. These generous efforts have been recognized by the SCDOT and the National Association of Minority Contractors (NAMC), among others. The company's proud motto is, "We Move the Earth to Build a Better World.''
Dates for your calendar
Dec. 1  Rosa Parks Day
In 1955, Rosa Parks, a seamstress living in Montgomery, Alabama, wanted to peacefully demonstrate what civil rights meant to her. She was arrested for sitting at the front of the bus, a place reserved for white people only. Dr. King came to help her because he believed that everyone should have the right to use the buses. In order to raise awareness for this problem, he organized a peaceful protest of segregated buses that lasted 382 days. The protest led to a Supreme Court decision that said segregated buses were unlawful. Because of this success, Dr. King became known as a leader of the civil rights movement.
Rosa Parks is credited as the mother of the civil rights movement. On December 1, 1955, the tired seamstress refused to give up her bus seat to a white passenger in Montgomery, Alabama. She was arrested and fined for violating a city ordinance. Her act of defiance sparked a movement that ended legal segregation in America. With a multiracial heritage consisting of African American, Cherokee and Creek Indian, and Caucasian, Rosa never got hung up on "I am a black person." Parks was into the issues of teaching tolerance concerning skin color and religion. "In those ways, she was very high minded in her approach to global politics. It wasn't one of race versus race or screaming at each other, it was one of tolerance."
Dec. 2   International Day for the Abolition of Slavery
Dec. 2   Special Education Day
Michael Tecklenburg faced numerous hardships with his deafness growing up, but after being tested at the Central Institute for the Deaf, in St. Louis, experts were able to pinpoint the problem, and his family sent Michael to the St. Joseph School For The Deaf, where he learned how to lip read, and get an education specially suited for students with the same disability.
Michael Tecklenburg is pursuing a career in law and politics. But what makes Michael Tecklenburg stand out is that he is pursuing his education at Columbia University Law School, and his career, while simultaneously overcoming adversity. He was born deaf, but he is not letting that hold him back from his potential future.
Treatment for pediatric cancer has made tremendous progress over the past few years. Unfortunately, societal attitudes have often lagged decades behind. At Camp Star Trails, a summer camp for children with pediatric cancer, these children can come to learn how to live, and to escape the premise that cancer is a hopeless battle. The camp provides morale-boosting extra-curricular activities, and inspires hope, to not give up the fight against cancer.
The staff at the Texas Parks and Wildlife Department pride themselves in making their facilities accessible to all, so that anyone, disabled or not, can equally enjoy the available extracurricular activities.  Some of the regular attendees at these parks, including a world championship wheelchair tennis player, talk about how they became disabled, and show their appreciation to the Texas Parks and Wildlife Department's efforts to make their parks more easily accessible. 
Willow River Farms, located in San Felipe, Texas, employs workers who are developmentally disabled adults. A nonprofit organization in Houston has served those with special needs for over 40 years. The Board of Governors felt there was a need for a rural community, since many adults desired to live in the country, and to "experience something different."  This farm gives these special needs adults the tools they need to become independent and successful in life. 
 A visit to the Wilson Lock and Dam, an area also known as "The Shoals," located in northwest Alabama. The historic sites featured are the shoals, the home of Helen Keller, the home of blues legend W.C. Shandy, the Alabama Music Hall of Fame, and the Renaissance Tower.
Byars' book Summer of the Swans deals with the thoughts and feelings of the mentally disabled.
In this first segment on Civil War piano music, Dr. David B. Thompson briefly discusses the life of African American composer Thomas "Blind Tom" Wiggins, and plays one of his works. 
At 19 months old, Helen Keller suffered an extreme fever that made her sight and hearing impaired. She became a national spokesperson for the physically disabled by writing books, giving speeches, and working with the U.S. government to raise funds and awareness for her cause.
In this program, Patti says that her disability was very hard to deal with, when people wouldn't hire Patti because of her disability. But she had confidence in herself and knew she could do the job, and kept looking for someone who would give her a chance. 
Physical therapists treat patients who are disabled due to surgery, injury or disease. They create rehabilitative programs for the patients to help improve mobility, relieve pain and increase strength. The therapists must have good social and communicative skills to instruct and motivate patients who are often in pain. Physical therapists must test, measure and evaluate patients' progress. Daily duties are physically demanding due to the amount of strength it takes to work with a patient who needs assistance exercising or walking.
In 2002, Weeks was diagnosed with Usher syndrome, a condition causing vision and hearing loss. Hearing devices helped increase her hearing range but Weeks searched for ways to experience the world around her even with a limited field of vision. She was researching running for the visually impaired and came across a website on guide running, running tethered to another person. With very little help, Rachel, with her sister as a guide, set out on the journey of running. After her first race Weeks was hooked. According to Weeks, "It's all about finding happiness in ourselves."
Dec. 7   Pearl Harbor Remembrance Day
Dec. 7 Green Monday*
Learn more about keeping our planet clean with our Environmental Awareness Collection! 
Dec. 10   Human Rights Day
African American History Collection
Civil Rights Youth Media Summit
Focusing on digital and social media as a strategy for student engagement, the Summit taught critical thinking and problem-solving skills to a select group of high school students assisted by mass communications mentors from Benedict College students, helping them to understand their place in history.
Ruby Bridges' first day at William Frantz Elementary School was very unusual. Integration, or the sharing of schools by African American and white people, had recently become law in 1960. She was one of the first African American students to attend an all-white public school in New Orleans, Louisiana. Many people did not want her to go to the school. An angry mob yelled hateful remarks at her as she entered the school building. She had to be guarded by federal marshals to ensure her safety. But Ruby entered and stayed at the school, becoming one of the first African Americans to integrate a public school in the state of Louisiana. Painter Norman Rockwell paid tribute to Ruby's experience in his painting, "The Problem We All Live With."
Dr. Maya Angelou's busy career has included work as a poet, historian, songwriter, playwright, dancer, film producer, director, actress, singer, and civil rights activist. As a poet, she has read her work at a presidential inauguration and won numerous awards. Her poetry often deals with difficult issues, such as racial discrimination and prejudice.
Writer and women's rights advocate Gloria Steinem helped found the magazine Ms., the first national women's magazine run by women. As an advocate, she organized political campaigns and rallies in support of women's rights and human rights in general. Gloria continues to work for equal rights. She has said, "Without leaps of imagination, or dreaming, we lose the excitement of possibilities. Dreaming, after all, is a form of planning."
The world is full of different cultures and religions. But in some areas of the world people are not allowed to talk about their faith and opinions. The United Nations considers the right to express one's ideas and beliefs a basic human right. To view all of the 30 articles that make up the U.N.'s human rights agenda, click here! The U.N. promotes freedom of religion as a human right.
A native of Bennettsville, Marian Wright Edelman In the mid-1960s as a human rights activist began directing the Legal Defense and Education Fund for the Mississippi NAACP. As the first African American woman admitted to the Mississippi bar Marian Wright Edelman was a formidable force for civil rights. In 1967 her efforts in behalf of poor people brought Senators Robert Kennedy and Joseph Clark to Mississippi to observe, first-hand, the extent of rural poverty. As a result, the federal government began distributing free food stamps. In 1968 she established the Washington Research Project, forerunner to the Children's Defense Fund which she founded in 1973. Based in Washington, DC, the Children's Defense Fund is a powerful research and lobbying voice for children.
James Clyburn grew up in Sumter, South Carolina. As a young man, he knew that someday he would be part of the political process in Washington, D.C. Today, he works in D.C. as a South Carolina congressman. Congressman Clyburn and other members of Congress work together in order to pass new laws.
Congressman Clyburn's interest in politics began while attending South Carolina State College in Orangeburg. During the 1960s, he enlisted other students to work for the Congress of Racial Equality, or CORE, a group that advocated civil rights. After graduating from college, Congressman Clyburn worked as a teacher and an employment counselor. Continuing his role in public service, he directed two youth and community development projects in Charleston, South Carolina. Congressman Clyburn entered State government in 1971, working under Governor John C. West. In 1974, Governor West appointed him the South Carolina Human Affairs Commissioner. As Commissioner, his duty was to eliminate discrimination in employment, housing and public accommodations. He remained commissioner until he was elected to Congress in 1992, his district's first African-American Congressman since 1897.   
Congressman Clyburn works on issues and problems affecting both South Carolina and the United States. He has pushed for laws to preserve historic African-American schools and universities. In 1996, Congressman Clyburn helped create the South Carolina Heritage Corridor, a protected 200-mile route used to educate people about the state's history, culture, and natural landscapes. Congressman Clyburn also takes time to visit students in South Carolina schools. His message is, "it doesn't matter where you started from, you can be what you want to be. I often tell young people to hold fast to their dreams and never let others discourage them."
Here are some of the videos included in Road Trip! Explore them all!
The Civil Rights Movement has been part of an ongoing struggle since enslaved Africans were first brought to America. The modern Civil Rights Movement began in the 1940s and many changes had taken place by the early 1970s, with the major events happening between 1954 and 1968.
Benjamin Elijah Mays was born in the town of Epworth, southeast of Greenwood, August 1894. A son of former slaves, Mays' childhood played a key role in shaping the man that he would become. His earliest memory was of a white mob that approached his family's home on horseback, forcing his father to remove his hat and bow before them repeatedly. Mays left Epworth to attend high school in Orangeburg at South Carolina State College. In 1916 he graduated as class valedictorian. It was as President of Morehouse, from 1940 to 1967, that Mays achieved his widest scope of influence in civil rights and education.
The Briggs v. Elliott case began as a simple request to provide bus transportation. In addition to having separate and very inferior facilities, black children had to walk to school, sometimes many miles. Ophelia DeLaine and her brother Joseph DeLaine Jr. reminisce about what their father, Rev. J. A. DeLaine, taught them.
Cecil J. Williams is the author of Freedom & Justice. He is a noted civil rights photographer. At 14-years old, Williams was hired by JET Magazine to record the images of the civil rights movement in South Carolina.
Chief Justice Ernest A. Finney gained respect as an exceptional civil rights advocate defending more than 6,000 people arrested for participating in some type of civil protest. He was appointed to the South Carolina Supreme Court in 1985. The General Assembly appointed him to Chief Justice in December 1994. Chief Justice Finney retired in 2000 from the South Carolina Supreme Court.
Rev. J. A. DeLaine and several others helped build the national case Brown v. Board of Education. DeLaine's family and other Clarendon county residents recall the bravery shown by signers of the Briggs v. Elliot petition.
Eleven months after the murder of Dr. Martin Luther King, Jr., the eyes of the nation focused on Charleston, South Carolina, where a conflict developed over striking workers. On March 20, 1969 Mrs. King marched with black workers from Local 1199-B, the Nursing Home Employees Union, who had been fired after striking for higher wages and more humane working conditions. The workers sought higher wages than the $1.30 an hour offered to them by the state. Mrs. King's presence made clear for the first time since the death of her husband that she was resolved to play an active role in his unfinished work.
A life member of the NAACP, Clyburn has actively worked to support the principles of inclusion upon which the organization was founded. The Sumter native and graduate of South Carolina State University became the first Black to be appointed to the staff of Governor John C. West in January of 1971. In 1974 he became the Director of the South Carolina Human Affairs Commission and served in that capacity until he retired, in 1992 to run for Congress. Shortly after entering Congress, he was elected Chairman of the Congressional Black Caucus for the 106th Congress by a rare unanimous vote.
Congressman James E. Clyburn, member of the United States House of Representatives for the 6th District of South Carolina, shares how Rev. J. A. DeLaine had to flee South Carolina. Sadly, Rev. DeLaine was never able to return to his beloved Clarendon County.
Mrs. Modjeska Simkins tells of how the business boycotts began in Columbia and around the state. Mrs. Simkins was also at the forefront when the Southern Negro Youth Conference was formed
A brief history of the contributions of Judge Perry to the Civil Rights Movement in South Carolina.
Civil Rights Movement | SC Hall of Fame
Benjamin Mays (1894-1984) was a minister, educator, scholar and social activist. He was known as the "Father of the Civil Rights Movement."
Marian Wright Edelman is founder and President of the Children's Defense Fund, the nation's strongest advocacy group for children and families. Born in 1939 in Bennettsville, South Carolina, she attended Spelman College and Yale Law School. In the sixties, she was active in the civil rights movement in Mississippi and worked with Martin Luther King and Robert Kennedy to assist poor people.
Matthew James Perry, Jr. was born in Columbia, South Carolina, August 3, 1921. He attended law school at South Carolina State College and would play a central role in nearly every noteworthy civil rights case in South Carolina. Perry served on the U.S. Court of Military Appeals and was later named U.S. District Judge for the District of South Carolina. He died July 29, 2011.
In 1960, Ernest Finney (1931-2017)  began his law practice in Sumter, South Carolina, specializing in civil rights advocacy and defense. He represented the Friendship 9, a group of black college students arrested and charged when trying to desegregate a lunch counter in Rock Hill, S.C. In 1972, Finney was elected to the State House of Representatives. Four years later he became the first black Circuit Court judge. In 1985, he was appointed to the South Carolina Supreme Court and was named Chief Justice on May 11, 1994. Ernest Finney passed away in December 3, 2017 at age 86.
A pioneer in grassroots citizenship education, Septima Clark was called the ''Mother of the Civil Rights Movement'' by Martin Luther King. Clark was born in Charleston, South Carolina in 1898, daughter of a laundrywoman and a former slave. She became a teacher on Johns Island, leader of workshops at Highlander Folk School in Tennessee, and founder of "citizenship schools" throughout the South. Septima Clark, civil rights activist, developed the concept of "citizenship schools."
Jennet Robinson Alterman is a fixture in the Charleston community, as well as the state of South Carolina. Through an inclination to take chances and a confidence to learn new skills, she navigated a career that cannot be contained in any single area of expertise. After graduating college, Alterman temped at a local CBS affiliate, where she would eventually work in every department of television broadcasting, until she found herself a morning anchor.
After learning that she was not being compensated equally to her male counterparts, Alterman took this as her cue to take another bold chance, and joined the Peace Corps, where she was stationed in Afghanistan before the Russian invasion. In the years following, she would return to South Carolina to serve as a press secretary for the first female Lieutenant Governor, and then she would venture to Africa, to serve the Peace Corps again in Swaziland.
When she found herself again in South Carolina, she took over as the Executive Director for the Center for Women. In her twelve year tenure, it would become the most comprehensive Women's Development Center in the state of South Carolina. These combined experiences have developed Alterman's leadership style, and more importantly her passion for women's rights. "I rarely use the word overwhelming… overwhelming is when life or limb are at risk, everything else is whelming."
Women Vision SC is a program that focuses on issues affecting women throughout the state and the nation, and a new generation of young people pursuing public service for their communities and the state at large. The program is produced and hosted by former South Carolina ETV president Linda O'Bryon.
Some of the videos included in the series are listed below. Explore more!
T. Lilly Little Water began her life's passion of advocating for Indigenous People at age seventeen.  "It's something intangible and inexplicable that drives me.  It feels like there are also a 1000 ancestors in my heart that are constantly giving me a nudge in this way or that way. They always give me direction."  That direction has led T. Lilly Little Water to 30 years of conducting social justice campaigns for Native Americans. She is CEO of the SC Indian Affairs Commission, where she organized the Indigenous Women's Alliance Committee. She has also supported veterans, families and children. She focuses on human rights and challenges arising from poverty. From organizing Pow Wows to preserving and strengthening the Native American culture to lobbying, her love of culture has developed into a keen sense of humanity. She did not receive her undergraduate degree until she was 32.  Later she pursued a post-graduate degree in clinical psychology and entered a PhD program at the age of 60. 
Jennifer Gutierrez-Caldwell has been described as a "change-agent." As director of Youth Services at Pendleton Place in Greenville, she works to keep children safe and support families in crisis.  "I truly believe that I was put on this earth to make change happen," she said.  "I believe in the rights of people, especially those communities that don't have a voice or a seat at the table," she added.  Before her work at Pendleton Place she was Director of Diversity and Inclusion at Wofford College and earlier served as Coordinator for Multicultural Recruitment at Furman.   As a daughter of immigrant parents, she grew up in Los Angeles, and she chose to live in South Carolina, where she believes she can make a difference. 
Our Women's History Collection features women from many walks of life! Learn more!
The Story of Mary McLeod Bethune is the story of one woman's struggle to gain equality for herself and her students. Mary grew up in rural South Carolina and became a teacher. She started with nothing and ended up being an advisor to a President! 
Sarah Moore Grimké and Angelina Emily Grimké
In The Story of the Grimké Sisters, find out how both Sarah Moore Grimké (1792-1873) and Angelina Emily Grimké (1805-79) followed a similar path, speaking out and leaving home to join the fight for the abolition of slavery and equal rights for women. 
Through Dr. Wil Lou Gray Gray's efforts, the Wil Lou Gray Opportunity School for illiterate adults and children was funded. In the program, we learn what life was like during the early 1900's for many South Carolinians. 
Teacher Resources and Lessons
MORE TO EXPLORE!
Born to Rebel: Driven to Excel – Dr. Benjamin Mays
Benjamin Mays, from Epworth, South Carolina, saw the racism and forced segregation of life around him and decided to challenge it with education and religion. Against the advice of his father, Mays pursued a formal education and rose to the top of his class, becoming Dean of Religion at Howard University, and later earned a Doctor of Philosophy from the University of Chicago. He would become president of Morehouse College in 1940, and his influence on civil rights and education for the next three decades would reach far and wide. He met with Mahatma Gandhi, led Atlanta's desegregation effort, and convinced Gone with the Wind author Margaret Mitchell to (secretly) sponsor students. He was mentor and spiritual father to Martin Luther King, Jr., who credited him as his inspiration for entering the ministry. King selected Mays to give his eulogy in the event of his death, a task Mays would fulfill. Interviewees include Andrew Young, Hank Aaron, Mays' great niece Dr. Marshalyn Yeargin-Allsopp, and Dr. Robert Franklin, current president of Morehouse College.
In the African American Carver Street neighborhood of Myrtle Beach, South Carolina, music at Charlie's Place brought people together during Segregation. The owner, Charlie Fitzgerald, welcomed White and African American customers alike. Famous artists such as Cab Calloway, Fats Domino, Lena Horne, and Little Richard regularly performed there. Unfortunately, on one summer evening in 1950, tragedy struck when the Ku Klux Klan attacked the club, and Charlie Fitzgerald was beaten in the process.
In 1960, a talented African-American student from Charleston, Harvey Gantt, graduated from high school and decided to become an architect. Clemson College was the only school in South Carolina that offered a degree in his chosen field. In January of 1963, with the help of NAACP lawyer Matthew J. Perry, Gantt won a lawsuit against Clemson and was peacefully admitted to the college, making him the first African-American student to attend a formerly all-white school in South Carolina. 
Florence: A Civil Rights Spirit
Many returning to Florence after World War II saw clearly, possibly for the first time, a great injustice in their own community...segregation. Brown versus Board of Education" changed race relations in America forever, as the United States Supreme Court struck down the country's separate-but-equal mentality. A mayor's human relations committee was established in the mid-1960s.  The mayor appointed a committee of ten whites and ten blacks to meet. As the '60s waned, racial discrimination in Florence was by no means a thing of the past, but the situation was greatly improved.
Gullah Roots dives deep into South Carolina's ties with West Africa, educating viewers about Gullah heritage, including spiritual, musical and artistic traditions.
Penn Center: A Legacy of Change
This program tells the story of the Penn Center's inception in 1862 as a school for freed slaves to its involvement in the Gullah community today. Today the center collects, documents, preserves, and disseminates information related to cultural heritage of the Sea Island and Lowcountry African American culture.
Roots in the River: The Story of Congaree National Park
The story of South Carolina's only national park, from the initial attempts to harvest the forest's massive virgin cypresses in the 1890s, through the grass-roots struggles of the 1970s to preserve it, to its classification as a National Park in 2003. The program also looks at the cultural history of Congaree and its uses by the historic African American communities neighboring the park.
Saving Sandy Island is a documentary about the struggle to save an exceptional South Carolina island and its Gullah community from development. Home to endangered species and rare long leaf pine forests, Sandy Island is the largest undeveloped freshwater island on the east coast. The program tells the story of the unique coalition of conservationists, state agencies, businessmen and community residents that came together to save this extraordinary place and preserve a historic culture. 
Dec. 10-18  Hanukkah
Rabbi Hesh Epstein of the Chabad of South Carolina explains Hanukkah and why this festival of lights is so important to the Jewish faith. Hanukkah is a Jewish holiday that lasts for eight nights and days. It starts on the 25th day of Kislev according to the Hebrew calendar. It celebrates the victory of a small group of Maccabees, Jewish warriors, who banded together to overcome the far more numerous Syrian Greeks who had made it illegal for the Jewish people to practice their faith. The Maccabees recaptured their homeland and rededicated their temple. The Festival of Lights commemorates the rededication of the Holy Temple in Jerusalem.
Dec. 13 National Violin Day
Timmothy Baker plays the violin in the South Carolina Philharmonic String Section. The violin is the smallest stringed instrument and has the highest sound.
Press play to hear the violin.
Have you ever wondered how the violin came to play such an important role in the history of classical music? Well, it starts with singing. The invention of opera, in late 16th century Florence, marks the beginning of the Baroque period in music, and with it the rise to supremacy of the musical style known as "melody and accompaniment."
The members of the modern violin family are the violin, viola, cello, and double bass. These instruments are descendants of various kinds of medieval fiddles—fiddle, by the way, being an older word than violin—and the medieval fiddles themselves were bowed stringed instruments that were originally imported to Europe from the Middle East.
Up until the early 1500's the instruments of the modern violin family were still evolving, but by the mid-1500's, Italian craftsmen had created the models that, with minor modifications, have remained standard ever since. Quite a few four-hundred-year-old Italian instruments are still in use, in fact. If the instruments themselves were standardized early on, though, their names weren't. For several centuries, the word viola, in Italian, was the generic term for any stringed instrument played with a bow, and it wasn't until the 1700's that the term came to refer specifically to the instrument we now call the viola.
Have you ever wondered how the violin came to play such an important role in the history of classical music? Well, it starts with singing. The invention of opera, in late 16th century Florence, marks the beginning of the Baroque period in music, and with it the rise to supremacy of the musical style known as "melody and accompaniment."
But  the melodies weren't for everybody: the ruling aesthetical ideal of the Baroque was that high voices should carry the melodies, and that ideal carried over from vocal to instrumental music.  Meanwhile, starting in the 1500's, craftsmen in Italy had been perfecting the form and sound of the modern violin. The result was an ideal marriage of technology and art:  the combination of beauty and brilliance that the high-voiced violin had to offer made it the standard bearer of the Baroque musical ideal, and brought the instrument — and the music written for it — to a position of prominence that it's never lost.  
Thomas Hale repairs and makes violins. Mr. Hale fine tunes the art of fine craftsmanship; working long hours in the basement of his home. He discusses his inspirations for working on violins, drawing from family experiences, and his appreciation for Mother Nature.
Dec. 13 National Day of the Horse
Horses
The Carolina Marsh Tacky is a small horse brought to SC by Spanish explorers. It's an endangered breed.
On a visit to the riding stables, horseback riding lessons are explained as well as how to train the horse to have a rider. Training a horse to pull a buggy is also explored. In another portion, students will follow a horse doctor on one of his regular visits where he explains what he does. The role of the farrier, or horse-shoer, is discussed, and students learn how shoes are made, used, and maintained. The job of a horse patrol policeman is also explored.
Racing jockey Matt McCarron talks about the sport of horse racing. South Carolina plays host to several horse racing competitions each year.
The Kentucky Horse Park, located in Lexington, Kentucky, is over one thousand acres dedicated to the horse. The park features museums, galleries, theaters, and of course, many different breeds of horses.  "Man O'War"s grave is here, and some of the world's most famous race horses have retired here at this park. 
Horses in Paintings
Horses in Sculpture
Dec. 15 Bill of Rights Day
In America all people have the same rights, to go to school, hold a job, buy a house and practice the religion of one's choice. The Bill of Rights protects freedom of speech, freedom of press, freedom to practice the religion of one's choice. The right to an education is both a right and a privilege.
During the debates on the adoption of the Constitution, its opponents repeatedly charged that the Constitution as drafted would open the way to tyranny by the central government. Fresh in their minds was the memory of the British violation of civil rights before and during the Revolution. They demanded a "bill of rights" that would spell out the immunities of individual citizens. Several state conventions in their formal ratification of the Constitution asked for such amendments; others ratified the Constitution with the understanding that the amendments would be offered. 
The U.S. Constitution has become a model for developing governments around the world. Four signers of the Constitution were South Carolinians. Dr. Harry Lightsey, president of the College of Charleston, served on the commission for the bicentennial of the U.S. Constitution.  The Bill of Rights is as vital today as it was around two hundred years ago, since it provides inalienable rights, and protection against governmental abuse of power.
Petition from "Free people of Colour and free Negroes," 1820. In 1756, the General Assembly passed a law which levied a tax on "All free Negroes, Mulattos and Mestizos who do not pay any other part of the Taxes imposed by this act." This capitation tax was passed again every year until 1865, although the ages of those who had to pay and the amounts charged varied. With one exception, from 1795 until 1857, each individual was charged $2.00. For a few years, the law also applied to white males between the ages of 25 and 50 who paid no other taxes. However, even with changes, the free African American population had to pay this tax for the entire 109 years it was levied. The men who presented this petition asked that they not be charged capitation tax because they also paid taxes on property that they owned. These individuals represent a group of Charlestonians who had prospered in trades. Some were carpenters, some tailors, and one, Jehu Jones, ran a fine hotel. As free people of color, they enjoyed most of the freedoms guaranteed under the Bill of Rights, such as the freedom to petition. However, like women, they were unable to vote. Following the Denmark Vesey incident of 1822, the General Assembly placed more restrictions on their freedoms.
Americans enjoy a variety of foods, activities and arts. Many foods, customs and music have become a part of American life. It is important to welcome and appreciate these differences. This program helps us to understand how important it is to honor diversity in America.
America: A Land of Many People explores the many people who live in America today and stresses the value of that diversity. Also explored are the ways in which diversity can be a challenge for a country. What makes an American, when people can be so different in many ways? Americans hold in common certain values and beliefs, such as freedom of religion and freedom of speech. These are defined in the Bill of Rights, an important document that supports the freedoms of Americans. This program covers the topic of immigration and teaches why it is so important to honor diversity in America.
The program explains that listening, understanding and compromising are important ways to resolve problems between people. Americans can have difficulty getting along because of their many backgrounds and different ways of viewing various issues. Americans all need to listen and seek understanding between each other. All Americans deserve the same rights, freedoms and opportunities.
In 1789, people noticed some new things the United States' new Constitution didn't address. The First Congress came up with changes, also known as amendments. These became known as the Bill of Rights. The First Amendment was important because it told the Congress what they could not do. They could not pass laws that infringed on the freedom of religion, speech, press and the ability to assemble peacefully.
Dec. 25 Christmas – Holidays Collection:
Dec. 26 Kwanzaa (Start of)
Jan. 1    New Year's Day
THIS MONTH ON KNOWITALL
Extend the Learning—All Through the Holidays!
On Knowitall, we have an assortment of Activities that you can take with you just about anywhere because they've been upgraded to work on mobile devices. Try them out!
A comprehensive web-based experience for students, covering the visual and performing arts. Students will learn art history via animated one-minute movies, be guided on how to closely examine important works of art, and view videos of professional artists at work.
This resource introduces Gullah culture and language to children, and each story features both English and Gullah versions.
Learn how velocity and distance work in this balloon blast game. A catapult is a military device that was used in ancient and medieval times to hurl stones, spears, and other objects. There were many different types of catapults developed and used throughout history. The most well-known catapult is the bucket catapult, which used a winched down - arm with a bucket on the end to toss objects. The catapult used in our Balloon Blast game is called a trebuchet.
Learn how to use a compound microscope and a dissecting microscope.
Choose and customize a rocket. Launch your rocket and learn about Newton's Laws.
A virtual community of workplaces designed to give students an interactive job exploration experience that connects school work to real work. Each area includes History, Job Play activities, Work Zone and Real People at work. Be sure to start with the History area, then proceed to Job Play, then to Real People, and finally to the Work Zone area while you're in each work site!
Students learn about these topics and scientific principles while having fun!
The story of South Carolina's cultural and natural landscape as told by its rivers. RiverVenture will take you on a virtual "float-trip" across South Carolina, following the Saluda, the Congaree, the Santee, the Cooper, and the Catawba Rivers.
Try out our VRs on Let's Go!
Tour some of South Carolina's most interesting historical sites! View VRs using VR Goggles, such as a Google Cardboard or a Samsung Gear VR. Instructions are available in each section below:
Dr. Benjamin E. Mays' childhood home is the focal point of the Dr. Benjamin E. Mays Historical Preservation Site, a destination for individuals and groups interested in learning about the life of one of the nation's most influential Civil Rights leaders and the African American experience in South Carolina. 
Learn more about Dr. Mays by watching the Carolina Stories documentary, Born To Rebel, Driven to Excel.
The mission of the Catawba Cultural Center is to preserve, protect, promote and maintain the rich cultural heritage of the Catawba Indian Nation through efforts in archives, archeology, tribal historic preservation, native crafts, cultural education, and tourism development. The Cultural Center provides an overview of the rich culture and history of the Catawba Indian Nation. There are exhibits that can be seen at no charge and a member of the staff will be happy to answer any questions that you have. There is also a craft store in the center that features crafts from many of our native artisans.
The Columbia Museum of Art is the cultural heart of a revitalized downtown Columbia. This museum boasts a wide variety of original and historic art pieces, from thousands of years ago, to present day.
Fort Hill, the antebellum plantation of John C. Calhoun, South Carolina's pre-eminent 19th century statesman, started as a four-room Clergy Hall. Through a succession of Calhoun-Clemson women, Fort Hill would come into Thomas Green Clemson's possession. In 1888, Clemson bequeathed three-fourths of the Fort Hill plantation and $80,000 to the state of South Carolina for the establishment of a public scientific and agricultural college. He willed that Fort Hill "shall always be open for the inspection of visitors."
The H.L. Hunley submarine made history during the American Civil War when she became the first submarine to sink an enemy ship in combat. In February 1864, the Hunley, under command of Lieutenant George E. Dixon, sank the U.S.S. Housatonic; a Union blockade vessel. The Hunley's mission was a success, but disappeared under mysterious circumstances, and never returned to port. The Hunley was the third in a series of submarines constructed by engineers Horace Lawson Hunley, Baxter Watson, and James McClintock. Before the Hunley's successful attack on the Housatonic, the Hunley had two accidents, the second of which claimed Horace Hunley's life. 
Located in York County near Rock Hill, Brattonsville is home to structures that range from a pre-Revolutionary War cabin to an antebellum plantation.
The Mann-Simons Site, home to the same entrepreneurial African American family for nearly 130 years, traces the journey of Columbia's African American community from enslavement through urban renewal. 
Historic Columbia is a non-profit organization dedicated to preserving Columbia and Richland County's historic and cultural heritage. 
Located in downtown Charleston, the Old Exchange and Provost Dungeon is nationally recognized as one of our country's most significant historical sites.
Completed by 1713, The Powder Magazine is the oldest governmental building in South Carolina. This facility was used as an arsenal from 1713 - 1748 to defend the colony from the Spanish, French, pirates, slave rebellion and native attacks. It was then temporarily reinstated by the Continental Army during the American Revolution. 
After 1780, The Powder Magazine was retired; however, private owners discovered a variety of other functions for this historic structure. Throughout the 19th century, The Powder Magazine was converted to a stable, print shop, blacksmith shop, wine cellar, and horse carriage house. In 1902, The National Society of The Colonial Dames of America in The State of South Carolina purchased the building, saving it from being destroyed. It was then restored and opened as a museum.
The South Carolina Confederate Relic Room and Military Museum's mission is to collect and preserve the military history of this state. When visitors enter Columbia's oldest museum, they will uncover the state's military history from the Revolutionary War to the present War on Terror.
Located in the capital city of Columbia, the State House and its grounds are a living monument to South Carolina's rich history. Take a 3D virtual tour inside the SC State House.
The Upcountry History Museum is a history museum in Greenville, South Carolina that displays the regional history of fifteen upstate South Carolina counties from the early 18th century to the present.
USS Yorktown (CV-10) was an Essex-class aircraft carrier that served with the US Navy in World War II and the Vietnam War. World War II's famous "Fighting Lady" would participate significantly in the Pacific offensive that began in late 1943 and ended with the defeat of Japan in 1945. The Yorktown received the Presidential Unit Citation and earned 11 battle stars for service in World War II. In the 1950s, the Yorktown was modernized to operate jet aircraft as an attack carrier (CVA). In 1957, she was re-designated an anti-submarine aircraft carrier (CVS), and would later earn 5 battle stars for service off Vietnam (1965-68). The ship also recovered the Apollo 8 astronauts and capsule (December 1968). The Yorktown was decommissioned in 1970 and placed in reserve. Today, the ship, is a floating military museum located at Patriot's Point in Charleston, SC. 
The Woodrow Wilson House in Columbia is the only museum in the nation dedicated to telling the story of Reconstruction. Located at 1705 Hampton Street, in historic downtown Columbia, South Carolina, this is the home where President Woodrow Wilson spent four years of his childhood. The house was built in 1871, during the height of the Reconstruction era; a tumultuous period in United States and South Carolina history. Today, the house is a museum, devoted to showing Columbia's struggle to rebuild itself after the Civil War, and the Wilson family's time spent in the home.
Learn about exciting careers in our Let's Go! CAREERS series…
Using career profiles and 360 videos, Let's Go! CAREERS bring students virtually inside the work environment, especially in areas that need skilled workers.
Delve into our history—just briefly—with these compelling and enlightening videos!
Learn about World War I, how the war started, the U.S.' involvement, fighting the war, and the aftermath with the Treaty of Versailles.
In January of 1918, a deadly H1N1 strain of Influenza called the "Spanish Flu" began sweeping across the globe. This flu, also known as "Strain A" or "Avian Flu", took its toll worldwide, infecting mainly young adults, and even South Carolinians had to face this flu without any real forms of medicine. Learn how the Pandemic first arrived in South Carolina, along with its socio-economic effects, and measures taken to combat its spread.
After the American Revolution, the new United States of America needed to form a permanent government of its own. Why did the Articles of Confederation fail, and how did the U.S. Constitution come to be? This episode of "History In A Nutshell" answers those questions!
In the late 1950's, and throughout the 1960's, the U.S. was in the middle of The Cold War with the Soviet Union. Both sides tried to out-perform one another in every way, including scientific advancements and setting records. The Soviet Union had kicked off the "Space Race" when they launched the first man-made satellite called "Sputnik."  In this episode of History In A Nutshell, follow the events leading up to the U.S. landing on the moon; from test pilots and Project Mercury, through Gemini and the Apollo program! 
Also included in this episode is a bonus feature! For the 50th anniversary of the Apollo 11 moon landing, the South Carolina State Museum hosted a special screening of the PBS documentary Chasing The Moon. During this event, Knowitall.org and SCETV got the opportunity to interview two South Carolinians who helped recover Apollo spacecraft after they returned from their journeys to the moon! 
The French and Indian War played a significant role in shaping North America as we know it today. Although it officially began in 1756 as part of the Seven Years War, the French and Indian War had engagements taking place years prior. Between the British and French colonists, and the Native Americans all living on the same continent, a conflict was only inevitable. The French and Indian War was a fight for supremacy of the Ohio Valley region, between the Allegheny and Monongahela Rivers, also known as "the Forks of the Ohio."
Part one takes place between 1754-1756 - outlining how the conflict begins, with escalating political and economic tensions in the Ohio Valley. Part two briefly takes viewers through the war itself, after war is officially declared in 1756 (1756-1763). Find out how the results of the French and Indian War set the stage for the American colonies declaring independence from Great Britain!
This edition of History In A Nutshell travels back to antiquity; to some of the earliest days of Western Civilization: Ancient Rome! These three segments briefly cover the rise and fall of Rome, including: founding, transition from monarchy to republic, The Punic Wars, the fall of the republic, the reign of the emperors, Christianity, and Rome's collapse.
Note: Some topics regarding Ancient Rome may not be suitable for younger audiences. Please conduct further research at your own discretion.
Are you a South Carolinian looking for another reason to fire up the grill and celebrate in the month of June? This episode of History in a Nutshell explores the S.C. centric holiday known as "Carolina Day"! Carolina Day, which commemorates the victorious Battle of Sullivan's Island during the American Revolutionary War, is observed every June 28th. On June 28, 1776, a small band of Patriots stationed at the palmetto log fort managed to miraculously fend off a massive British fleet. Learn more about the Battle of Sullivan's Island, the evolution of the Carolina Day holiday, and how the S.C. State Flag as we know it today came to be!
MORE OF OUR HISTORY…
If this content piqued your interest, we have more to tell you about!
Between the Waters is SCETV's immersive transmedia website showcasing the culture and history of Hobcaw Barony, a 16,000 acre historic site on the coast of South Carolina. Located between Charleston and Myrtle Beach, Hobcaw is a crossroads representing every era of human history, providing a lens through which many threads of the nation's story may be examined.
Visitors to the Between the Waters website take a self-directed virtual tour of Hobcaw Barony, moving down the roads and rice canals, entering slave dwellings and grand houses, watching videos, examining photographs, and listening to historians and the first-person stories of former residents and relatives.
The creation of Congaree Swamp Stories coincided with the release of the Ken Burns' film series The National Parks: America's Best Idea. This website is a resource for those who are interested in learning more about the diverse natural and cultural history of the park.
The story of South Carolina's only national park, from the initial attempts to harvest the forest's massive virgin cypresses in the 1890s, through the grass-roots struggles of the 1970s to preserve it, to its classification as a National Park in 2003. The program also looks at the cultural history of Congaree and its uses by the historic African American communities neighboring the park.
HAVING FUN EXPLORING KNOWITALL.ORG?
View more from our KNOWITALL SIGNATURE SERIES here.
ENJOYING LEARNING ABOUT OUR HISTORY?
View more of our CAROLINA STORIES SERIES here.
EAGER FOR MORE TO EXPLORE?
Try our SERIES…
*South Carolina educators: Please create an account on KnowItAll.org to view all of the content that is available to South Carolina teachers.
Beyond Barbados: The Carolina Connection  
Career Aisle - Career Explorations! Collection (Included here because the Collection contains a number of Series)  
Career Aisle Technology Education Center Videos  
Conversations with Scientists & Astronauts  
Creating a Career with the Arts in Mind  
Creating a Career with the Media Arts in Mind  
Detective Bonz and the SC History Mystery  
Flu PSAs – Illness Prevention Tips & Wash Hands Song  
Foreign Language Scholastic Series – French*  
Foreign Language Scholastic Series – Spanish*  
Gettysburg: The Soldier's Battle*  
Healthy Hannah's Healthy Choice Heroes  
History of Arts Education in SC  
History of SC Slide Collection  
Idella Bodie's Ghost Tour: A Writer's Guide  
Inevitable Evolution of Fort Frederick  
Keep It Real (for ages 14 and up)  
Lexington County Courthouse: 200 Years of Service  
Literary Tour of South Carolina  
Nature Comes Back – 25 Years After Chernobyl  
Reading, Safety & Internet Safety Minutes  
Road Trip Through SC Civil Rights History
Scholastic American History Series*  
Scholastic Children's Stories*  
SciShorts in Foreign Languages  
Short Takes with Naturalist Rudy Mancke  
South Carolina African American History Calendar  
South Carolina Elects Its Leaders  
 South Carolina Public Radio - Podcasts
South Carolina State House Specials: Legends and Legacy  
Southern Campaign of the American Revolution (Videos)
Southern Campaign of the American Revolution Podcasts (Walter Edgar's Journal Podcasts from SC Public Radio)  
Stories Behind the Carols We Love to Sing  
Teaching American History in SC  
Where the Jobs Are: Exploring Career Clusters  
World War I Symposium – Lander University  
Our Collections allow you to zero-in on topics that are of interest to you during monthly observations or at any time during the year! View the Topics for more specific information. Find something familiar or something entirely new to explore!
About Persons with Disabilities  
Higher Education & Workforce Development  
Jazz (under Music Collection)
Libraries, Literature & Learning 
TO GET THE MOST OUT OF KNOWITALL, BE SURE TO CHECK THESE EACH MONTH!​
Wishing you good health and much happiness this holiday season and throughout the New Year!