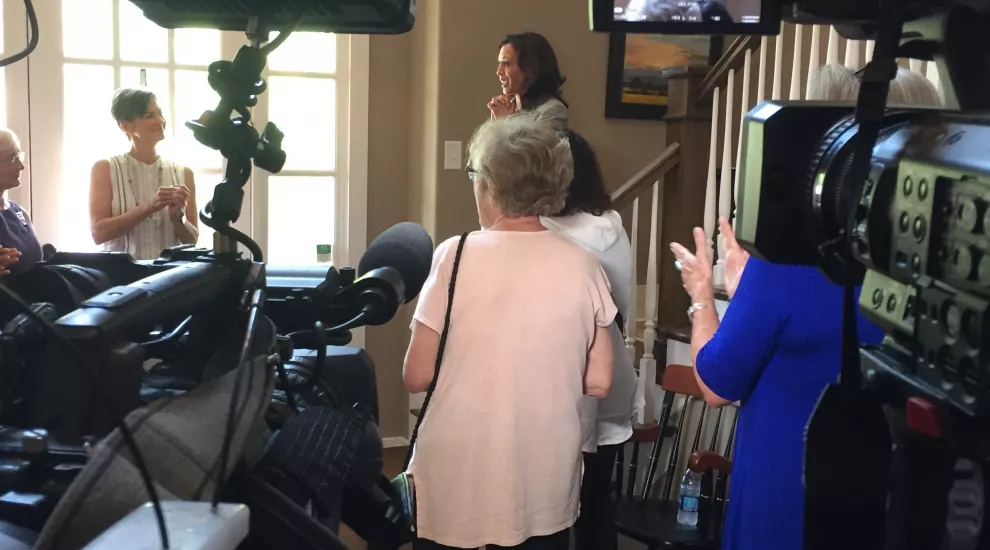 Hello, my name is Sean Scott and apparently,I'm supposed to be writing blog posts of my time here at SCETV this summer. With such a crazy first seven days, this message didn't get to me until now, so I have a little more to write about and catch up. I started right after Memorial Day and the first couple of days were all about learning my way around the building: tours, parking, radio studios, the Public Service Commission and my own office. I think by now I'm starting to figure out how to get places here (hopefully). I met all the wonderful News and Public Affairs people I will be working with this summer, including Tom, my supervisor Aimee and reporter Gavin. 
If the first day was full, then Day 2 was exhausting in a good way. The day started with a quick stop for Gavin and me at the State House for Governor Henry McMaster's press conference on budget vetoes. However, it turns out that wasn't going to start on time and we had somewhere else to be, so very quickly, Gavin and I drove up to Greenville for one of Senator Kamala Harris' events at someone's house. I got to observe the camera being set up and monitoring audio levels. The camera looked very similar to the cameras I use as a student at Syracuse University, which made me very comfortable early on. I also helped hold the microphone for two interviews with attendees. It left me awe-struck to be in the presence of a major presidential candidate, especially on just my second day. The drive to and from Greenville took most of the whole day, and it was nice to have an early break from the office. Not many people get these experiences traveling around the state, so I'm very grateful. The next day, I edited together the raw footage from Sen. Harris' remarks to be uploaded to YouTube. It felt good to crank out an assignment quickly, and once again, I was comfortable, thanks to my plentiful experience editing on Adobe Premiere Pro at Syracuse.
The rest of the week consisted of helping Gavin with his political show, This Week in South Carolina, and his podcast, SC Lede, which I've loved, since I'm a bit of a political nerd. I watched Gavin record his podcast, including an interview with Pulitzer Prize-winning author Jennifer Berry Hawes on her new book, "Grace Will Lead Us Home," about the horrific Mother Emmanuel A.M.E. Church shooting. In addition, I helped summarize a few news articles for part of the podcast known as the quorum call. I got to shake off some news writing rust after not writing since I left school a month ago, so that was also helpful. Finally, I began researching data on the upcoming hurricane season for the next episode of This Week in South Carolina. This kept me busy most of the week because I found some Excel spreadsheets and dove headfirst into the numbers and stats for predicting South Carolina's impact. In addition to politics, I also love statistics and data, so the first week was right up my alley! I delivered the report to Gavin, and then started preparing for the next SC Lede podcast by picking out highlights on dysfunctional SC prisons. The last thing I did was sit in on a meeting with Tom, Aimee and Gavin as we talked about how SCETV would cover the 2019/2020 election season here in the "First in the South" state of South Carolina. I was even partially tasked with helping get an interactive candidate tracker website up and running, which should be really fun to work on.
I also sat in on some recordings for Palmetto Scene, a show which is unlike anything I had really seen before. There was only one moving camera on a jib, and the host would toss to each story, but these tosses were all recorded separately in 30 second chunks. It was a new perspective to see a show that's mostly put together in post-production. But it was very comforting (once again - sensing a theme here) to find out the host of Palmetto Scene, Beryl Dakers, is a graduate of Syracuse University, so it really does feel kind of like I'm back home at college. However, I clearly choose to live in the worst weather of all time, between Syracuse winters and South Carolina summers. I'm really excited to work at a great media organization right here in my backyard and also work right next to Williams-Brice Stadium, so we'll see what happens from here! Whew, I think that about covers it for Week 1 (plus a couple of days).