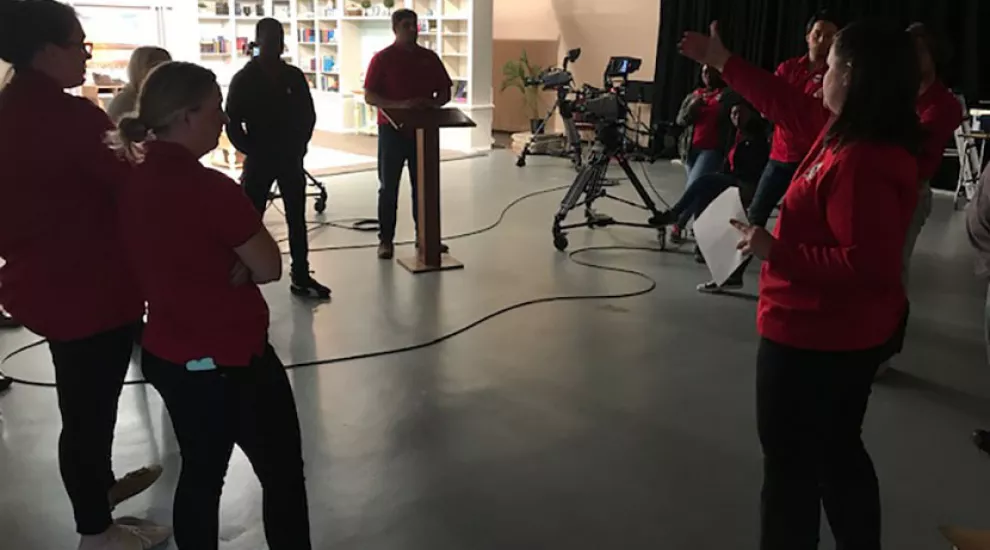 After getting into the swing of things the first week, I felt more comfortable about what my jobs were and the importance of them, in terms of the whole production. Some of the jobs included starting up the graphics board inside the control room, adjusting props on-set for lighting, helping to put microphones on guests, and making sure the mics had new batteries after every two shows. My main job for production of By The River was operating camera one. This is the camera that focuses on the show's host and also holds the teleprompter. It is important to make sure I hold my shot as steady as possible because, if not, this coud distract the host and throw off the entire flow of the show. This took a lot of getting used to, in order to make this happen. Making sure I got a feel for the weight of each end of the camera was a little tricky, but it felt more and more natural as time went on.   
On Tuesday, our first pair of authors arrived for the beginning of BTR's second season. Everyone was still a little iffy about their jobs, since there was so much new technology resting under our control, so things got off to a slow start. Thankfully, all the authors were very understanding and happily surprised to see students running such a complex production. For the rest of the week, the crew narrowed down a solid routine of checking all aspects of production, doing test runs, and finally sending the authors in to shoot the real deal.
By the end of the week, we were all mentally exhausted. Besides a few technical difficulties along the way, we made it out of the hectic few days feeling good. The following week, we will have eight more authors come in to wrap up the filming of the second season of BTR.