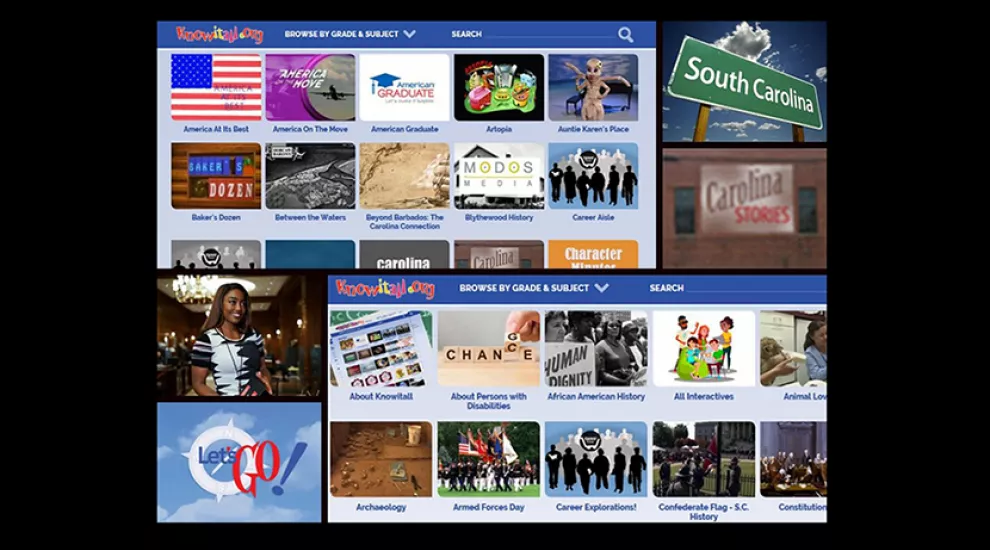 (Photo of Patina Miller in "Madam Secretary" courtesy of Sarah Shatz/CBS.)
Has the summer heat sapped your energy? But it just doesn't feel like summer unless you head out and explore a few places you've never been? Then sit back, relax, and take a plunge into Knowitall! You can visit places throughout South Carolina—and beyond!
Our virtual tours, videos, interactives, and 3D VRs are great for enlightening you on many subjects—and keeping your brain engaged while your body takes a well-deserved time out! And you still get to see lots of places without leaving the comfort of your favorite chair!
The Learning Continues All Summer Long on Knowitall.org!
Our Series take you to these destinations and more!
Locations include Congaree National Park, our SC Parks, the H.L. Hunley Museum, Historic Brattonsville, Mann-Simons Site, the Old Exchange and Provost Dungeon, the Powder Magazine, the SC Confederate Relic Room & Military Museum, the South Carolina State House, the USS Yorktown, and the Woodrow Wilson Family Home, all in 3D on Let's Go! Try a Natural State to view the works of artists who express their love of nature using materials collected from the landscape, or Pee Dee Explorer for content specific to that area of our state.
View our Project Discovery series for the Three Forts of Charleston Harbor, Kennedy Space Center, and Lemmon Hill Plantation. Or choose Project Discovery Revisited for visits to the Avery Research Center, Butterflies at Riverbanks Zoo, Charlesfort, Colonial Williamsburg, Fort Discovery, a Horse Training Center, Kings Mountain, Middleton Place, Mount Vernon, Monticello, North Carolina Zoo and Elephants Project, Old South Carolina Homes (Middleton Place and Rose Hill Plantation), a Research Vessel, Riverbanks Zoo, the SC Aquarium, the Winnsboro Railroad, Walnut Grove Plantation and more!
Our ETV Shorts series allows you to pick content organized by the SC Tourism Regions, and our Palmetto Places series invites you to select favorite towns and out-of-the-way places by county.
There are so many areas of interest – just scroll through our Series and Collections, pick a place or a topic that appeals to you, and dive in! Then do it again…and again!
Our Collections make it easy to continue your travels!
Explore South Carolina and find content on these topics:
Featured in July
SC AFRICAN AMERICAN HISTORY CALENDAR: JULY HONOREE – PATINA MILLER
Patina Miller is a celebrated actress, performer and singer. Born in the small town of Pageland, S.C. on November 6, Miller was raised with music. She grew up singing in her local church's gospel choir and attended the S.C. Governor's School for the Arts & Humanities. Miller went on to attend Carnegie Mellon University where she earned a degree in musical theater. Her talents have earned her multiple nominations and awards both onstage and screen. 
She made her Broadway debut in 2011 as 'Deloris Van Cartier' in "Sister Act," which earned her first Tony nomination. Miller played the same role in "Sister Act" in London's West End theatre district. The performance earned her an Olivier Award nomination. Miller also starred as the Leading Player in the Broadway revival of "Pippin," directed by Tony Award-winning director Diane Paulus. Miller earned a Tony Award for Best Performance by an Actress in a Leading Role in a Musical, and an Outer Critics Circle Award for Outstanding Actress in a Musical for her performance. Additionally, Miller has starred in multiple off-Broadway productions including "Ragtime," "Lost in the Stars," and "Hair." Prior to this, she appeared in "All My Children." Miller made her New York City concert debut in February 2014 in Lincoln Center's "American Songbook" series, which subsequently aired on PBS.
Miller can currently be seen as Press Coordinator 'Daisy Grant' in the CBS hit drama series, "Madam Secretary." Miller made her feature film debut as 'Commander Paylor' in "The Hunger Games: Mockingjay, Parts 1 and 2," which were released in November of 2014 and 2015, respectively.
A well rounded individual, Miller manages to find time outside her incredibly busy schedule to spend with her family. Miller and her husband, venture capitalist David Mars, live with their daughter in New York City.
Presented through a partnership between the South Carolina Department of Education and South Carolina ETV. 
View the interstitial here. 
View the video on Knowitall.org here. 
Download the SC African American History calendar here. 
Our Collections make it so easy to find content based on your interests!Have you visited our About Persons with Disabilities Collection yet? How about African American History? Or All Interactives? How about Animal Lovers or Archaeology? Would Career Explorations interest you? How about Environmental Awareness? You may be surprised at how much content on a wide assortment of topics is available on Knowitall!
Keep going down the alphabet on our Collections page and you'll see even more content of interest to you! Do you like ghost stories? Try out our Ghosts & Legends of South Carolina Collection! If you enjoy stories, try out our Libraries, Literature & Learning Collection. Does Native American Heritage interest you? Still want to know more about South Carolina? Try our Noted South Carolinians Collection. How about Space Exploration? Take some Virtual Field Trips & Tours. Perhaps Wars & Conflicts are a topic you'd like to know more about. We also offer two collections on women, Women in Leadership and Women's History. Explore the ones that pique your interest – or explore them all!
Dates and Resources for Your Calendar
July 1 – Canada Day
July 4 – Independence Day
July 6
July 7
July 10
July 12
July 14
July 15 – National Ice Cream Day
July 17 – National Hot Dog Day
July 30 – Day Against Trafficking in Persons
July 30 – International Day of Friendship
*South Carolina educators, please register for an account on LearningWhy to gain access to these resources.
A group of nine African American young men who were sent to jail after staging a sit-in at a segregated McCrory's lunch counter in Rock Hill, South Carolina in 1961.
Documentary pays tribute to the "Friendship Nine," a group of college students who were arrested for a lunch counter sit-in in Rock Hill, SC in 1961. Instead of paying bail (as was the norm with all previous sit-ins), they served 30 days of hard labor, making the city pay to house, feed & clothe them, thus turning the tables & drying up a dubious revenue stream. This movement caught on nationally, changing the entire sit-in strategy. The program was the centerpiece of 50th anniversary events, and still has legs today. It included extensive television, educational and community outreach initiatives.
Also Be Sure to Explore These!
Ten 3D Virtual Tours Currently Available on Let's Go!
Photo Galleries Also Available from Each Location!
To View VRs on the Matterport App: The 3D experiences were shot with a Matterport Pro 3D Camera. Experience the VRs using the Matterport phone apps with either a Google Cardboard or Samsung Gear VR.
(1) Download the iOS or Android app to your phone
(2) Use your phone's browser to go to the VR link that you want to use.
(3) When you click on a link, the Matterport App will open on your phone.
(4) The VRs will need to download to the app prior to viewing.
(5) Look for the visual queues (circles) to navigate through the VR experience.
The Old Exchange and Provost Dungeon
SC Confederate Relic Room & Military Museum
The South Carolina State House
Be sure to check out Let's Go! The South Carolina State House! You can now take a 3D virtual tour inside the State House! You can also view the photos from each of the areas below. It's almost like being there!
USS Yorktown at Patriot's Point
We have two areas to visit on SC Life and both have now been made accessible on mobile devices!
Cove forests are unique ecosystems found exclusively in North America, in the southern Appalachian Mountains of the United States. They are a special type of forest known as mixed deciduous, meaning that forest's trees lose their leaves in fall. Cove forests are restricted to mountain "coves," which are bowl-shaped valleys with very rich, fertile, damp soil. Many cove forests have streams wandering through part of the forest. The cove forests of the South exhibit the greatest plant and tree diversity of any forests in the United States.
The cove forests of South Carolina are restricted to the northwest portion of the state, extending from the north of Westminster to north of Greenville, Jones Gap State Park, Table Rock State Park, Oconee State Park, and Caesars Head State Park all contain cove forest communities.
Salt marshes are found around the world, but the one you are about to tour can be found right here in South Carolina on the North American continent. Salt marshes are located only along the coast. This is because a salt marsh is an area that is flooded by saline (salty) water. The salt marshes are better developed as you move farther south in South Carolina.
These Series Provide More Opportunities to Enjoy Our Natural World – Without Leaving Your Chair!
Check here frequently to stay updated on all the new content as soon as it's available!
(Recapping April, May and June additions)
NEW SERIES ADDED
ADDITIONS TO EXISTING SERIES
Our Knowitall Factoids by Month will guide you to content that exists on Knowitall any given month. You can look ahead to see what we are linking to in advance of certain occasions, or you can stay up with the current month's celebrations, events, and observations.
Visit the July Factoids to see what's available now!