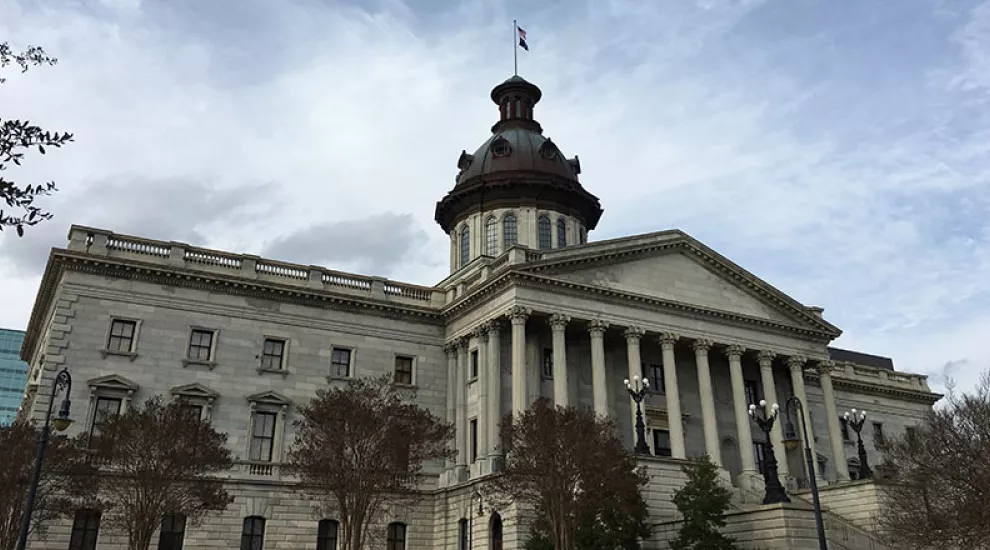 State House Daybook provides you with the information you need to navigate the South Carolina General Assembly during the legislative session. Each edition provides a snapshot of the legislative day with meeting schedules, agendas, news and other resources in one place.
Follow reporter Gavin Jackson's Twitter for the latest legislative coverage.
LEGISLATIVE COVERAGE
Senate
The Senate gavels in at 2:00 p.m. Watch live here. Calendar. Journal.
House
The House gavels in at 9:30 a.m. Watch live here.  Calendar.  Journal. 
Combined meeting schedule
9:30 a.m., House of Representatives, State House, House Chamber, Live Broadcast
10:00 a.m., Senate Education Subcommittee on S.283, Gressette Room 207, Agenda Available
10:30 a.m., Senate Finance Natural Resources and Economic Development Subcommittee, Gressette Room 407, Agenda Available
11:00 a.m., Senate Finance Committee, Gressette Room 105, Agenda Available, Live Broadcast
11:00 a.m., Senate Judiciary Committee, Gressette Room 308, Agenda Available, Live Broadcast
2:00 p.m., Senate, State House, Senate Chamber, Live Broadcast
Upon adjournment of the Senate, Select Committee on Santee Cooper, Gressette Room 308, Agenda Available, Live Broadcast
NEWS
Episodes of This Week In South Carolina 
S Carolina lawmakers may get sued over social media blocking AP
Some SC lawmakers block constituents on Facebook, Twitter, opening door to lawsuits The State 
Bakari Sellers 'preparing to run' for Congress when Jim Clyburn retires The Post and Courier 
'We have built up steam,' McMaster tells Florence Rotarians The Morning News
After Charleston woman killed, a proposed SC bill may help her family find closure The Post and Courier
Pay raises, tuition freeze and a refund? A look at the first draft of SC's next budget The State
$9B budget up for debate in SC House boosts salaries, freezes tuition The Post and Courier
SC forensic lab employee warns lawmakers SLED reaching 'breaking point' in case backlog The State
Boeing's stock takes a hit as more Max 8 planes are grounded The Post and Courier
Lawmakers expect fierce debate on $61M lottery tax windfall AP
Charleston County Schools could continue setting the pace for teacher pay raises The Post and Courier
Historically black college in SC could be turned into career center The Post and Courier
SC's Darla Moore to fund a $25 million education center in Lake City The State
Cory Booker picks up early endorsement in key primary state of South Carolina CNN
Elizabeth Warren hires 3 staffers in SC for 2020 presidential campaign The Post and Courier
NYC Mayor Bill de Blasio says he'll make 2020 decision 'sooner than later' during SC visit The Post and Courier
Kamala Harris, 2020 presidential candidate, campaigns at Myrtle Beach eatery Sun News
Kamala Harris makes third SC trip, receives enthusiastic welcome The Post and Courier
Proposal would close 'revolving door' between State House and SC state jobs The State
Planes, automobiles help South Carolina set another export record in 2018 The Post and Couirer
Is consolidation coming? The Augusta Chronicle
As immigration debate boils, Charleston heats up as a 'robust' detention point The Post and Courier
Civil forfeiture reform: Lawmakers amend bill that police chief said would endanger public The Greenville News
2 speakers to address political radicalism, terrorism, Israel in Charleston The Post and Courier
SC Rep. Joe Cunningham blows air horn to sound alarm about offshore oil work The Post and Courier 
Qatar's under-the-radar SC aerospace firm raising questions, eyebrows The Post and Courier 
Activists, SC lawmakers lead charge to criminalize female genital cutting The Post and Courier
Palmetto Politics: Why all the smoke over a SC marijuana mailer The Post and Courier 
Low prices, high costs hurt Orangeburg dairy farmers; poultry provides stability; prime beef in demand The Times & Democrat
Smart meters blamed by Blue Ridge Electric customers for soaring monthly power bills The Greenville News
Seeing more tourists around town? Charleston's March visitor bump by the numbers The Post and Courier
RESOURCES
Find your representative and senator