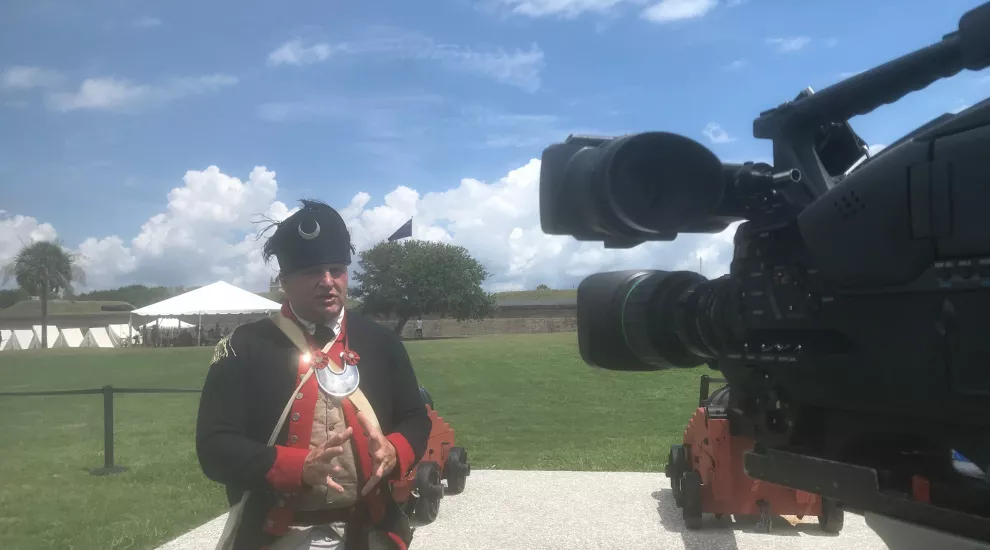 Flying far away from here is about the last thing I want to do right now, but alas my last day at ETV is quickly approaching. I cannot believe that last week was already my sixth week with SCETV, but it was probably the best yet. On Monday, we traveled to Greenville to film another virtual reality for the Let's Go! series. We shot the Upcountry History Museum, and the whole thing was organized by yours truly. I felt really proud of myself for setting everything up and kind of getting to run the whole shoot. We shot four separate interviews, and as always, I learned a lot. Plus, it's always fun to get out of the office for the day.
On Tuesday and Wednesday, I was able to finish the Fort Hill video and start the Fort Hill Archaeology video. And when I grew tired of editing, I started working on the Mattertags for Fort Hill and finished the photo gallery for the Upcountry History Museum. (Maybe I shouldn't take credit for that, in case there are any mistakes.)
Thursday was really fun because I got to go to the Adobe Digital Transformation Day. I learned a lot of new skills for Premiere and Audition, plus I learned about a lot of other cool Adobe programs that I have access to. It was so much fun getting to feel so involved. I think my favorite part about this internship so far is that I don't really feel like an intern. The work I am doing has been so hands-on, and it's as if I am just another ETV employee. Experiences like the Adobe Day are really special because it is a free opportunity to learn about the software I am using and will give me some extremely useful skills that I will be able to take back to school and show my classmates in the fall.
Finally, on Friday, I spent the day finishing up the Mattertags for Fort Hill, which was no small task. It took me quite a few hours to complete the entire house. The beauty of Fort Hill is that there are so many significant artifacts worth mentioning, but it sure gave me a lot more work. It will be interesting doing the Mattertags for the Upcountry History Museum, because the space and the artifacts are all so different than at Fort Hill. Also on Friday, the U.S. Women's National Team defeated the host country, France, 2-1 in the FIFA Women's World Cup, so it was a pretty great end to the week. (Sorry, but I had to give them a shout out.)
On Saturday, I got to go to Charleston to do a shoot for Carolina Day at Fort Moultrie on Sullivan's Island. It was kind of weird being there (home) just for a few hours, knowing my family was right across the harbor and not getting to see them. But it was an awesome experience, because I got to see something that I had never seen before. I think I had maybe seen two reenactments in my lifetime before Saturday. I had also never been to a Carolina Day celebration before, and hadn't been to Fort Moultrie since the third grade. So, not only did I get a refresher on my third grade social studies class, but I also developed even more of an appreciation for the historic sites that have always been right in my own back yard. I also faced my fears of asking people if they would like to be interviewed. This has never been something I particularly enjoy doing, probably because of my fear of rejection, but I was able to do it anyway and it was a great feeling.
I am a little worried that I only have four weeks left, because I feel like there is so much left for me to do and so little time to do it. I guess I have to have faith in myself that it will all get done.