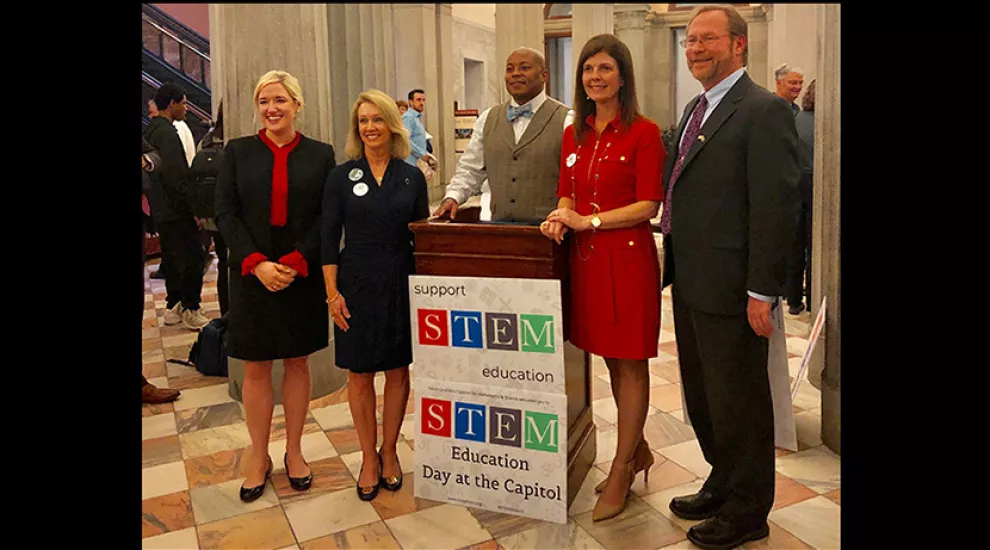 Middle School Science Teacher from Richland School District Two Named
South Carolina's First STEM Educator of the Year!
Mr. Warren Wise, a Science teacher at Kelly Mill Middle School, was announced as SC STEM Educator of the Year today by Lieutenant Governor Pamela Evette during STEM Education Day at the Capital.
Inaugural prize sponsored by leading companies and nonprofits recognizes importance of STEM in education
SC Future Minds, S2TEM Centers SC, the STEM Development Foundation, and Comporium are pleased to announce the winner of the inaugural SC STEM Educator of the Year Award. The initiative honors STEM educators who are making a significant difference in the lives of students by providing an excellent curriculum, encouraging lifelong learning, and inspiring a passion for STEM beyond the classroom and into the future.
Warren Wise, a science teacher at Kelly Mill Middle School, was announced as SC STEM Educator of the Year today by Lieutenant Governor Pamela Evette during a celebration of STEM Education at the state Capitol.
Mr. Wise was nominated by Kimberly Hutchinson who leads the Center for Achievement. "Our students have thoroughly benefited from his teaching and the majority of students served now have a newfound interest, increased scores in science and a long-term desire to pursue the [STEM] field in career options. [Mr. Wise] is in the process of establishing a competition team for the school, which would be the first team for a magnet in our district."
SC Future Minds received hundreds of nominations for the award, which is sponsored by Comporium, a family owned regional telecommunications company based in Rock Hill, SC. Every nominee was noted for bringing enthusiasm and energy to their students through STEM projects, curricula, and teaching techniques. Finalists were selected from a competitive shortlist of 58 applications.
"South Carolina is fortunate to have a burgeoning innovation economy. But we are also experiencing an acute teacher shortage, which limits students' exposure to the many career opportunities in Science, Technology, Engineering, and Mathematics," said Matthew Dosch, Executive Vice President and Chief Operating Officer of Comporium in Rock Hill, SC. "As a home-grown, family-owned telecommunications company, we feel it's critical for South Carolina's businesses to recognize the important role of STEM educators. We thank them for their commitment, and we congratulate all of the nominees, finalists, and Mr. Wise on the well-deserved honor."
Each of the following finalists received $1,000; with SC STEM Educator of the Year, Warren Wise, receiving $5,000 and funds for participating in a professional learning conference:
Coastal Pee Dee Region: Deborah Chapman, Science Lab Teacher, Delmae Heights Elementary School in Florence School District One
Western Region Finalist: Cecelia Kelly, Project Lead the Way Master Teacher (PLTW), Mid-Carolina Middle School in Newberry County School District
Upstate Regional Finalist: Jeffrey Young, Science and Technology Facilitator & Gifted and Talented Teacher, Woodland Heights Elementary School, Spartanburg School District Six
Lowcountry Regional Finalist: Tracey Mays, STEM, Gift and Talented, Geometry Honors, 6 – 8 Math, and GATE Teacher, Gregg Middle School, Dorchester School District Two
About South Carolina Future Minds
South Carolina Future Minds believes public education is the cornerstone of economic and social progress. As the only statewide organization convening statewide partners across business and education, the organization advocates for smart public policies and programs that strengthen our public education system for the benefit of South Carolina's communities and economy. For more information, please visit www.scfutureminds.org
About Comporium
Comporium, Inc., headquartered in Rock Hill, S.C., is a diversified, privately-held communications company that employs nearly 1,200 people and provides broadband, TV, voice, wireless, smart home systems and advertising services throughout the Carolinas. Comporium's ventures include companies that provide media and business solutions, data storage and managed services, smart devices and connected home/car services, and digital signage. For more information, please visitwww.comporium.com.
About S²TEM Centers SC
S²TEM Centers SC (Solutions in Science, Technology, Engineering, and Mathematics Education) is a not-for-profit network of education specialists focused on economic and workforce development through improvement in preK-12 STEM education. Our statewide infrastructure for STEM education brings information, support, innovation and research to the education community in South Carolina and beyond with emphasis on pre K-12 schools.
About STEM Development Foundation
The mission of the STEM Development Foundation (SDF) is to bring together community leaders to foster Science, Technology, Engineering and Math (STEM) education, work to increase the number of participants in STEM programs in K-12, Technical Colleges and Universities, and to be a hub for STEM activities.