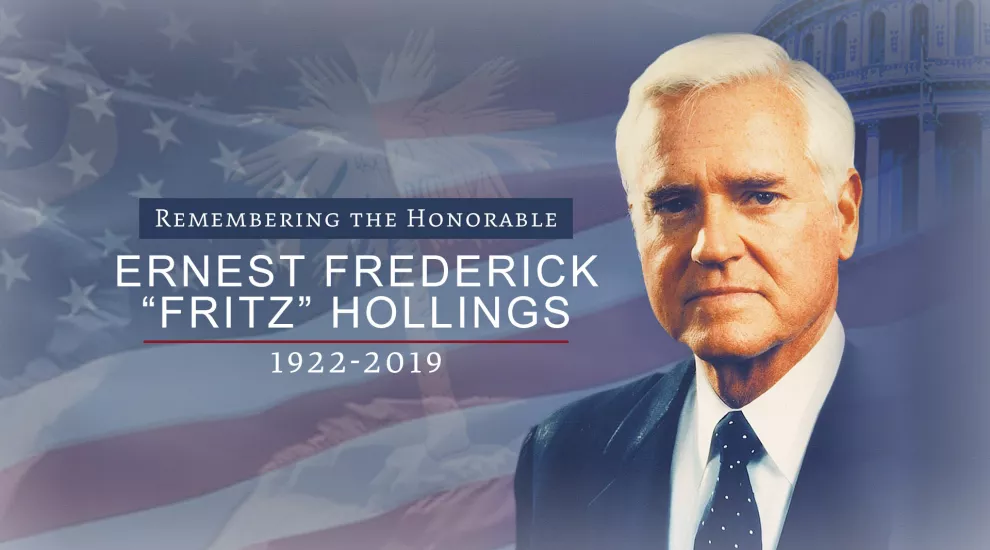 COLUMBIA, S.C. -- South Carolina Educational Television (SCETV) and South Carolina Public Radio today announced coverage plans for the funeral services of the Honorable Ernest Frederick "Fritz" Hollings.
On Monday, April 15, SCETV will provide press pool coverage of Sen. Hollings lying in state at the South Carolina State House from 9:45 – 11 a.m. Media will be able to access this through a mult box on site or via satellite. The event will also be streamed live at www.scetv.org/RememberingHollings from 10 a.m. – 5 p.m. For press covering Monday's event on site, the mult box will be located on the south steps of the State House.
SCETV will also provide press pool coverage of Sen. Hollings' funeral on Tuesday, April 16 at The Citadel's Summerall Chapel. Media will be able to access this through a mult box on site or via satellite. With coverage beginning at 11 a.m., this event will also be broadcast on SCETV and South Carolina Public Radio. Additionally, it will be streamed live online and on the agency's Facebook and YouTube pages.
For press covering Tuesday's funeral on site, there will be a media staging area outside of Summerall Chapel, across from the Ave. of Remembrance, which will be closed to traffic. The chapel is number five on this virtual campus map, and parking directions can be found here. No videos or photos may be taken inside the chapel, including with cell phones. Credentialed members of the media wishing to attend the service inside the chapel are asked to email kkeelor@citadel.edu by noon on Monday, April 15. Credentials must be worn and displayed at all times.
For Tuesday's service, the mult box will be located next to the SCETV truck behind the chapel. And, the on-site press contact for both events will be Aimee Couch, who can be reached by phone at 803-446-0614.
The satellite coordinates will be the same for both events, and they are listed below:

Galaxy 17 Ku Intelsat 04/15/2019 0945 ET 04/15/2019 1130 ET 00:15
Txp: K20 Ch: Upper
Uplink Frequency : 14409.00 H
Downlink Frequency : 12109.00 V
Bandwidth : 18.00
FEC : 3/4
Data Rate : 18.295
Symbol Rate : 13.235
Roll Of :
MPEG : MPEG-2
Modulaton : DVB-S
Modulaton Std : QPSK
Pilot On : No
Chroma Format : 4:2:0
Video Format : 1080i 60Hz
Encrypton Type :
Encryption Code :
 
About South Carolina ETV and Public Radio
South Carolina ETV is the state's public educational broadcasting network. Using television, radio and diverse digital properties, ETV's mission is to enrich lives by educating children, informing and connecting citizens, celebrating our culture and environment and instilling the joy of learning. ETV currently presents A Chef's Life, Expeditions, Reel South, Yoga in Practice and Live from Charleston Music Hall on public television in addition to the national radio production, Chamber Music from Spoleto Festival USA.