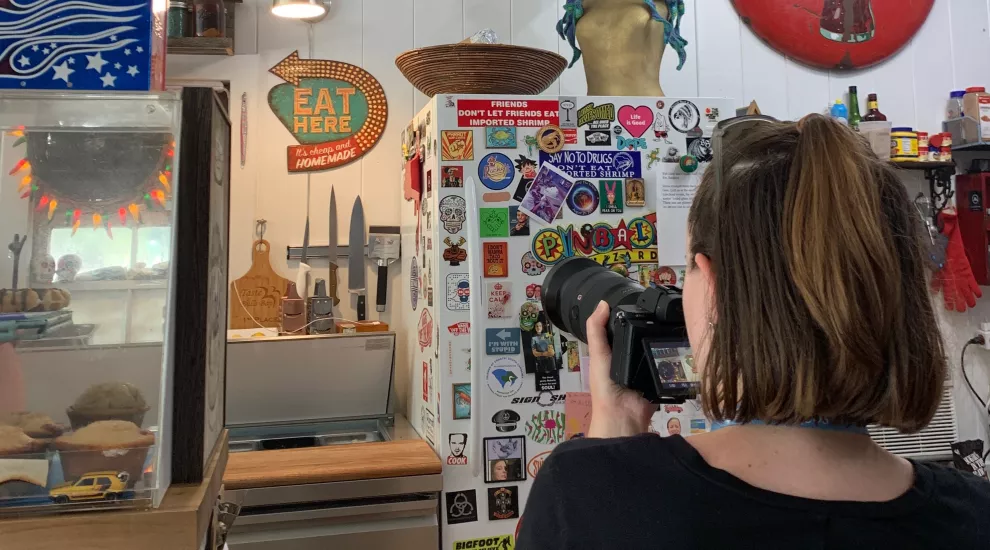 All week I have been editing the restaurant series we've been working on this summer. However, on Thursday I got to help film an episode of SCETV's digital series Our Town. We packed up the car and ventured back to Cheraw, South Carolina. I visited Cheraw a few weeks earlier to film and eat in one of the restaurants. One of the biggest parts of Our Town is not catching a glimpse of life in a small town but rather getting to know its people. Throughout the day we met several lovely people on and off-camera. 
First, we met Dr. Margaret Reid and her uncle, Mr. Reid, in the Dizzy Gillespie Homesite park. Dr. Margaret was a delight to meet and spoke very well on camera. Even though she lived in a big city for years she grew up in quaint Cheraw and returned to retire close to her family. She still considers Cheraw home. She mentioned in her interview how much she loves having neighbors to keep up with and help her when she needs it. Everything is also within walking distance which adds to the charm of Cheraw. Mr. Reid is about to turn 100 years old. He is a miracle- still walking and even driving around town. He decided he didn't want to be on camera but he grew up going to church with Dizzy Gillespie. He pointed out where Dizzy and several other families used to live. If you need to know anything about Cheraw, SC go to Mr. Reid because he can probably tell you. Both Mr. Reid and Dr. Maragaret are well known and loved by many in town.
We also got to meet Chris and Lisa Bridges, a couple that owns and runs Wannamaker Drug a local independent drugstore. By keeping the store accessible they are carrying on an important piece of Cheraw's history since the store has been open for 100 years. The couple has been in Cheraw for thirty-one years and their son hopes to become the next pharmacist at the drugstore to keep it in the family. 
Lastly, we met Tom and Laura Martin who own one of the oldest homes in Cheraw which was built in 1810. They are retired government workers who traveled all over the world but decided to settle down in Cheraw, SC. They were so kind as to give us iced tea and a short tour of the home before we set up for the interview. We asked them why they picked Cheraw to settle down in and they told us out of all the places they've lived, they felt the most welcomed in Cheraw. They enjoy southern hospitality and wanted somewhere quiet after living in big cities for years. In Cheraw, they have more room for their family to visit and two gorgeous acres of land to garden.
Through traveling and capturing stories all across the state, I've learned that South Carolina truly lives up to its name- smiling faces beautiful places.