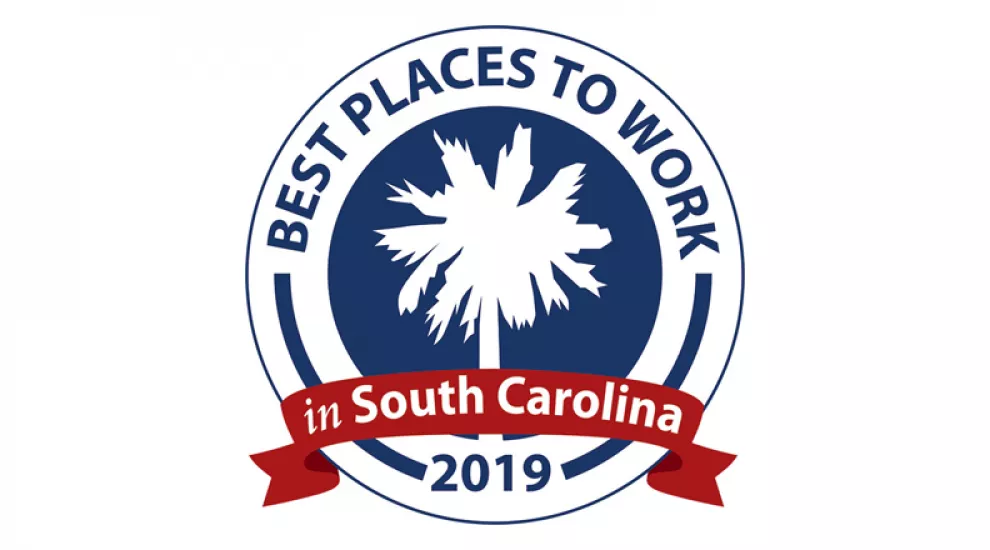 CHARLESTON, SC – JUNE 24, 2019 – S.C. Ports Authority (SCPA) was recently named as one of the Best Places to Work in South Carolina.
The 14th annual awards program recognizes the best employers in the state, highlighting companies that benefit the state's economy, workforce and businesses. SCPA facilitates 187,200 statewide jobs and generates a $53 billion economic impact annually in South Carolina.
Seventy-five companies have been recognized overall in two categories for the 2019 awards. SCPA won an award in the category for companies with 250-plus employees.
Ranked companies will be highlighted at a reception on Aug. 1 in Columbia.
"I am proud the Port has been recognized as one of the Best Places to Work in South Carolina, which is something we strive for every day," SCPA President and CEO Jim Newsome said. "Our employees contribute to a constantly evolving work environment, ensuring the Port of Charleston is the preferred choice for customers and surpassing 10 monthly cargo volume records in fiscal year 2019. Our employees make our success possible."
Newsome has championed a cultural shift at SCPA over the last several years, fostering more collaboration and communication to create a desirable work environment for employees and to ensure efficient operations at terminals.
SCPA's values-based culture focuses on safety, adaptability, business-minded thinking, customer-centric focus, decisiveness, enthusiasm and faith in one another.
The Port offers employees above-market pay and benefits, as well as on-site amenities at its new headquarters in Mount Pleasant, which sits adjacent to Wando Welch Terminal.
The four-story, modern office building provides employees a wellness center, fitness center, walking trail, standing desks and a café serving healthy, low-cost breakfast and lunch options.
Port employees can also partake in lunch-and-learns, weekly visits from a rolling farmers market, free physicals, on-site massages and family night at the Riverdogs baseball game.
"Our new office fosters collaboration, communication and creativity among employees. Our senior managers, terminal employees and office employees can now interact daily, whether they are brainstorming in a conference room or eating lunch together in The Galley," Newsome said. "Our focus on culture has created an environment where employees excel and business thrives."
The Best Places to Work in South Carolina awards program was created by SC Biz News, in partnership with the South Carolina Chamber of Commerce and Best Companies Group.
Companies from across the state entered the two-part survey process to determine the Best Places to Work in South Carolina. The first survey evaluates each nominated company's workplace policies, practices, philosophy, systems and demographics. The second survey measures the employee experience.
The combined scores determine the top companies and the final ranking. Best Companies Group manages the survey process, analyzes the data and determines the final rankings.
Companies must be a for-profit business, nonprofit or government entity; located in South Carolina; have at least 15 S.C. employees and be in business for a minimum of one year to be considered for the award.
The Best Places to Work in South Carolina awards reception and dinner will be 5-8:30 p.m. Aug. 1 at the Columbia Metropolitan Convention Center. Learn more information here. The rankings will be published in the August 2019 issue of SCBIZ magazine.