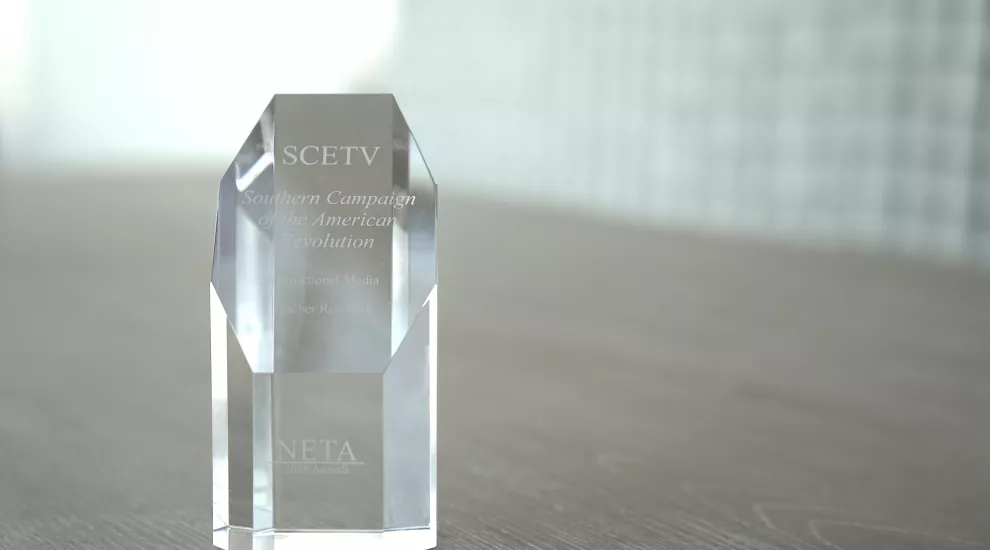 Columbia, SC—SC Educational Television has received a National Educational Telecommunications Association (NETA) Award for the category Instructional Media-Teacher Resource for "The Southern Campaign of the American Revolution" an eight-part series with accompanying lesson plans for K-12 history students. Each module of "The Southern Campaign" includes a short video episode, photos, maps and online curriculum suggestions for teachers.
The video series describes the South's role in winning the American Revolutionary War, including the battles that took place in the Palmetto State, as well as other southern states who were credited for turning the tide of the war.
The NETA Awards are an annual recognition of public broadcasting's finest work and recognize public media's achievements in instructional media, community engagement, promotion and general audience content.
"The Southern Campaign of the American Revolution," a collaboration with SCETV and National Park Service, was made possible by SCETV and the ETV Endowment, The National Park Service, The Self Family Foundation, The George Washington Endowment Fund of the National Society of the Sons of the American Revolution and The South Carolina State Society of the Sons of the American Revolution.
To learn more and to view the series please visit: South Carolina ETV, Knowitall.org as well as SCETV PBS Learning Media.
South Carolina ETV is the state's public educational broadcasting network. Using television, radio and diverse digital properties, ETV's mission is to enrich lives by educating children, informing and connecting citizens, celebrating our culture and environment and instilling the joy of learning. ETV currently presents A Chef's Life, Expeditions, Reel South, Yoga in Practice and Live from Charleston Music Hall on public television in addition to the national radio production, Chamber Music from Spoleto Festival USA.