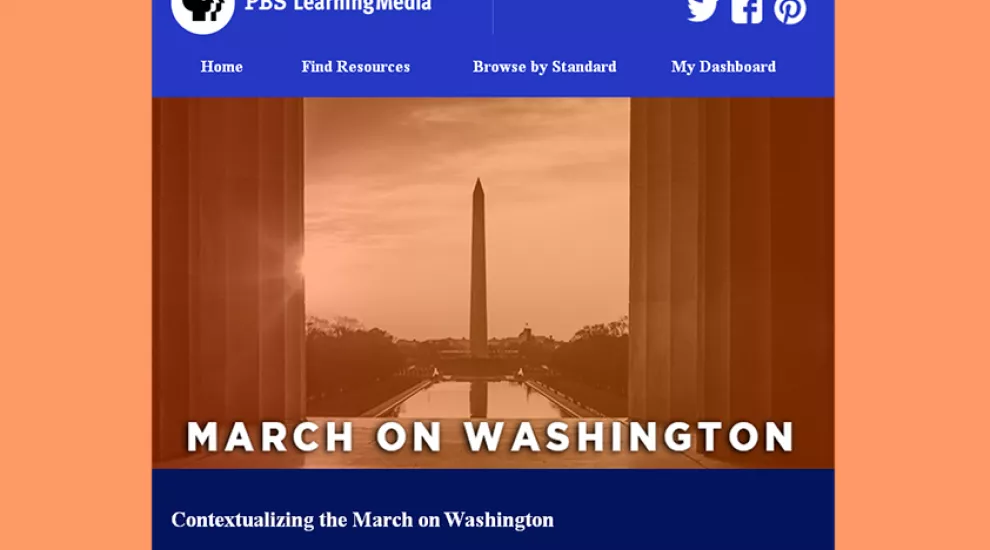 Contextualizing the March on Washington
The 1963 March on Washington was a promise of unity. Help your students appreciate the significance of this event – and its role in the larger Civil Rights Movement. Discover more in this collection of lesson plans, firsthand accounts, and more primary sources to share with your class. EXPLORE COLLECTION.
Understand the Remarkable Life of Sojourner Truth 
An abolitionist and feminist during the nineteenth century, Sojourner Truth demanded not less discrimination, but no discrimination. Truth escaped enslavement and, despite being unable to read or write, rose to be a leader in the fight for equality and fair treatment for both women and African Americans. Through two primary source activities and a short biographical video, students will understand the remarkable career of this persevering woman who lived up to her self-chosen name. LEARN MORE. 
Integrate the Arts into Your Classroom
Based on a comprehensive arts curriculum, the PBS KIDS series, PINKALICIOUS & PETERRIFIC™, can inspire children to think and express themselves creatively. Integrating the arts into children's everyday and school experiences has been shown to have a positive effect on academic outcomes, as well as in developing children's social and emotional skills. Using video excerpts from the series, the lesson plans and take-home activities in the PINKALICIOUS & PETERRIFIC™ Collection help teachers, students, and families explore four key areas of arts education: dance, drama, music, and visual arts.
For more about PINKALICIOUS & PETERRIFIC™, visit the series website.
Learn more! Visit PBS LearningMedia and read the blogs.