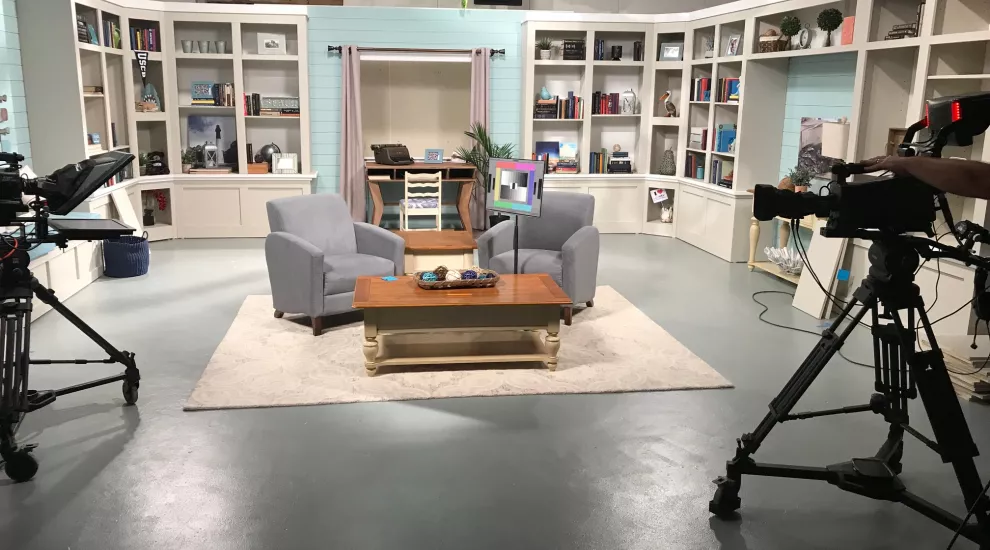 Production is now underway for the second season of By The River, a collaborative effort of SCETV and The University of South Carolina Beaufort's communication studies program.  The interview-style show, that highlights authors from South Carolina and the southeast, has a whole new look this year.  Instead of using the virtual set shown in Season One, a new physical set was built by Josh Thompson of Columbia, who will also serve as the show's lighting director. 
Several students from Dr. Caroline Sawyer's USCB Maymester TV Production class are participating in the painting, decorating and other construction efforts of the set. 
"These students are getting hands-on experience in every aspect of show production," Sawyer said.  "The fact that they can go to a potential employer with the knowledge of what goes into a production before, during, and after is an advantage in the hiring process. This opportunity embodies everything that USCB & SCETV brings to our students and the community: experiential learning and quality programming."
This year the show is proud to have support from The Pat Conroy Literary Center, Osher Lifelong Learning Institute at USCB, Hargray Communications, SC Humanities, The Sea Islands Institute at USCB, the Research Initiative for Summer Engagement at U of SC, and individual contributors.
Season Two starts recording Tuesday, May 21st and runs through the end of the month.  Viewers can look for the new season to air this fall.