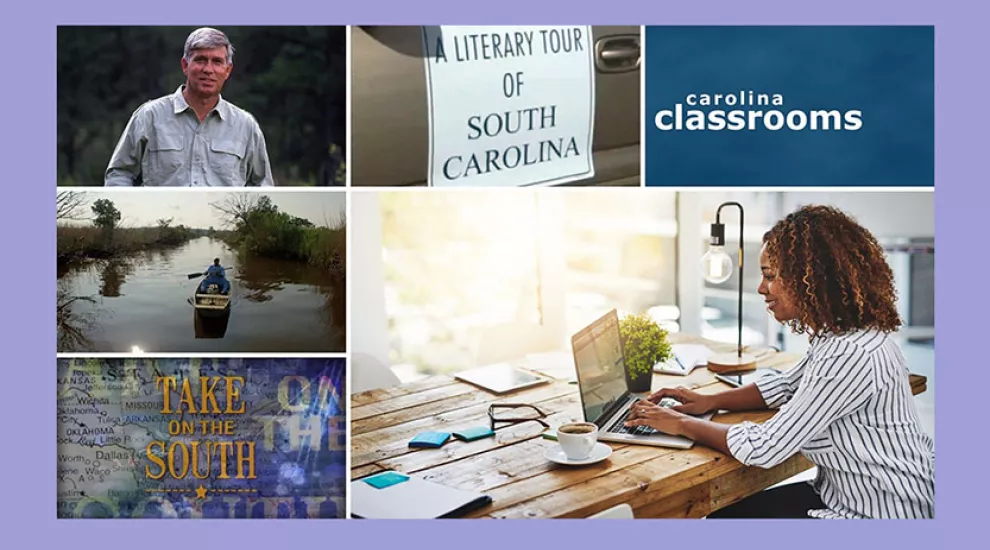 Still time to register for ETV Teacher Recertification Fall session!
Offered are 20 renewal credit courses, approved for SC teachers by the SC Department of Education, facilitated online, self-paced, $75 each. Register by Oct. 21. Must complete work by Dec. 3.
Want to experience learning with renowned Naturalist Rudy Mancke or SC History expert Dr. Walter Edgar? Interested in good tips to teach writing or use storytelling more effectively? Seek to learn more about the storied past of the lowcountry area or information on Career Education in SC?  OR … Maybe you just want to be inspired by some of our finest SC educator leaders … these courses are for you!
"It was my first time taking an online course. The course was enjoyable as well as educational … Definitely a course to help make me a better teacher."  - Kathleen C., SC Teacher
Each course earns 20 renewal credits (NO graduate credit)
Approved by SDE for SC educators to renew SC teaching license
Facilitated online and self-paced; work anytime 24/7; complete by session end date - Dec. 3
Enroll in one to six courses per session (each course at least 15 hours to complete)
$75 per course (pay online by credit card or send check)
REGISTER NOW!   Descriptions/register/pay:
http://www.scetv.org/teacher-recertification
ETV Teacher Recertification Highlights:
Interesting courses Making Connections with Natural History, Series I and Series II with Rudy Mancke recommended for teachers of all grade levels to learn how to integrate natural history into any subject!
Newest courses: Between the Waters: History Across the Curriculum at Hobcaw Barony, Series I and Series II (history of lowcountry area from native Americans to today); Teaching and Learning in Carolina Classrooms, Series I and Series II (similar to SC Teachers on Teaching!); and Connecting with Literacy Through Storytelling (learn to use storytelling effectively + teach it to students!)
Other popular courses: A Literary Tour of SC (I, II & III), Take on the South with Dr. Walter Edgar, SC Chronicles (I thru VII), Social Studies in Action, Inside Writing Communities, The Arts in Every Classroom, The Habitable Planet, Career Education for Student Success, The Arts and Career Connections, Essential Science for Teachers, and SC Teachers on Teaching (I & II) … and more!
Need help? Call ETV Learn Online: 1-888-761-8132 / 1-800-277-3245 OR local 803-737-9915 / 737-3245