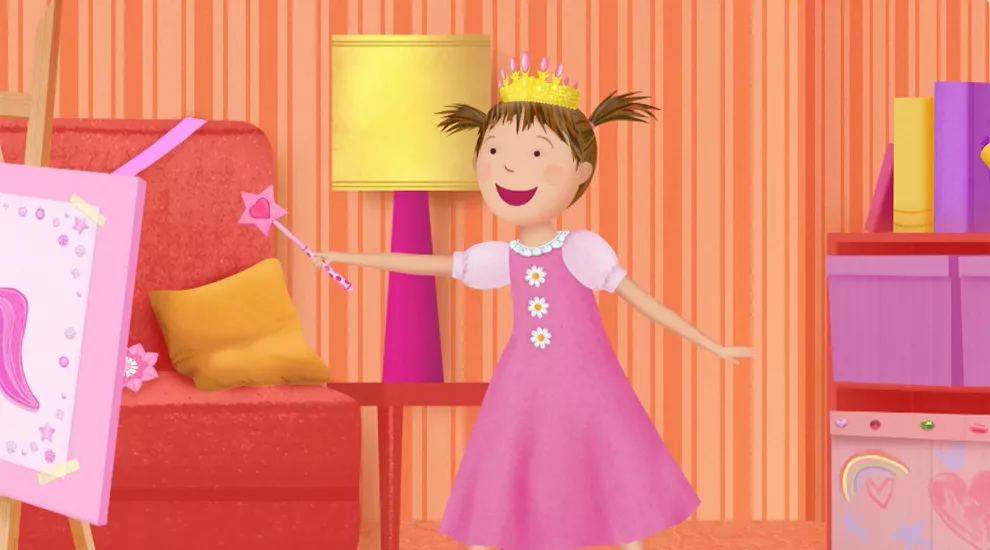 PBS KIDS is ringing in the school year with an exciting line-up of new programming from award-winning series, and resources for families and teachers.  View the line-up of upcoming premieres from PINKALICIOUS & PETERRIFIC.
"PINKALICIOUS & PETERRIFIC: A Pinkaperfect Birthday" 
Premieres and streams August 5
Pinkalicious is excited for her most pinkaperfect birthday party ever! During the festivities, Pinkalicious receives a mysterious gift that makes her birthday wish come true – she can turn anything pink! But not everyone shares her love of a pinkafied world. Pinkalicious and Peter take a trip to Fairyland to find the gift-giver – the Birthday Fairy – hoping she can help restore Pinkville to its proper colors.
Other new PINKALICIOUS & PETERRIFIC episodes include:
"Jumping for Joy/The Pinkatoo"
Premieres and streams August 6
"Jumping for Joy" – Peter thinks he's too short to do fun activities as well as Pinkalicious or Rafael, so he makes shoes that let you jump really high! But he and Pinkalicious will need to learn how to jump properly if they're going to make it to the park in time to play basketball.
"The Pinkatoo" -- Pinkalicious sees a pinkatoo, a rare music-loving bird that hasn't been seen in Pinkville for 53 years! Now everyone wants to see the pinkatoo, too. Pinkalicious, Peter, Rafael and Jasmine set out to find that bird!
"Knights of the Pink Table/Musical Mix Up"
Premieres and streams August 7
"Knights of the Pink Table" – The Knights of the Pink Table are ready to go on a new quest! Peter wants to go too, but he's not a knight. Even with help from Pinkalicious the Brave and Jasmine the Daring, how will he go from being the Squire of the Scooter to Peter the Courageous?
"Musical Mix Up" – Peter's Kazoo Club is about to have its first meeting! But after a strange encounter with a sprite named Spritely, nothing in Pinkville sounds quite like it should. Pinkalicious and her friends will need to find Spritely and return all the sounds to their proper place so the kids can get kazoo-ing!
"Whale of a Song/Pinkabubbles" 
Premieres and streams August 8
"Whale of a Song" ­­– The Pinkerton family is going whale watching with Captain Jolly! While at sea they discover a lost baby whale. Will Pinkalicious' whale song succeed in calling out to its mommy – one of Pinkville's great pink whales?
"Pinkabubbles" – It seems like another fun-filled, bubble-blowing day in Pinkville – until Peter gets trapped in Pinkalicious's huge bubble! Pinkalicious and friends chase Peter all around town. Will the Peter-bubble burst before they catch him?