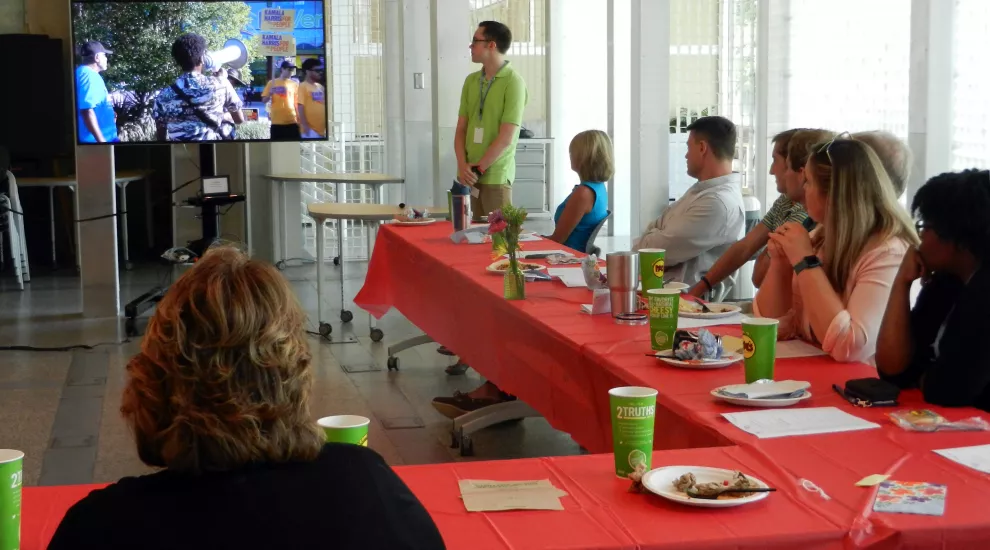 Welcome to Intern Week! (That was going to be this week's title, until dramatic political developments forced my hand, as you will read). I briefly mentioned that self-proclaimed name last week, but this week was truly all about the interns. As the summer winds down, some of us are beginning to wrap up their internship (but don't worry I still have a couple weeks). So ETV celebrated all the interns with a big fancy lunch, catered by Moe's, on Monday. I'm not usually a fan of southwestern cuisine, but I will never complain about a free catered lunch like that. It was really the first time all of us interns had been around one another. Obviously I knew Sarah, my officemate, and had met Connor and Lee when they helped me record a voiceover, but I got to meet the intern from the Lowcountry station as well as Laura-Ellen and Murphey. I mentioned my complete lack of interest in presenting my work in front of everyone (and I actually got a little nervous as we approached my presentaton), but it was a good time and I even gave a little inspirational speech about journalists being attacked and my pride in being a future journalist. Gavin also got to roast me a little bit about my lackluster parallel parking skills when he introduced me and we all had a good laugh about it.
Later in the week, I got to know Laura-Ellen and Murphey a little better when they had to interview me for the 2019 ETV Endowment Intern video. Since they also had to gather b-roll of me for the video, we had a fun time making me do silly things that looked like I was working. It was really the first time I hung out with my peers this summer, so it was good to kind of relax, share college stories and not be so serious like I am when surrounded by adults. We wrapped up my portion of the video after grabbing Sarah to join me in some of the staged b-roll (technically not ethical in journalism, but this isn't actual news, so I'll let it slide). I'm excited to see what the final product looks like and they seem really passionate about making this year's video exciting, unlike the previous years' videos.
That interview was supposed to happen with Sarah at the same time on Thursday, but an assignment called me away at the last minute: hiking up to Taylors, S.C. (a 2-hour drive to the Upstate) to film an educational roundtable featuring Gov. McMaster, Education Secretary Betsy DeVos and State Superintendent Molly Spearman. Sec. DeVos unveiled a new federal school choice program she wants to implement, involving a tax credit fund for scholarships. It was pretty dense material to understand, at times, and I'm still not sure I fully understand the plan, but I wasn't reporting, so it's not a huge deal. While it wasn't a lot of fun to drive all that way, at least it got me out of the office and ended my day early. As I was leaving, I saw the other Columbia TV stations setting up their equipment for live shots, as it looked like it was about to rain, and I sure was glad I was not having to do that, as well. That is one of the least fun parts of the job, especially being by yourself as an MMJ.
This week also saw the (as of now) conclusion to the USC President saga. I wrote a brief recap of it last week, so I won't rehash that again. This week, people protested at the Russell House on Wednesday, just ahead of the board vote on Friday, and I went to film that, as well. There was a little bit of miscommunication, as I thought I was joining Gavin there, but it turns out I was going solo. I managed the heat and the bugs and got some more hands-on experience. And then today was the big day, the day of the vote. Gavin went down to the State House early in the day to cover the executive session,,as I stayed behind to get the roundtable footage off the cards and get interviewed. I was about to head out to a student protest sit-in, but at the last minute, Gavin told me to stay and work on getting audio from McMaster at the roundtable and putting together a quick video from the Russell House protest. So I scrambled to get what I needed, going back and forth from the laptop for editing to the PC to download more footage to my hard drive and back again. I was unplugging and plugging things in all around me and it makes me dizzy just reliving that right now. I got the videos done right as the news broke: retired Lt. Gen. Robert Caslen was elected the 29th president of USC by a slim 11-8-1 vote (one trustee voted "present"). This story has driven the news around the state recently and it had us interns talking all day about the controversial process and vote.
If I had to bet, I don't think this story is quite over yet. The State Senate is now advocating for a bill that would shrink the size of the board at USC, the university's accreditation is still up in the air and there could be more protests. But we'll see what happens the rest of the summer and if something does happen, I'm sure I will be capturing at least part of it. But for now, that is all and after another long day (and week) at ETV, I'm ready for a break. I'm finally taking a day off that I earned from working the Democratic convention a few weeks back, so next week will be short, but I'm sure it will still be exciting, as we start to wrap up this internship.