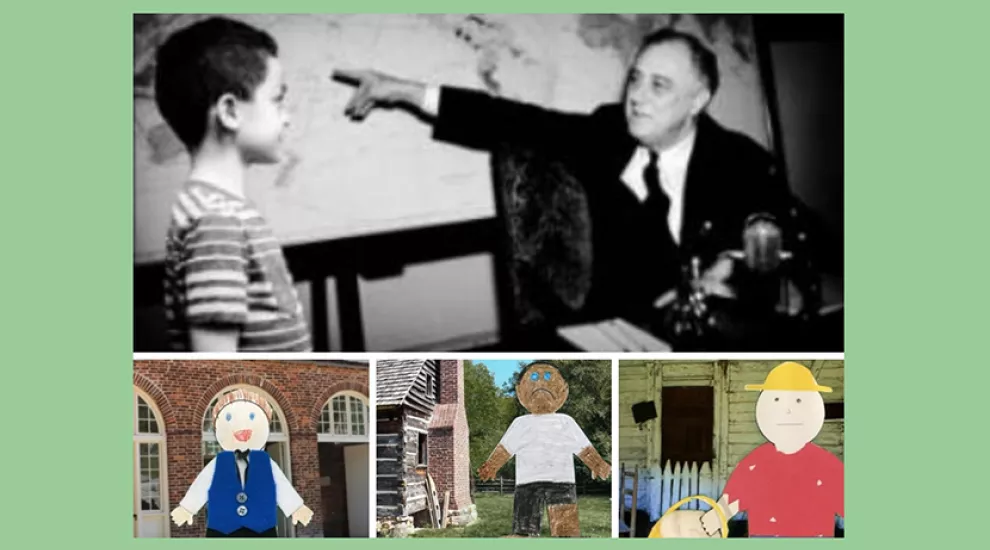 From our Educator Guest Blogger Series
"You've clearly stolen their hearts," What a joy to read this recently from a teacher whose class I've been working with this year. In all fairness, here's the rest of the sentence "as every group wants to do another green screen video".  
So maybe I haven't stolen their hearts as much as green screening and video production has but I'll take it! The excitement, enthusiasm, willingness to get to work writing scripts and drawing storyboards is especially moving coming from students who don't often show such passion for learning. Their eagerness makes every bit of the work on my end worth it- times two!
While collaboration with this teacher has gone on for years, this year's class started with a project centered on inventors. Students, in groups, chose an inventor to research and then share with the class in an "inventive" way. While some students opted for reports and posters, after sharing previous examples with them, many decided to film and include some green screen elements in their final video project.
For these projects, storyboards and scripts were required for each production. I met with each group to rehearse and tweak their performances before filming, while their classroom teacher met with them to focus on their research and content. Together we discussed all the elements of "being on camera" and worked on expression, speaking clearly, mannerisms and even where to stand to make our project look more realistic.
At first, the students had a hard time visualizing the finished project. "I'm going to be standing in front of what?" "How is that lightbulb just going to appear?" But as we continued through the process they began to form mental images of the finished product.  When it was all put together with sound effects, transitions, green screen images (such as Henry Ford's model T car sales lot) the students were overjoyed and extremely proud of what they had created. Oh, and they just happened to learn A LOT about inventors.
So, ready to get started?
Here are a few more ideas on video production and green screening in the elementary classroom.
First graders chose a person in American History.  Students researched in the library, read books and searched online resources about their person. They chose a moment in history they would like to highlight and I helped bring the projects to life by having the student "meet their person" through green screen production. The pictures included students marching with Dr. Martin Luther King, riding the bus with Rosa Parks, going to school with Ruby Bridges and standing tall with President Abraham Lincoln.
The pictures were displayed along with the students' writing. The authors loved seeing people stop to read their work and admire their photo. Through the photos, students became witnesses to historical events.
 
Many third graders around South Carolina make Antebellum dolls when learning about SC history. For this project, we decided to take the traditional doll creation a step further. Students chose from a variety of roles including being a slave, a sharecropper, a store owner or a plantation owner. Each student's research included what they would have worn, where they would have lived and the work they would have done. Students then created their doll using a wide variety of makerspace materials, for example, markers, fabric, and yarn. After the dolls were created, students wrote a dialogue according to their characters' experiences. The students learned how to take a picture of the doll on green paper and using green screen technology placed their doll into their environment using pictures from local historical places.

All the dolls were placed into a movie program and students narrated their doll's life using the dialogue they had written.  Over the years, instead of just having students narrate we began to use the Chatterpix app to create the impression that the doll was actually speaking to the audience. This was a great transition from 3rd person to 1 person narration! Students tried to imitate the way they thought their doll would speak. Yes, even in the south we had some really bad southern accents but once all the clips were put into one class project it became an authentic presentation of life in the south during the Antebellum time.
 
This project is done in various forms on multiple grade levels. Second graders may be asked to use an existing product while 4th graders invent their own. Students work in teams to create a commercial that will sell their product. Students have created commercials about gloves that help you climb walls, a grill that folds out from your truck for tailgating, a collar that translates your dog's speech and many, many other creative products.  We have witnessed some true inventors in the making! Once the product is created and scripts are written, video and green screen brings the ideas to life and demonstrates the students' powers of persuasion. Once the students have created all of their content I work to add in sound effects, transitions, titles etc….A future goal is to have kids more involved in the editing process.
It is worth noting that all of these projects promote collaboration, digital citizenship, learning about sources for reliable information, the writing and editing process and storytelling. Each project can be differentiated to promote student learning and growth. Have students who love to draw? Have them draw their own backgrounds. Musically inclined students could create their own soundtrack. A student who doesn't want to be on camera can help film, narrate or create storyboards.
Putting students in the director's chair facilitates authentic learning and promotes a transformation in students as their confidence grows in their content knowledge and as their production skills improve. Video creation increases student engagement and boosts achievement by focusing on the growth and learning that takes place during the process. Through speaking and listening opportunities students learn the necessary content and cross curricular learning is seamless.
"Classroom video projects teach students to plan, organize, write, communicate, collaborate, and analyze. In fact, video has become so prolific that some colleges even include video submissions as part of their application process. As this media further matures, students may need to be able to express themselves as effectively through moving imagery as with the written word." (edtechteacher)
 "Assigning students projects involving video production can lead to many positive academic outcomes, and today more opportunities exist for educators to incorporate such video-oriented projects into their classroom practice. Video-making technology is more affordable, more user-friendly, and more powerful than ever before".  (Morgan, Hani Childhood Education, v89 n1 p51-53 2013)
Bio
Laura Roberts Adair serves as a Digital Integration Specialist for Harbison West Elementary, Irmo Elementary and Nursery Road Elementary Arts Magnet in District 5 of Lexington and Richland Counties.
She worked as an elementary classroom teacher, School Library Media Specialist, Parent Educator and children's librarian (Richland County Public Library system) before becoming a technology coach. She has a BA in Early Elementary and Elementary Education from Furman University, a Masters Degree in Library and Information Science from USC and gained National Board Certification in 2007. (Renewed until 2027).
She is a Mid Carolina Cooperative Bright Ideas Grant Recipient, Congressional Teacher Scholarship Award winner and recipient of many other awards and certifications. She states the greatest honor is having been selected Teacher of the Year at 3 of the schools she has served. "Being recognized by the peers you respect and admire is indeed one of the greatest honors."
Her passion for theater and music is a great asset in her current role. Along with performing, she has served as Musical director for various school, district and community theater productions and has sung throughout the US and Europe.
You can follow her on twitter@AdairMedia5 or follow Lexington/Richland 5 #PrideIn5, #Teachin5
Note: This guest blog does not necessarily reflect the views of ETV Education.