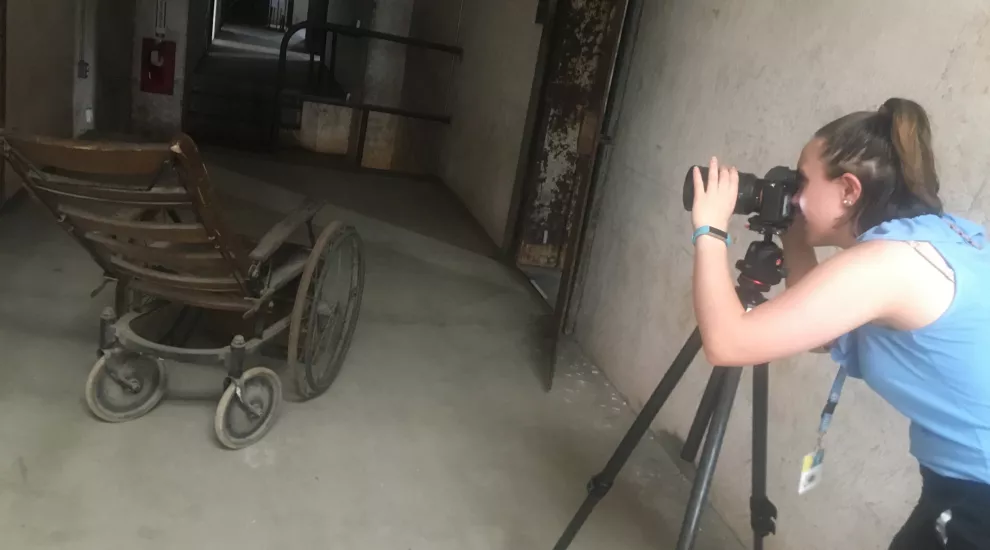 As I'm wrapping up my last week at SCETV, I can't help but think of all I've learned and experienced here the past ten weeks. 
First of all, getting outside my comfort zone has been the best. I've been working on a documentary series and the 2019 intern video alongside Tabitha Safdi and Murphey White. Before, I was primarily working on fictitious stories, but now I've dived deeper into nonfiction storytelling. I've always loved documentaries but just hadn't had as many opportunities to work on them until now. I rekindled my love for simply talking to people. Filming an interview is having a conversation with the person on camera. The way you pose your questions should help to draw out the inner storyteller in even the shyest person. Not everyone loves talking in front of a camera, so helping them to feel comfortable during the interview process is really important - something I've practiced a lot this summer. I've gotten to know the other interns by working on the intern video. It was cool to see and hear about the projects and experiences everyone else had this summer as fellow Endowment Interns. 
While some days were spent working and editing in the office, other days were spent traveling and filming for the series Backroad Bites. Along the way, I got to meet many hardworking business-owners across all the regions of South Carolina. I listened to their stories, ate their incredible food, and learned more about the culture throughout our state. Where food is concerned, I had never had Amish/Mennonite cooking until I visited restaurants in Blackville and Cheraw. The River's Edge in Cheraw had some incredible Amish peanut butter. It's sweet and stretchy and they sell it by the container! Everyone should try it. I not only got to eat great food but take in the scenery and special attractions across the state, such as the Healing Springs in Blackville and the topiaries, a part of the South Carolina Festival of Flowers in Greenwood. 
As much as I enjoyed everything, one of the best parts, by far, was working with all the great people at SCETV. In addition to meeting the interns, I met a group of people who've committed to working hard and playing hard by hosting daily games at lunch. They were so friendly, I quickly joined their lunchtime games. When the group wasn't playing games, we were enjoying going out to lunch together. And finally, I have to mention my fabulous supervisor Tabitha Safdi! Tabitha helped make all these amazing experiences possible. She did all the heavy lifting to get the web series off the ground and has guided me through my time at SCETV since day one. She's also been diligent in publishing all my blogs and giving me great feedback on the work I've done. I've loved getting to know her and working alongside her for ten great weeks! 
Since this experience, I will forever be an SCETV fan.
In addition to this post, Natalyn Klump wrote an incredible article summing up what I've been doing all summer. You can check it out here: https://www.etvendowment.org/blog/posts/it%E2%80%99s-simply-treasure-be-able-share-local-stories