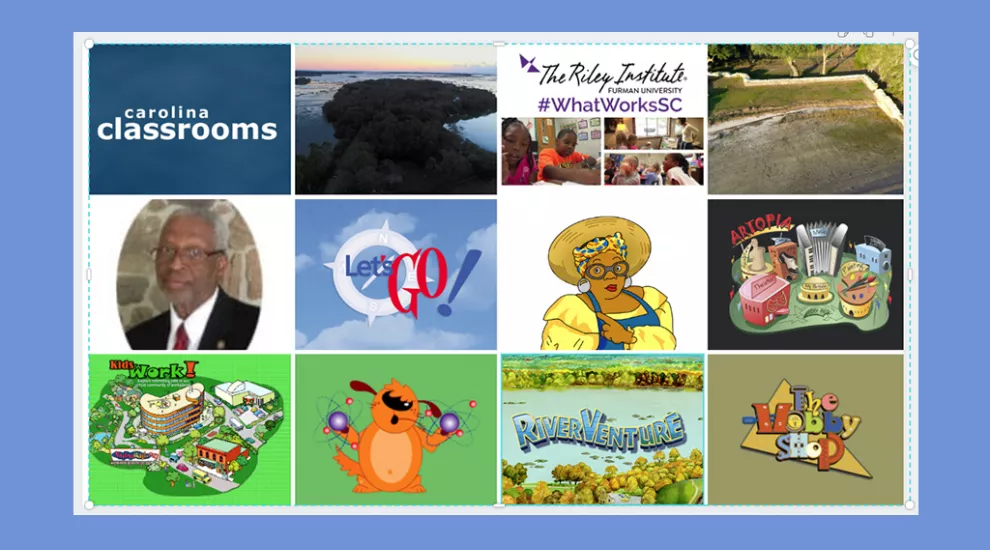 This month, we're excited to bring to your attention a couple of new series recently added to Knowitall.org—the Planter at the Gate and the Inevitable Evolution of Fort Frederick! Both are made possible through our partnership with SC DNR and the South Carolina Heritage Trust.  Both are made possible through our partnership with SC DNR and the South Carolina Heritage Trust. There's also new content from two of our ongoing series, Carolina Classrooms and WhatWorksSC. We also highlight resources that are fun and engaging, and will allow our students to continue the learning while school is out for the holidays! View more info below!
During the Civil War, the month of June of 1862 was a pivotal moment in American history. If Federal forces could capture Charleston, the gateway to the South, it would cripple the Confederacy. Impatient with their Naval blockade of its central harbor, the Union Army decides to pursue another approach for seizing the Holy City by overrunning a small fort on James Island. There, a Southern planter named Colonel Thomas Gresham Lamar, holds the keys to that back door approach as the commander of the Tower Battery in the hamlet of Secessionville.
A crumbling Colonial fort becomes the foundation for Emancipation Day. Nine historians and archaeologists follow Fort Frederick's lineage as it becomes the birthplace of Reconstruction.
We're also pleased to present new content from two of our ongoing series:
Angel Malone, Director of Career and Technical Education at the SC Department of Education, is joined by Shuana Davis of the Strategic Partnerships at the SC Department of Employment Workforce, Elizabeth Kovacs, the Deputy Director of Workforce Development at the SC Department of Commerce, Susie Shannon, President and CEO of the SC Counsel for Competitiveness, and Dr. Peggy Torrey, Director of Education at the SC Counsel for Competitiveness. In this Carolina Classrooms segment, they discuss workforce development, and where the jobs are.
Career development facilitator Richard Toliver discusses his work exposing students to different careers relative to the sixteen career clusters.
In this segment of Carolina Classrooms, Timothy Keown, Director of the Education Center at the John De La Howe School for Agriculture, Stephen Mason, Associate Vice President for Economic and Workforce Development at Denmark Technical College, and "Bio Joe" Joe Renwick, owner of Green Energy Biofuel, sit down with Angel Malone, Director of Career and Technical Education at the SC Department of Education, to discuss where the jobs are, and paths students can take to pursue careers in the fields of their choice. 
A group of students share the career paths they want to pursue, and why they want to pursue those paths. 
Elizabeth Williams, Dean of workforce development at Central Carolina Technical College, Marc Himes, program manager at the Center for Fatherhood and Families, and Calvin Lucky, a participant in the Midlands Fatherhood Coalition, sit down with Angel Malone, Director of Career and Technical Education at the SC Department of Education, to discuss non-traditional paths into workforce entry, and community partnership models. 
This series is made possible through our partnership with the Riley Institute at Furman University.
The Carolina Teacher Induction Program (CarolinaTIP) supports the schools and students of South Carolina by putting teachers first. CarolinaTIP is designed to be a bridge for new teachers as they transition from university student to leading and teaching in a classroom of their own. The university-based program helps novice teachers grow their confidence, capacity, and resilience by providing responsive and holistic support, including targeted group training sessions, in-class coaching, and personalized , one-on-one mentoring and demonstrates the University of South Carolina's dedication to the success of its graduates and determination to positively impact teacher retention in South Carolina. Counties Served: Currently serving Lexington and Richland Counties.
The vision of the Pickens County Career and Technology Center is to build strong partnerships with industry, post-secondary schools, and our high schools to provide unimaginable opportunities for its students. Its mission is to give students the opportunity of discovery. PCCTC works with students to explore their talents and interests, and then match that with career opportunities. The faculty works diligently to prepare students for college and to foster the skills to enter a competitive workforce.
Equip at-risk kids with the skills they need to succeed in school, stay in school, and thrive in life. Wings for Kids is dedicated to helping at-risk K-5th grade children succeed in school and life by providing high-quality social emotional out of school programming.
Be sure to check this area often to stay current on all that's new on Knowitall.org!
South Carolina African American History Calendar:
December Honoree – Isaac Washington
Isaac Washington Sr., son of Oliver and Elizabeth S. Washington, was born in Columbia, S.C., in 1942. He is a graduate of C.A. Johnson High School and Benedict College. As a high school and college student, he participated in numerous civil rights marches, sit-ins and other activities in the Columbia and Orangeburg areas. He was arrested in March 1962 while protesting at the South Carolina State House. After graduating from college, he served in the United States Marine Corps and the Marine Corps Reserves.
Washington worked at WIS Television as an assistant program director and director of sales, traffic and operations. While at WIS, he pioneered the "Awareness Program" to create a link between the African American community and the media. He also established an on-the-job training program at WIS for African American college students.
After leaving WIS, he became co-founder of "Black News," a weekly newspaper designed to provide a more positive platform for African American coverage. Later, he became President and Publisher of the South Carolina Black Media Group, which earned several local and national awards, including the A. Phillip Randolph Messenger Award for Journalistic Excellence in the field of Civil Rights, the National Newspaper Publishers Association (NNPA) Publisher of the Year, and the NNPA Merit Awards in Civil Rights, Advertising, Sports and Outstanding Editorial Content.
Isaac is a member of Zion Baptist Church where he serves as a deacon, Sunday School teacher, usher board president, and member of the male choir. He is also a member of the Alpha Phi Alpha fraternity, a chartered member of the Montford Point Marines Association and a life member of the NAACP. He received the Order of the Palmetto, the Key to the City, and August 14 has been designated as "Isaac Washington Day" in the City of Columbia. He is portrayed on the Columbia Housing Authority Wall of Fame and served as a commissioner on the South Carolina State Housing Authority Board.
Isaac and his wife, Clannie (Hart), are the parents of one son, Isaac, Jr.
Presented through a partnership between the South Carolina Department of Education and South Carolina ETV. 
View the interstitial here. 
View the video on Knowitall.org here. 
Download the SC African American History Calendar here. 
Dates for your calendar
Dec. 2   International Day for the Abolition of Slavery
Dec. 7   Pearl Harbor Remembrance
Dec. 9   Green Monday
Dec. 22 Hanukkah (Start of)
Dec. 25 Christmas – Holidays Collection:
Dec. 26 Kwanzaa (Start of)
Jan. 1    New Year's Day
THIS MONTH ON KNOWITALL
Extend the learning—all through the holidays!
We simply couldn't allow the holidays to arrive without a reminder of all the ways that students can stay engaged in learning—all through the holidays—on Knowitall!
On Knowitall, we have Activities that you can take with you just about anywhere because many have been upgraded to work on mobile devices. Try them out!
A comprehensive web-based experience for students, covering the visual and performing arts. Students will learn art history via animated one-minute movies, be guided on how to closely examine important works of art, and view videos of professional artists at work.
Please note: Knowitall has recently added a few more interactives to Artopia that will play on your mobile device. See notes below. 
This resource introduces Gullah culture and language to children, and each story features both English and Gullah versions.
*These stories from Gullah Tales have been converted and will now play on all mobile devices in English and Gullah!
You can also view the Videos in both English and Gullah.
And be sure to visit and sing along with Gullah Music!
Aunt Pearlie Sue and Reverend Leroy take you on a musical journey!
*Please use your desktop for these resources, as they have not yet been upgraded.
Learn how to use a compound microscope and a dissecting microscope.
(Currently working on updating this, as it no longer works on newer iPads. It does work on a desktop and older iPads.)
Learn how velocity and distance work in this balloon blast game. A catapult is a military device that was used in ancient and medieval times to hurl stones, spears, and other objects. There were many different types of catapults developed and used throughout history. The most well-known catapult is the bucket catapult, which used a winched down - arm with a bucket on the end to toss objects. The catapult used in our Balloon Blast game is called a trebuchet.
Choose and customize a rocket. Launch your rocket and learn about Newton's Laws.
A virtual community of workplaces designed to give students an interactive job exploration experience that connects school work to real work. Each area includes History, Job Play activities, Work Zone and Real People at work. Be sure to start with the History area, then proceed to Job Play, then to Real People, and finally to the Work Zone area while you're in each work site!
Students learn about these topics and scientific principles while having fun!
The story of South Carolina's cultural and natural landscape as told by its rivers. RiverVenture will take you on a virtual "float-trip" across South Carolina, following the Saluda, the Congaree, the Santee, the Cooper, and the Catawba Rivers.
Have goggles? Try out our VRs on Let's Go!
Tour some of South Carolina's most interesting historical sites! View VRs using VR Goggles, such as a Google Cardboard or a Samsung Gear VR. Instructions are available in each section below:
The mission of the Catawba Cultural Center is to preserve, protect, promote and maintain the rich cultural heritage of the Catawba Indian Nation through efforts in archives, archeology, tribal historic preservation, native crafts, cultural education, and tourism development. The Cultural Center provides an overview of the rich culture and history of the Catawba Indian Nation. There are exhibits that can be seen at no charge and a member of the staff will be happy to answer any questions that you have. There is also a craft store in the center that features crafts from many of our native artisans.
Fort Hill, the antebellum plantation of John C. Calhoun, South Carolina's pre-eminent 19th century statesman, started as a four-room Clergy Hall. Through a succession of Calhoun-Clemson women, Fort Hill would come into Thomas Green Clemson's possession. In 1888, Clemson bequeathed three-fourths of the Fort Hill plantation and $80,000 to the state of South Carolina for the establishment of a public scientific and agricultural college. He willed that Fort Hill "shall always be open for the inspection of visitors."
The H.L. Hunley submarine made history during the American Civil War when she became the first submarine to sink an enemy ship in combat. In February 1864, the Hunley, under command of Lieutenant George E. Dixon, sank the U.S.S. Housatonic; a Union blockade vessel. The Hunley's mission was a success, but disappeared under mysterious circumstances, and never returned to port. The Hunley was the third in a series of submarines constructed by engineers Horace Lawson Hunley, Baxter Watson, and James McClintock. Before the Hunley's successful attack on the Housatonic, the Hunley had two accidents, the second of which claimed Horace Hunley's life. 
Located in York County near Rock Hill, Brattonsville is home to structures that range from a pre-Revolutionary War cabin to an antebellum plantation.
The Mann-Simons Site, home to the same entrepreneurial African American family for nearly 130 years, traces the journey of Columbia's African American community from enslavement through urban renewal. 
Historic Columbia is a non-profit organization dedicated to preserving Columbia and Richland County's historic and cultural heritage. 
Located in downtown Charleston, the Old Exchange and Provost Dungeon is nationally recognized as one of our country's most significant historical sites.
Completed by 1713, The Powder Magazine is the oldest governmental building in South Carolina. This facility was used as an arsenal from 1713 - 1748 to defend the colony from the Spanish, French, pirates, slave rebellion and native attacks. It was then temporarily reinstated by the Continental Army during the American Revolution. 
After 1780, The Powder Magazine was retired; however, private owners discovered a variety of other functions for this historic structure. Throughout the 19th century, The Powder Magazine was converted to a stable, print shop, blacksmith shop, wine cellar, and horse carriage house. In 1902, The National Society of The Colonial Dames of America in The State of South Carolina purchased the building, saving it from being destroyed. It was then restored and opened as a museum.
The South Carolina Confederate Relic Room and Military Museum's mission is to collect and preserve the military history of this state. When visitors enter Columbia's oldest museum, they will uncover the state's military history from the Revolutionary War to the present War on Terror.
Located in the capital city of Columbia, the State House and its grounds are a living monument to South Carolina's rich history. Take a 3D virtual tour inside the SC State House.
The Upcountry History Museum is a history museum in Greenville, South Carolina that displays the regional history of fifteen upstate South Carolina counties from the early 18th century to the present.
USS Yorktown (CV-10) was an Essex-class aircraft carrier that served with the US Navy in World War II and the Vietnam War. World War II's famous "Fighting Lady" would participate significantly in the Pacific offensive that began in late 1943 and ended with the defeat of Japan in 1945. The Yorktown received the Presidential Unit Citation and earned 11 battle stars for service in World War II. In the 1950s, the Yorktown was modernized to operate jet aircraft as an attack carrier (CVA). In 1957, she was re-designated an anti-submarine aircraft carrier (CVS), and would later earn 5 battle stars for service off Vietnam (1965-68). The ship also recovered the Apollo 8 astronauts and capsule (December 1968). The Yorktown was decommissioned in 1970 and placed in reserve. Today, the ship, is a floating military museum located at Patriot's Point in Charleston, SC. 
The Woodrow Wilson House in Columbia is the only museum in the nation dedicated to telling the story of Reconstruction. Located at 1705 Hampton Street, in historic downtown Columbia, South Carolina, this is the home where President Woodrow Wilson spent four years of his childhood. The house was built in 1871, during the height of the Reconstruction era; a tumultuous period in United States and South Carolina history. Today, the house is a museum, devoted to showing Columbia's struggle to rebuild itself after the Civil War, and the Wilson family's time spent in the home.
TO GET THE MOST OUT OF KNOWITALL, BE SURE TO CHECK THESE EACH MONTH!​
Find out What's New on Knowitall here! Check frequently, so you can stay updated on the latest additions.​
Wishing you much happiness this holiday season and throughout the New Year!