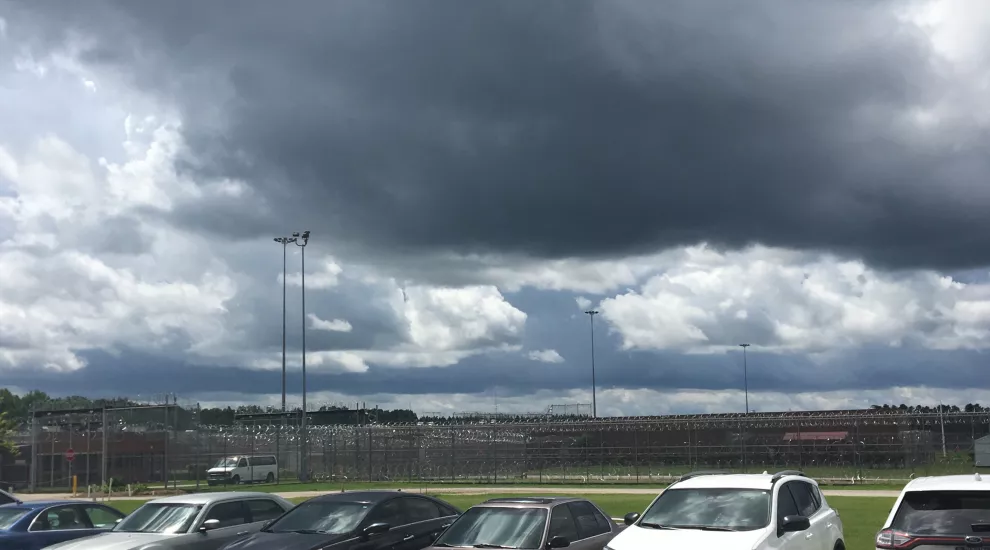 The spot next to the garage where the control truck once sat is empty. The studio where hundreds of wires and three cameras once laid is bare. It was definitely a different feeling knowing that By The River was over, but it is time to look forward to new projects and shoots. When my supervisor, Holly, and I arrived, the first thing we did was discuss what my own project would be for the rest of my time here at ETV Lowcountry. The rest of the week I will be gathering information in hopes of finding a great story from around the area. The rest of the day was spent getting familiar with the new cameras and equipment that had come down from Columbia the week before. 
Wednesday was a big day for me. It was my first time going to the Allendale Correctional Institution with Holly. This is something she had told me about way in advance and made sure I was up for. She had told me that this prison was like no other and there was nothing to be afraid of. Still, the morning of the visit, I was a little nervous. We arrived and saw multiple sky-blue buildings, all totally surrounded by tall barbed-wire fences. In the distance, I could see little orange figures walking around. We walked through three separate steel doors to get inside. Once we were in, we walked to the program center that Holly had so many good things to say about. My nerves were still a little high because those orange figures that were once so far were now three feet away from us, sharing the wide sidewalks in the center of the complex.
When we entered the program center I was first sent to an office to have my orientation that is given to all visitors/volunteers. It basically just told what to do and what not to do. After about 30 minutes, I was released back out to the giant warehouse-styled building. I saw Holly sitting down with two of the inmates off in the distance. I walked over and sat down, trying not to act nervous. Allendale holds some of By The River's biggest fans, so there was no lack of conversation. They were very excited to hear how season two production had gone. They also talked about some of their own projects including painting and developing the prison newsletter. They were all very enthusiastic about their projects despite their situation, so it was very cool to see. After about an hour of conversation, we went to a different room with about 10 more inmates waiting to begin their weekly Toastmasters, a program that focuses on public speaking. Sitting in on this, I heard a lot of interesting and emotional stories. It was very nice seeing that these men had something to prepare for and look forward to each week while serving their sentences. It was also nice seeing inmates having options like this to better themselves, oppurtunities that can help them once they are released. We will be returning to Allendale next Tuesday for Scrabble Club!