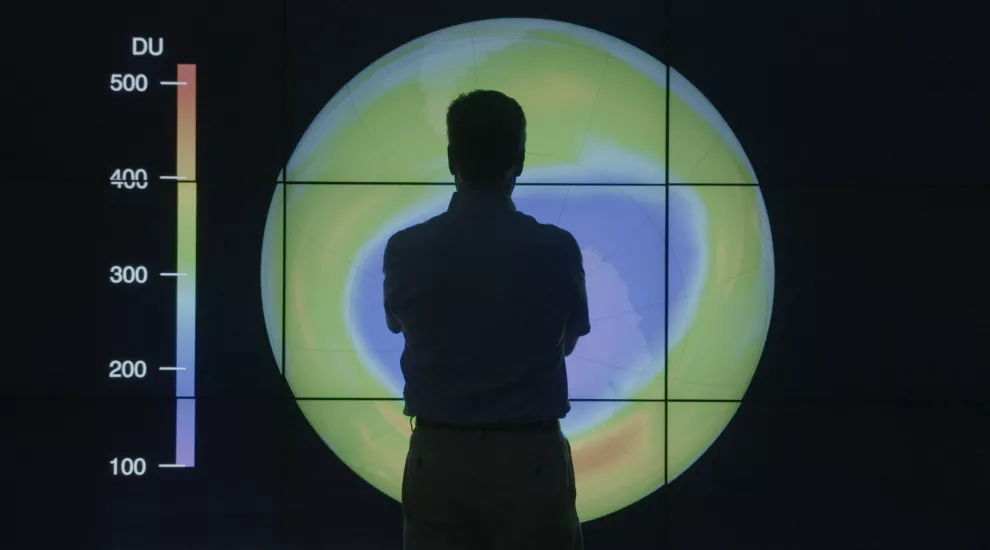 RECONSTRUCTION: AMERICA AFTER THE CIVIL WAR
Tuesdays, April 9 - 16, 2019, 9:00 - 11:00 p.m. ET
Henry Louis Gates, Jr. presents the definitive history of the transformative years following the American Civil War, when the nation struggled to rebuild itself amidst profound loss, massive destruction and revolutionary social change.
NDEPENDENT LENS "Tre Maison Dasan"
(Monday, April 1, 10:00-11:30 p.m. ET)
Explore the lives of Tre, Maison and Dasan, three of the estimated one in 14 American children with a parent in prison, in this emotional exploration of relationships tested by separation and the challenges of growing up with a parent behind bars.
SECRETS OF THE DEAD  "Egypt's Darkest Hour"
(Wednesday, April 3, 10:00-11:00 p.m. ET)
Follow a team of archaeologists as they examine how shifting weather patterns likely caused the fall of the Old Kingdom in ancient Egypt, effectively bringing down a dynasty in a moment of crisis and catastrophe.
GREAT PERFORMANCES AT THE MET "La Traviata"
(Friday, April 5, 9:00-11:30 p.m. ET)
See Michael Mayer's richly textured production of Verdi's classic opera, starring soprano Diana Damrau as the tragic heroine Violetta and Juan Diego Flórez as her hapless lover Alfredo.
INDEPENDENT LENS "The Providers"
(Monday, April 8, 10:00-11:00 p.m. ET)
Set against the backdrop of the physician shortage and opioid epidemic, "The Providers" follows three "country doctors" in rural New Mexico who work at clinics that offer care to all, regardless of ability to pay.
NATURE "The Incredible Egg with David Attenborough" (w.t.)
(Wednesday, April 10, 8:00-9:00 p.m. ET)
The egg is perhaps nature's most perfect life support system. Step by step as the egg hatches, host David Attenborough reveals the wonder behind these incredible miracles of nature.
OZONE HOLE: HOW WE SAVE THE PLANET
(Wednesday, April 10, 10:00-11:00 p.m. ET)
Learn the forgotten story of the hole in the ozone layer – and how the world came together to fix it. The scientists and politicians who persuaded Ronald Reagan and Margaret Thatcher to take action reveal how the planetary problem was solved.
AMERICAN MASTERS "Joseph Pulitzer: Voice of the People"
(Friday, April 12, 9:00-10:30 p.m. ET)
Discover the man behind the award. An immigrant who became a media mogul with an outspoken, cantankerous voice and created two bestselling newspapers, Joseph Pulitzer championed what he regarded as the sacred role of a free press in a democracy. Directed by Oren Rudavsky.
INDEPENDENT LENS "Marcos Doesn't Live Here Anymore" (co-production with FRONTLINE and VOCES)
(Monday, April 15, 9:00-11:00 p.m. ET)
Follow the efforts of a decorated Marine as she fights to reunite her family after the deportation of her husband, an undocumented man from Mexico. The experience begins to challenge her assumptions about the fairness of the country she fought for.
LIMITED SERIES:  BREAKTHROUGH: THE IDEAS THAT CHANGED THE WORLD  
(Wednesdays, April 17-May 22, 10:00-11:00 p.m. ET)
Hear the amazing story of how visionaries changed the world forever, told through six iconic inventions that the modern world takes for granted.
AMERICAN MASTERS "Garry Winogrand: All Things are Photographable"
(Friday, April 19, 9:00-10:30 p.m. ET)
Discover the life and work of Garry Winogrand, the epic storyteller in pictures who harnessed the serendipity of the streets to capture the American 1960s-70s. His "snapshot aesthetic" is now the universal language of contemporary image-making. Directed by Sasha Waters Freyer.
INDEPENDENT LENS "Charm City" 
(Monday, April 22, 10:00-11:30 p.m. ET)
Meet a group of Baltimore citizens, police and government officials as they cope with the consequences of three years of unparalleled violence. With grit, fury and compassion, they're trying to reclaim their city's future.
HISTORY OF AFRICAN AMERICAN BUSINESS (w.t.)
(Tuesday, April 23, 8:00-10:00 p.m. ET)
Learn about the untold story of African American entrepreneurship, where skill, industriousness, ingenuity and sheer courage in the face of overwhelming odds provide the backbone of this nation's economic and social growth. From acclaimed filmmaker Stanley Nelson.