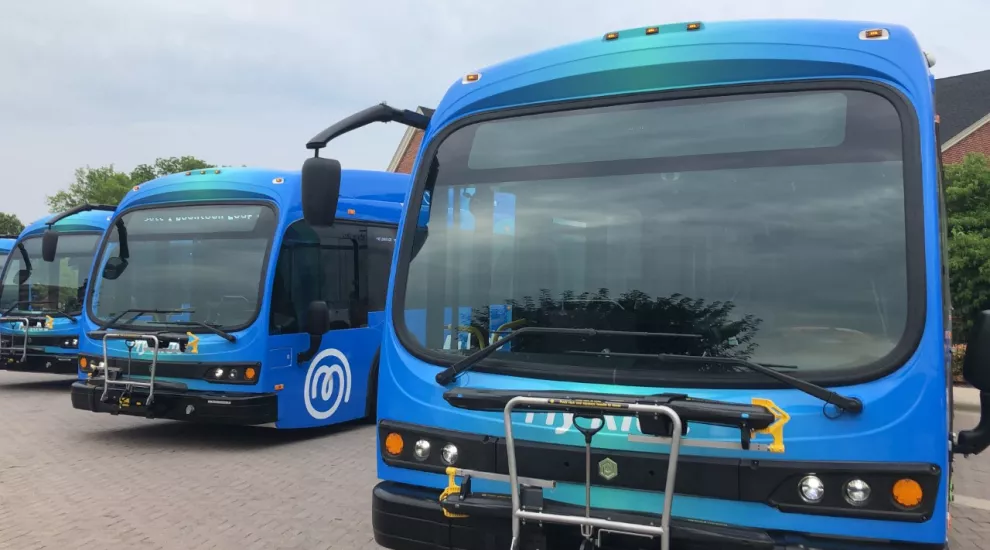 My Ride Rock Hill, the city's free public busing system, is launching Monday, June 10, as the first public transit system to begin all-electric. Route 1 begins Monday with Routes 2-4 starting July 1.
While many public transit systems are currently trying to convert from diesel fuel to electric, Rock Hill is paving a new way, by launching its seven-bus fleet as completely electric from the start. 
Running on diesel fuel "you'd be burning a quarter-gallon of diesel for every mile, and that pollution would come right back down on your city," explained Ryan Popple, President and CEO of ProTerra Busses, the manufacturer of My Ride buses. However, My Ride buses have "no pollution at all to your local community."
The busses are so energy-efficient that if you were the only passenger on the bus, you would still create less pollution than if you were to ride around in an SUV, according to Popple.
Mayor John Gettys says My Ride is meant to be an economic development boost in the fast-growing city because the buses will reach areas of Rock Hill that are less likely to have cars in their households. 
Riders should be aware that when the bus is approaching the stop they want to get off on, they will need to push the "stop request" bar inside the bus. The bus will not stop if no one is at the bus stop waiting to board. 
While My Ride has experienced some delays in the app, riders will soon be able to download the free app, which will show busses in real time and have interactive maps. 
Manufactured in Greenville, S.C., the lightweight carbon fiber, electric busses are equipped with free Wi-Fi, mobile charging ports, bike racks, and free mobile libraries. 
My Ride runs from 7 AM to 7 PM Monday through Saturday and 9 AM to 5 PM on Sundays. Route 1 has extended hours running until 9 PM on Friday and Saturdays. The bus will arrive at each stop along Route 1 every 30 minutes, every 60 min along and Routes 2-4.
Route 1 will connect Winthrop University and Downtown Rock Hill, through stops along Oakland Ave, Main St, Black St, Wilson St, and W. White St, with 13 stops in total. 
Route 2 will connect Saluda St, Heckle Blvd. W. Main St, Herlong Ave, Piedmont Medical Center, and Constitution Blvd, with 25 stops in total
Route 3 will connect Winthrop University, Downtown Rock Hill, and Riverwalk though Cherry Rd, with 29 stops in total. 
Route 4 will connect Downtown Rock Hill and Galleria Mall though Dave Lyle Blvd, with 31 stops in total.