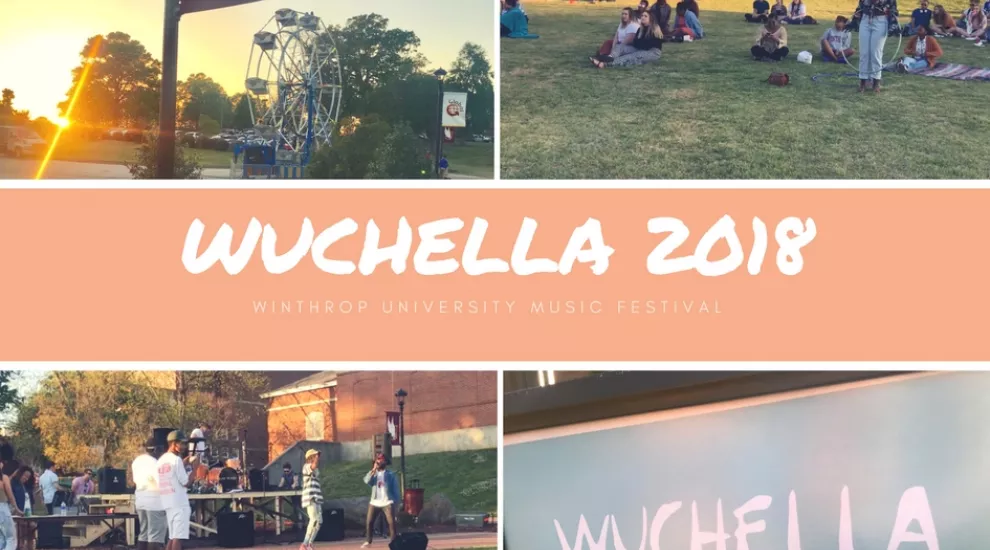 With live music and student artists, a Ferris wheel, foam pit, water balloon fights, "WUchella" letters, hair braiding, and food—WUchella was born—all thanks go to the DiGiorgio Student Union (DSU) at Winthrop University. 
This year's WUchella event hosted by DSU was the second annual music festival at Winthrop. They were inspired by the annual music festival, Coachella, that is held in California. DSU member, Kayla Cook, spoke about the purpose of this event. 
"WUchella is meant for relaxation and fun before finals," she said. "It's a good idea because every year, it's only going to get bigger and better!" 
Exam week is here and DSU wanted to make sure they were able to help students destress. Cook says, "destressing gives you a chance to let go of all built-up anxiety and nervousness. When your mind is clear, it's easier to study and get things done." 
The event was held on Campus Green on Winthrop's campus, where over 300 students were scattered across the area, enjoying live music, standing in food lines, taking pictures with the WUchella sign, and riding the Ferris wheel. 
"We decided to bring in more activities and collaborate with Collegiate Curls," Breonica Robinson, DSU member said. "My favorite part would probably be the fried Oreos and the WUchella sign. I was unsure if the Oreos would be a success, but we never had an empty line." 
Decorated in orange, yellow, purple, white, and blue flowers, the WUchella sign seems to have been everyone's favorite part. Teddi Lynette Thomas, Theatre major, said, "the WUchella sign was my favorite part, and the sun was everyone's friend that day for nice pictures." Cook also said that the sign was her favorite part because "it gave everyone that Coachella vibe, and that's what we were going for."