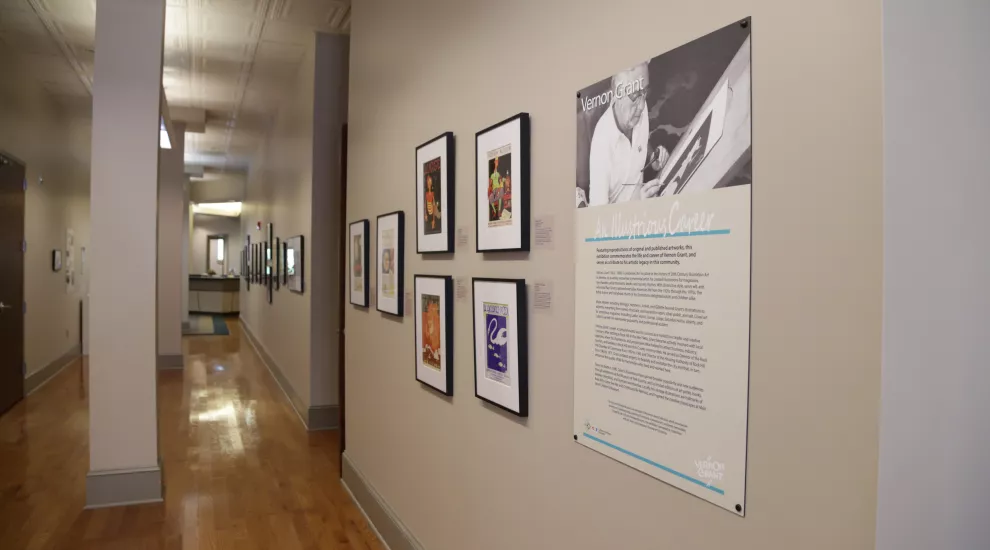 Art that occupies public spaces can transform any ordinary room into an area of significance and reflection. This is what's happening at the Rock Hill Chamber of Commerce as they are currently displaying works from a local favorite. "Vernon Grant: An Illustrious Career" is a collection of 21 pieces from Rock Hill's adopted son.
We sat down with Jillian Matthews, the Director of Collections for the Culture and Heritage Museums, to discuss all things Vernon Grant and everything you need to know about his current exhibit that's on display for the public.
Grant is an American illustrator who was born in the early 1900s. After growing up in the west and graduating in California, Grant moved to New York to start his illustration career. There he started working with publications and magazine covers. Even after marrying Elizabeth "Libby" Fewell, a Rock Hill native, and moving to South Carolina, he stayed connected with people in New York to work on projects. Beyond his art career, Grant was heavily involved in the Rock Hill community. Matthews shares, "Vernon was also the director of the Rock Hill Chamber of Commerce from 1959 to 1965. He resigned in 1965 to become the director of the Rock Hill Housing Authority, which he did for two years. He was the head of the Urban Renewal Project for Downtown Rock Hill. He helped create Come See Me Festival."
Vernon Grant has created works that garner national and local attention because of his fantasy, child-like signature style. Possibly one of his most well-known works was done for Kellogg's Rice Krispies cereal. The colorful characters you see on the cereal box today are because of the imagination of Vernon Grant. "He used his gnomes that he originally created back when he was like eight years old and adapted them to create Mr. Snap, Mr. Crackle, and Mr. Pop, and he created a contract, a verbal contract—a gentleman's contract, with the advertising company that Kellogg's was using to kind of be the sole advertising artist for the cereal," Matthews says.
On a local level, you may know Vernon for his illustration of Glen the Frog, who is the mascot for Rock Hill's annual Come See Me Festival. The festival will remix some of Grant's original posters to include Glen the Frog in the celebration each year. Matthews shares the inspiration behind the frog mascot, "Glen is based loosely off his family. His oldest brother's name was Glen, and then both his brother and his dad also played musical instruments like the violin, the cello and other things like that. So he kind of used Glen the Frog as a little tribute to his dad and his brother in the creation of that, and he's still a really recognized character throughout the community."
Grant did so much for the Rock Hill community. Linda Williams' book Beyond Snap Crackle and Pop: The Story of American Illustrator Vernon Grant shares the biography of his life. The exhibit "Vernon Grant: An Illustrious Career" shares a small piece of the legacy Grant left behind. Matthews notes that they work toward preserving his pieces, so the entire community can have a chance to see.  She points out that, "we just want to uphold his legacy in the community and get his name to the next generation, so he's not forgotten." This goes to show that you don't always have to go to an art gallery to get the reflective art experience.
"Vernon Grant: An Illustrious Career" is an exhibition created by Culture & Heritage Museums and presented in cooperation with York County Regional Chamber of Commerce. The exhibit is open to the public on weekdays from 10 a.m. – 4 p.m. at the chamber's location at 116 E. Main Street, Rock Hill, S.C.  The collection will be on display until the end of the year.