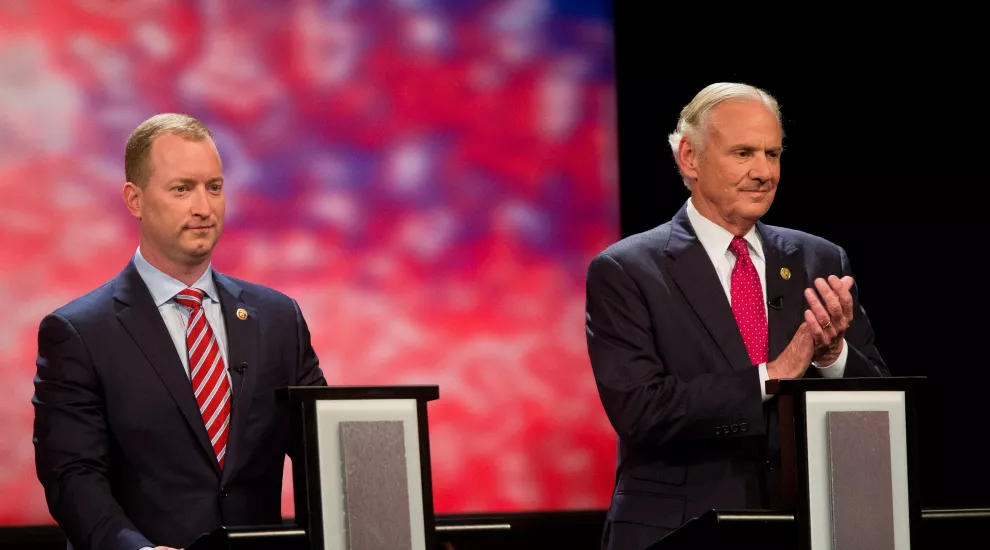 Just days before the primary runoff election, Republican gubernatorial candidates John Warren and Gov. Henry McMaster battled it out in their final debate on Wednesday.
President Donald Trump was a strong presence in the debate, both in candidate responses and audience reactions.  Warren pointed out the irony of McMaster's traditional political career compared to the outsider movement embodied by Trump—who endorses McMaster, despite Warren's outsider status. During the debate, McMaster repeatedly mentioned the benefit of having a political veteran in office.
"There's no real time for a learning curve," McMaster said. "The governorship is not a place for on-the-job training."
Warren, a self-proclaimed "political outsider," quickly rebutted by highlighting the irony of McMaster's loyalty and approval of Trump, who has not previously held elected office. This sparked a heated back-and-forth between candidates, as they argued over Trump's previous degree of political involvement.
McMaster became the first statewide elected official in the country during the 2016 presidential primaries to back Trump, and his loyalty has been heavily rewarded by Trump with advertising, fundraising, tweets and a visit to South Carolina from both Trump and Vice President Mike Pence just days before the Tuesday primary runoff. Even with the support, Warren says true Trump supporters know he represents them.
"Ultimately, my support has a lot of Donald Trump supporters. Donald Trump has about 90 percent approval here in South Carolina. If all of his supporters supported Henry McMaster, we wouldn't be on this stage right now," Warren said.
Despite Warren's endorsement of Trump, he spoke out against tariffs on steel and aluminum imposed by the president, noting the negative effect it has on local businesses. McMaster had no criticism of the president during the debate, even though he's asked the administration to exempt coastal waters from being opened for gas and oil exploration.
On stage, the candidates couldn't have appeared to be more different. McMaster, the well-known and folksy 71-year-old, was quick with a joke. When asked about global warming, he dodged the question by saying, the "water's coming up…something must be meltin."
Warren, the steely 39-year-old Marine focused on his firm campaign message of "draining the swamp" of corruption in Columbia by using his experience in the field as both a Marine and entrepreneur. With only two candidates left, the debate featured more follow-up questions and rebuttals, as each candidate tried to secure their position as the Republican nominee.
The two candidates do share common ground on many policy issues. Both supported Trump's decisions regarding immigration, opposed the expansion of Medicaid out of bureaucratic concerns, and agreed that telemedicine was a viable option to improve S.C. healthcare practices, as a way to target physician shortages.
Charles Bierbauer, dean emeritus of the University of South Carolina College of Information and Communications, moderated the event with Andy Shain, Columbia bureau chief for The Post and Courier. The newspaper also cosponsored the debate, which was held in a packed Newberry Opera House.
For a more in-depth analysis of the debate, check out the latest SC Lede podcast. You can also watch the entire debate online at SCETV's Youtube page.