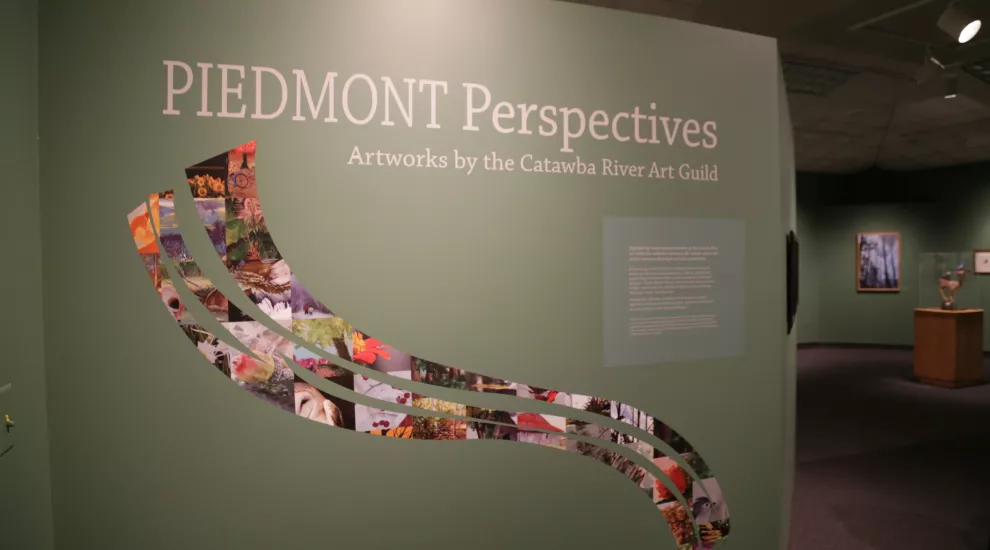 White, blue, orange, green, yellow and more were all colors that collided into one to create the works of art that covered the wall in art exhibit. Naked trees, white rocky shoal spider lilies, and three-dimensional sculptures filled the room as questions roamed and deep thinking left the viewers quiet.   
"Piedmont Perspectives: Artwork by the Catawba River Art Guild" opened January 20th at The Museum of York County, loaded with nature-inspired artworks that highlight the Carolina Piedmont landscapes and natural beauty. The art exhibition idea came from Dr. Joe Zdenek, CRAG (Catawba River Art Guild) member and longtime museum volunteer of 20 years, who brought it to the exhibit team at the Museum of York County. The two teams partnered together to bring forth an exhibition that would really shed light on the beauty of the Carolina Piedmont and held it in the museum's spring gallery.
Cate Crane is the museum manager. She says, "we worked with them to do something that really matched their talents with our mission, which is to showcase the art and natural history of the Carolina Piedmont."
Although the exhibition was quiet, the hanging artworks screamed for attention. With more than 50 artworks on display, the range of mediums were endless. The selection features ceramics, jewelry, acrylic, watercolors, photography, sculpture, and even paper collage. It's safe to say all twenty-four artists represented in this exhibit were challenged, but definitely conquered.
Some art pieces that stood out were the three-dimensional elements.
"What is striking for me is how the museum managed to execute correctly the lighting and cubes, the three-dimensional elements," Dr. Bradley Sabelli, president of the Catawba River Art Guild said. Each three-dimensional cube left the sculpture inside to come alive and be visible at each realistic angle.
The museum left some at a loss for words, only tempting them to figure out why.
"The basic concept of this is how do you think nature survives?" Sabelli asked while examining an artwork that showed the image of empty and naked trees.  He chuckled and said, "things have to die to grow again."
Being that these artworks grasp the lighting, colors and textures reflected from the natural places that most people call "home," this collection of artwork is guaranteed to inspire others creativity and give them the opportunity to express themselves and discover the beauty of the Carolina Piedmont. Crane hopes that people will go outside and actually "appreciate the natural world."