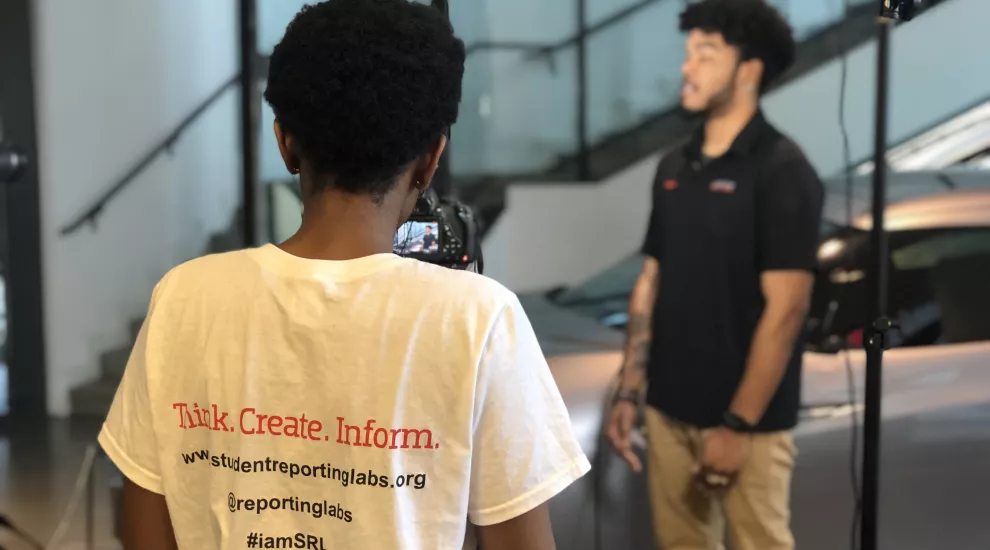 A yellow school bus turns onto Research Drive in Greenville, South Carolina. In purple writing, "Legacy Charter School" is printed on the side. Students pile out of the bus, all with video equipment in their hands. Some students carry DSLR cameras, while others carry lighting and audio equipment. Setting foot on Clemson University International Center for Automotive Research, these students came prepared to interview engineering students and faculty about the Deep Orange project.
The students are a part of the PBS NewsHour Student Reporting Labs program, which connects middle and high school students to local PBS stations and news professionals in their community to produce original, student-generated video reports. PBS NewsHour Student Reporting Labs are located all around the country.This specific Student Reporting Lab is from Legacy Charter High School, which is located in Greenville, South Carolina.
After setting up video, audio, and lighting equipment, students begin their interviews. With STEM Journalism, students have the opportunity to learn about Science while perfecting their television production skills. One student, Jermimiah Massey, comments on that, saying "While there I learned how to record a little better because I didn't have any experience recording with the cameras in class before." He adds, "While there I learned a little bit about the design of Deep Orange 9 and we saw a simulation of how the car works." One student, Amiyah Kinard, reflects on feeling inspired when interviewing a female graduate student about the Deep Orange project. She says, "It's very inspiring to see young women such as she in a field that's so male-dominant but speak just as loud as a man does, and doesn't feel intimidated by the workplace being so male-dominant."