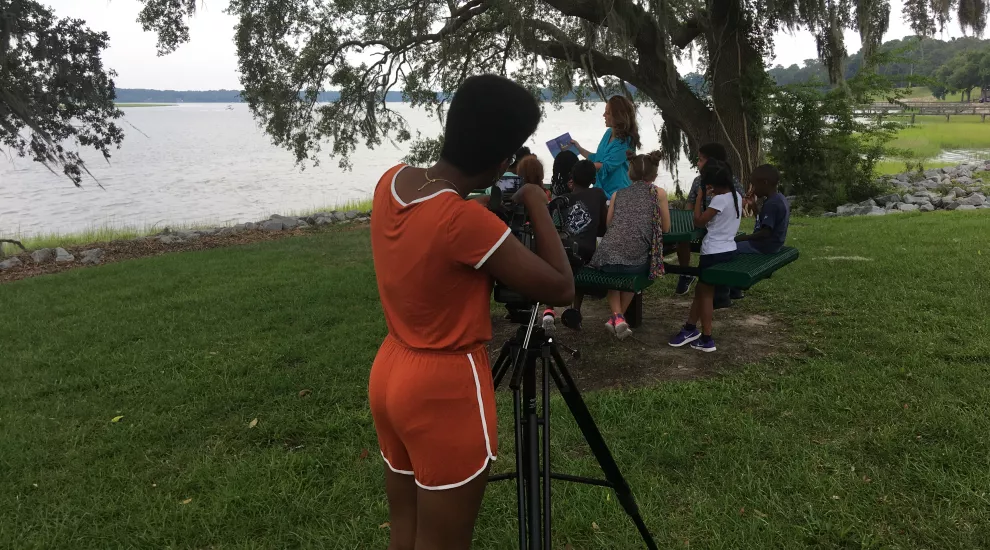 One of the many reasons that I wanted to have the opportunity to intern at SCETV was to give back to the community. I feel that ETV programming and all of its other services have given so much to me as a child and I want to give back and to help to teach and inspire the next generation. I am so proud and grateful to say that SCETV is giving me that chance.
The SCETV Lowcountry station is located at the Technical College of the Lowcountry (TCL) in. Beaufort. Cassy (my fellow intern), Holly (my supervisor), and Caroline Sawyer (University of South Carolina-Beaufort Communications Instructor), and I had the wonderful privilege to give the summer campers of the Responsible ARTistry Sound Academy a tour of the station and to show them the magic of the green screen. We had half of the children and their chaperones dance around in front of the green while the other half saw the magic happen in the control room. The groups took turns dancing to the "Trolls" song "Can't Stop the Feeling." The children's ages ranged from 5-9 and they had so many intelligent questions. Afterwards, Holly read them the book "The Mermaid of Hilton Head" next to the river bank behind the station. Cassy and I then had the opportunity to go to the camp last week and film an interview with the founders and directors of the program. We also got to spend some time with the campers and see first-hand all of the skills that they have learned so far.
We also had the amazing honor to visit the Sea Island School for Arts and Academics (SISA2), a summer camp program that is available only to students who are identified as gifted and talented. Rob Lewis (a broadcast specialist for the Beaufort County Channel in S.C.) teaches a film camp where he teaches students how to write, film, edit, and present a film in one week. We were able to attend a film screening and also view the students film scenes. I really enjoyed watching these children learn skills that I am learning now, as a college student. I loved asking the children what their favorite part of filming was, and what they think they might study when they get older.
I found these experiences so important because they allowed me to interact with young minds, and to encourage students to pursue their passions and interests. I got to show them the fun aspects of getting an education and helping others. I feel that what we are doing here at SCETV, aside from providing educational information and entertainment, is grooming the next generation of creative and educated people to lead the way in education and the arts. I hope that one day, they will look back at their experience with SCETV and smile!