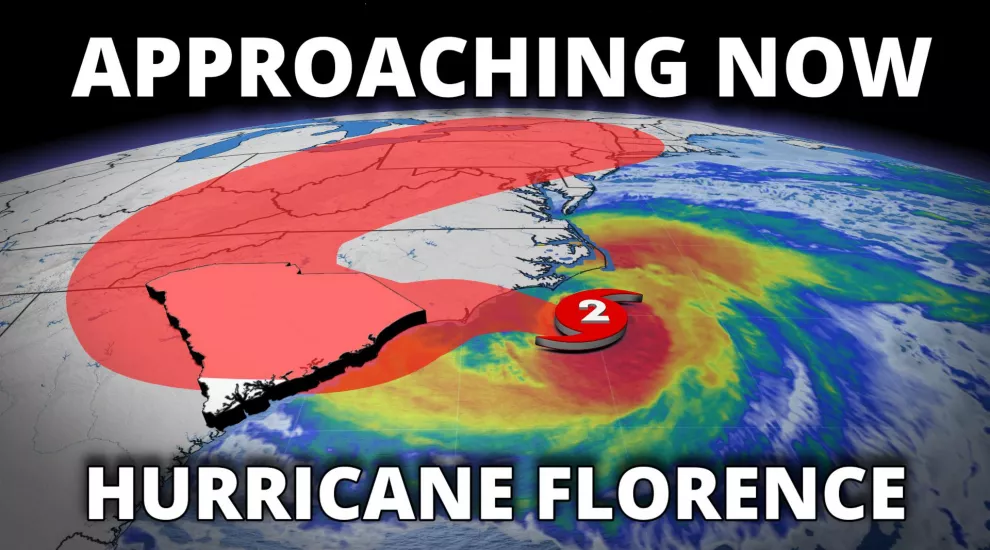 Hurricane Florence is now only moving at 5 mph.  This will prolong the risks of life-threatening storm surge and wind damage, which are imminent along the coast of North Carolina from Wilmington to the Outer Banks.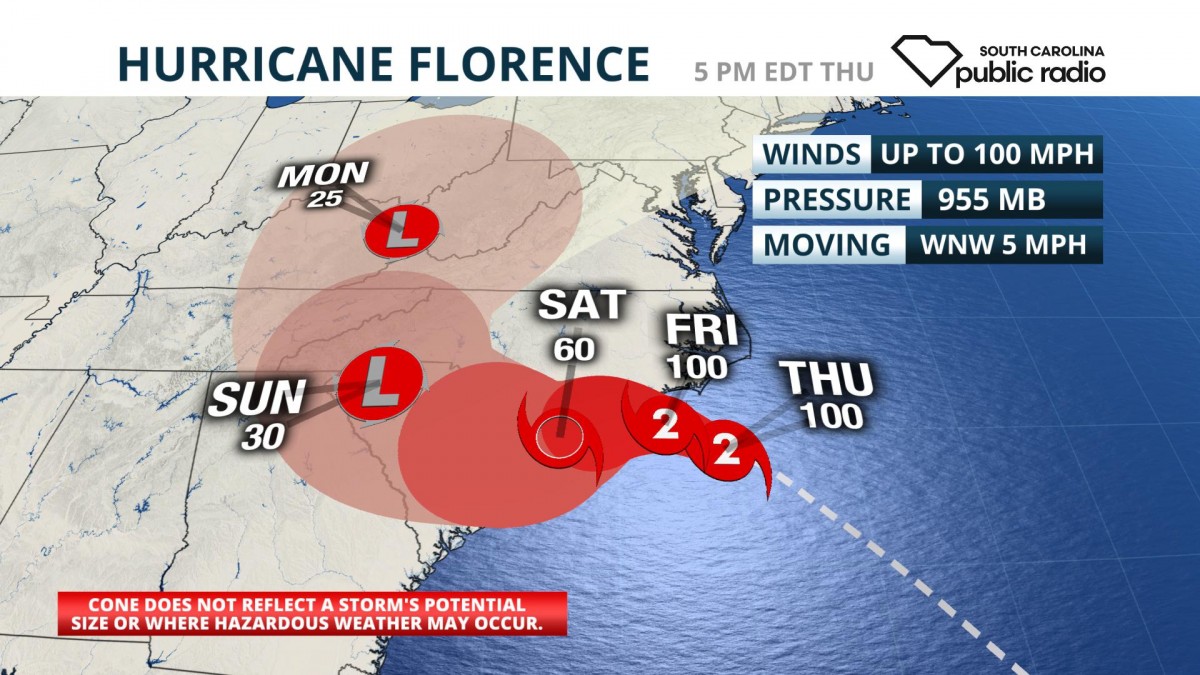 The first tornado warned cell associated with outer bands of Florence moved through portions of the Inner Banks of North Carolina just after 11 am, with two more following shortly thereafter. Tornadoes are still possible across eastern North Carolina through Friday, where a Tornado Watch is in effect until further notice.
Hurricane Warnings and Storm Surge Warnings continue for more than 350 miles of coastline from South Santee River, South Carolina, to Duck, North Carolina, including the Albemarle and Pamlico Sounds and the Neuse and Pamlico Rivers. A Hurricane Watch continues for areas south of the warning to Edisto Beach, South Carolina.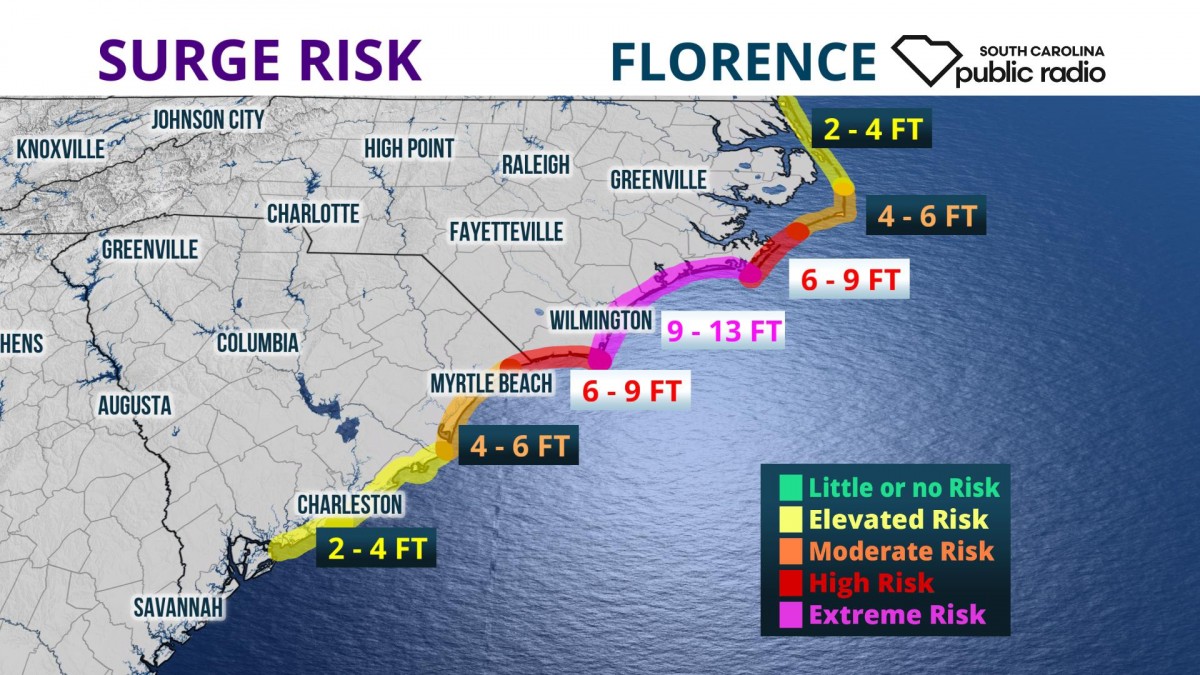 As of 5 pm Thursday, Florence was a Category 2 storm with winds up to 100 mph. Hurricane-force winds extended 80 miles from the center, while tropical storm-force winds span 195 miles out from the center. Over the next 6-12 hours, the storm will continue to slow down as it encounters slower winds aloft. Friday, just prior to landfall, Florence will likely weaken due to cooler water upwelling near the coastline of North Carolina.
The wind risk from Florence will be near and just to the northeast of where it comes ashore, which at the present time is most likely to be in the PeeDee region of South Carolina and much of southeast North Carolina. The wind damage risk from tropical-storm force winds will spread inland, likely as far as Charlotte and as far south as Charleston.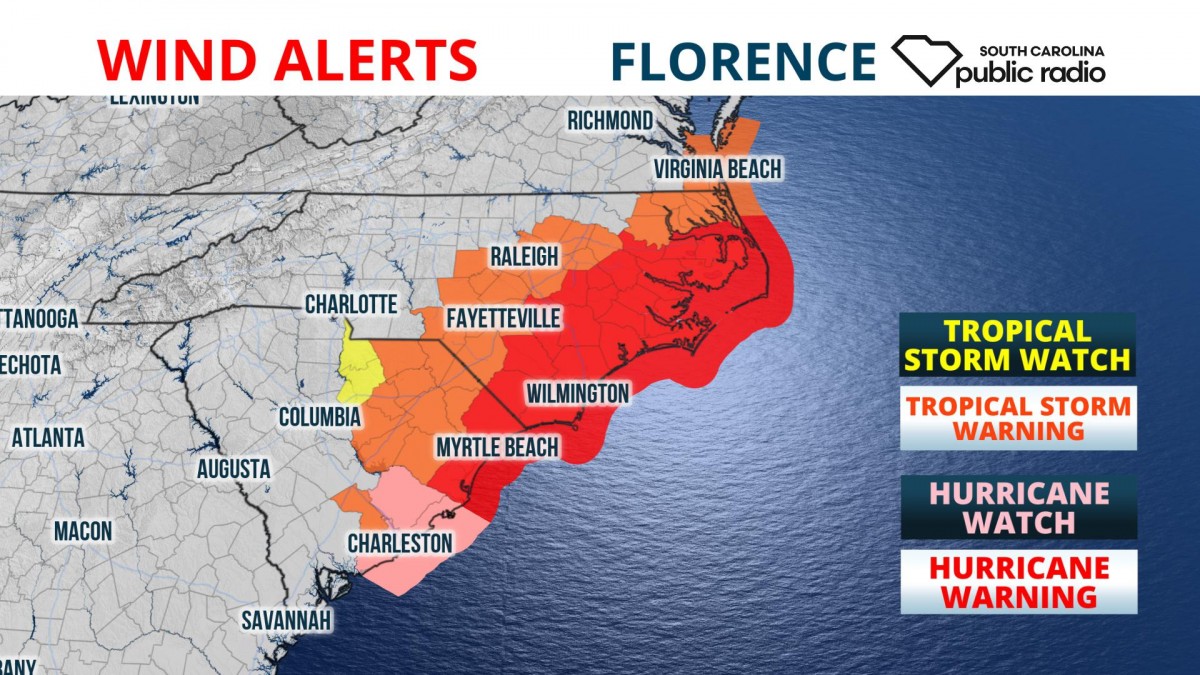 Life-threatening storm surge of 9 to 13 feet is expected from Cape Fear to Cape Lookout, including the Neuse and Pamlico Rivers. The storm surge is likely to be in the 6 to 9-foot range from North Myrtle Beach to Cape Fear, and Cape Lookout to Ocracoke Inlet. Four to 6 feet of storm surge is forecast from South Santee River to North Myrtle Beach, and Ocracoke Inlet to North Carolina-Virginia Border. Two to 4 feet of water above normally dry ground can be anticipated from Edisto Beach to South Santee River.
As Florence approaches the coast, it will slow to a crawl or stall, potentially producing catastrophic inland flooding across a large area of the Mid-Atlantic and Southern Appalachians.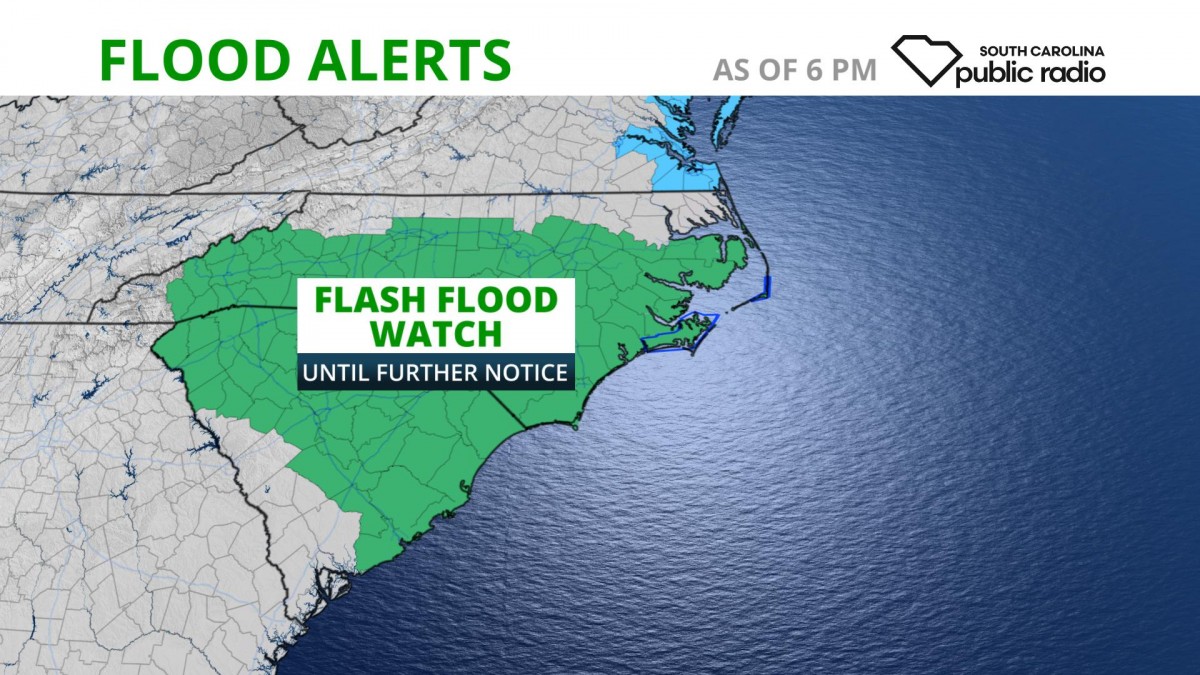 In some areas, the heavy rain risk could continue through next Tuesday. Due to the slow nature of the storm, Florence could produce up to 24 inches of rain near and north of where it comes ashore over a three or four-day period. Rainfall totals further inland may also be this high over a five-day period as the storm slowly weakens and meanders through North or South Carolina. Amounts this high could not only cause flash flooding, many rivers are likely to experience major - possibly even catastrophic - flooding for several days following Florence.
As the storm slows, it will begin to meander to the southwest, which means the potential for high winds and extreme rainfall could expand to include more of South Carolina.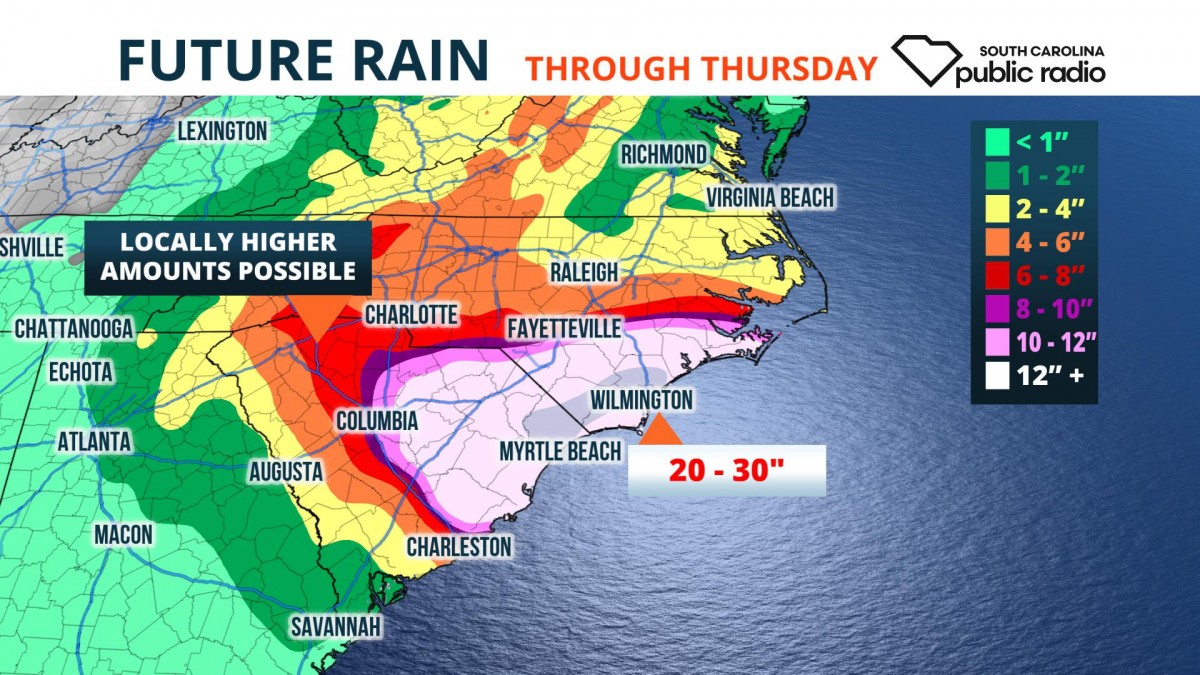 The South Carolina Emergency Information Network will continue to monitor the progress of Hurricane Florence and provide updates on public radio stations throughout the state, and on the @SCPublicRadio social media accounts.