Imelda Golden and Cassidy Haynes
June 20, 2018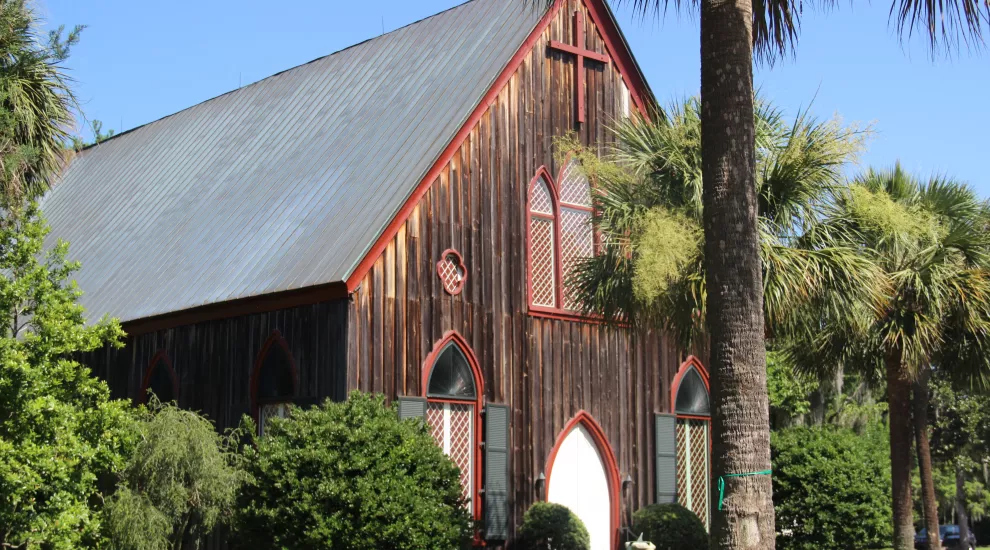 During our first two weeks as interns, we've traveled all across the Lowcountry, touring and taking photographs of its most beautiful, intrguing, and noteworthy places. From waterfronts and playgrounds, to churches and memorials, here are our five must-see places in Beaurfort, shown in descending order: 
5. Shelter Cove Community Park
Shelter Cove Community Park boasts beautiful views, plentiful biking paths, and a family friendly atmosphere. Aside from shopping, families can rent bikes for a scenic ride, bring their children to the playground, or even relax on the green when bands play in the pavilion. It's a perfect destination for any occasion. 
4. Henry C. Chambers Waterfront Park
Henry C. Chambers Waterfront Park in Beaufort, S.C. is a must-see! The Waterfront (as the locals call it) is the go-to spot for entertainment and family time. With many local restaurants and shops, there is something for everyone. The Waterfront has a breathtaking view of the river. Visitors can see many sailboats and, at times, shrimp boats docked at the marina. There is a beautiful playground for children to play on, and the park is covered by lush green grass that is perfect for strolls or to walk the dogs.  There are lovely swings and benches to sit back on and enjoy a cool summer breeze as the sun sets. Come on down and take a load off! 
3. The Church of the Cross
The Church of the Cross is located right off of Old Towne Bluffton, within walking distance from many local shops and restaurants. The historic monument was established in 1767 and built in 1854, and draws tourists from all over the country. It's nestled in a picturesque location surrounded by tall green trees, grass and flowers. Right next to the church, there is a small dock where visitors can be seen having picnics and boating. 
2. Hunting Island State Park
Hunting Island State Park is a testament to South Carolina's abundance of wildlife, lush, dense foliage, and the incredible forces of nature.  The beach can only be accessed by a winding road through palms, pines, and other trees. The vegetation is thick and plentiful enough to have been featured in Forrest Gump, as a jungle in Vietnam. A lighthouse sits at the edge of the forest, just where the grass and sand meet, and from the top of it, one can see half of the county.  
1. Penn Center 
Penn Center is one of South Carolina's most enduring reminders of the ingenuty, creativity, and initative of the newly freed slaves. The buildings on this property were all established by and for former slaves as a part of education programs during the Reconstruction era,  and date as far back as 1865. The history of the grounds is abundant with stories of African American struggle, triumph, and enrichment.  It boasts even a part in Dr. Martin Luther King Jr.'s legacy. The historic March on Washington was planned there—Penn Center being one of the only places multiracial groups could meet in the south--and the Gantt cottage is where Dr. King wrote his famous I Have a Dream speech. Currently, the center holds tours, children's summer camps, and contains the Cope Museum, where visitors can learn about its groundbreaking and meaningful past. 
*Bonus* SCETV Lowcountry Studio 
Located in Beaufort, S.C., we are situated on the Technical College of the Lowcountry Beaufort - Campus in Building 2. We can be a little hard to find, but a friendly tip is to just look up at the sky and find the TV tower. Our studio has the most breathtaking view of the water, and we can even see the Waterfront Park from the back windows! Sailboats and canoes quietly float right by. We are always excited to have visitors, but we suggest a phone call ahead of time because we might be out in the field hunting down a story!
*If you didn't see your favorite place, comment down below and tell us what it is!