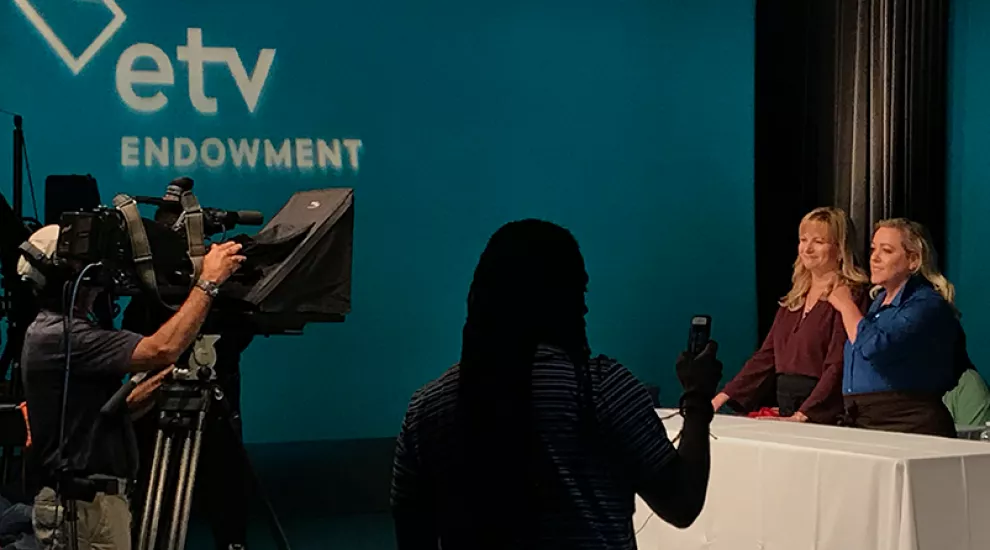 America's Test Kitchen co-hosts Bridget Lancaster and Julia Collin Davison visited Columbia and Charleston for two sold-out Endowment member events this past week.  The popular program, now in its 18th season, deconstructs recipes, recommends best practices, offers taste tests and equipment recommendations. 
The events were held at the Columbia SCETV studio and at Charleston's Le Creuset Kitchen Workshop.  Guests came to chat, have cookbooks signed, take photos, and hear about the inner workings of the test kitchen where recipes are perfected, ingredients are tasted and equipment is tested all with the goal of helping home cooks experience success in the kitchen.  With some help from the audience, they demonstrated what it takes to be a test cook while sharing surprising and game-changing tips and tricks.  Julia and Bridget also took questions to help solve kitchen challenges.   The Columbia event began with a reception, followed by a studio demonstration.  The Charleston event featured lunch and a kitchen demonstration.  The co-hosts also took a moment to record video spots for SCETV.
America's Test Kitchen, now in its 18th season, continues with all-new episodes this summer and airs each Saturday at 2:00 p.m. on SCETV.