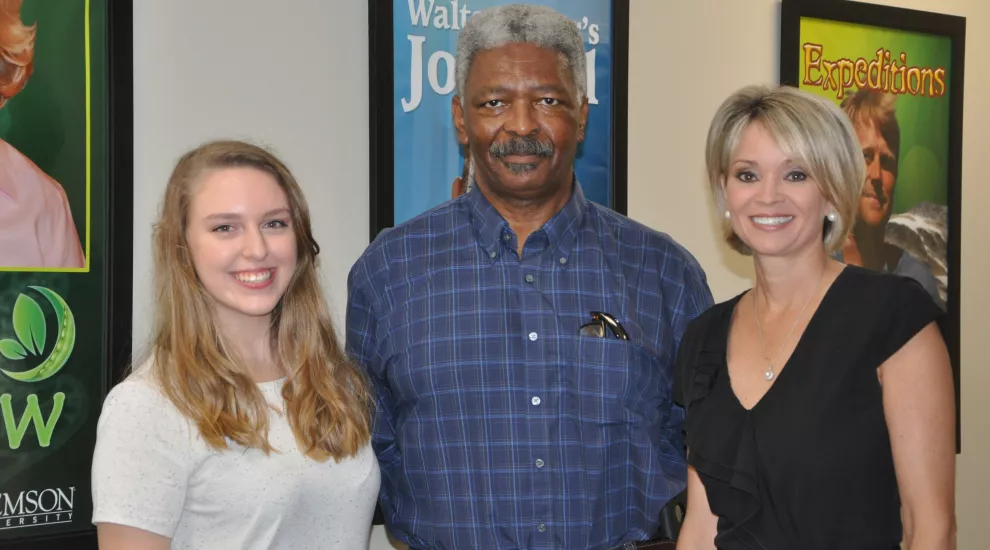 Week three of my internship was filled with adventures I never thought I would have. The first adventure of the week was a small one. It seems that just about every week, something interesting happens outside my office window. This week, the entire population of campus geese decided to come graze outside my window. Nearly 15 goslings and their parents trapped us inside the building as they foraged for food right outside, and trust me, they can be very aggressive. I tried to feed them potatoes chips and got hissed at.
Since ETV Upstate is located in Spartanburg, I was able to go to the ETV Endowment office while my station manager was filming an interview. I am so thankful to have met all the wonderful ladies that work there and hear about what they do for SCETV.
The next adventure was on a larger scale. To add a different perspective and location to my Hub City Co-op story, William and I traveled to Greer, SC to get shots of a local farm that sells produce at the co-op. Tyger River Smart Farm operates with a Nutrient Film Technique (NFT) hydroponic greenhouse. What a mouthful! Basically, hydroponics is a technique that allows plants to grow without using soil. The owner, Ryan Oates, gave us a behind-the-scenes look at the greenhouse, which is not open to the public.
At the end of the week, I had the opportunity to really see how much my school cares about its students. ETV Upstate is situated on the USC Upstate campus. On Friday, I was able to assist in the filming of my school's active assailant training. My station manager is doing a story on how school safety has changed in light of the numerous acts of violence across the nation. We met with USC Upstate's chief of police, all the campus police officers, the Spartanburg County Fire Department's rescue task force, and representatives from the Spartanburg County Sheriff's Department, and Duncan Police. The "Active Assailant" training is designed to optimize the number of victims that are saved. Emergency responders are phasing out the term "active shooter" so that the term used does not exclude other acts of violence. After witnessing the procedures and listening to the comments from our officers, I am confident of the dedication and care that my school has for its students. Also, the emergency responders in my area are all genuinely nice people. Several of them offered to help me carry my equipment up and down the flights of stairs in the training building. They also fed us lunch, which was a happy surprise!