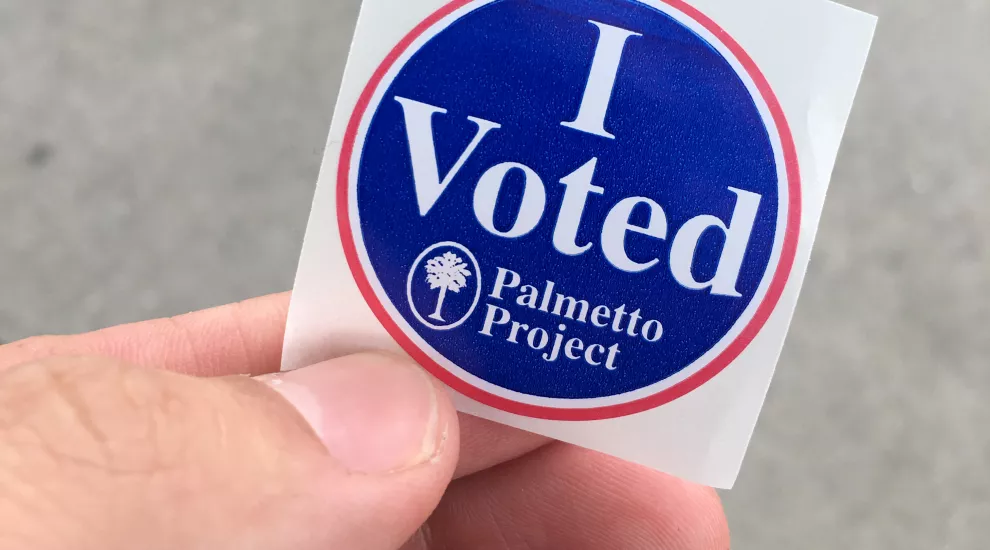 The following is a list of incumbents from the South Carolina House of Representatives that competed in the June 12 primary, and their results. Below that are the final results from all primary day races.
Incumbent wins
Davey Hiott, R-Pickens
Brian White, R-Anderson
Jay West, R-Belton
Jonathon Hill, R-Townville
Craig Gagnon, R-Abbeville
Samuel Rivers Jr., R-Goose Creek
Mike Burns, R-Taylors
Tommy Stringer, R-Greer
Jason Elliott, R-Greenville
Leola Robinson Simpson, D-Greenville
Garry Smith, R-Simpsonville
Eddie Tallon, R-Spartanburg
Steven Long, R-Boiling Springs
Josiah Magnuson, R-Campobello
Jackie Hayes, D-Dillon
Robert Williams, D-Darlington (also running in SC7)
Robert Ridgeway, D-Manning
Nathan Ballentine, R-Chapin
Leon Howard, D-Columbia
Micah Caskey, R-West Columbia
Jerry Govan, D-Orangeburg
Kit Spires, R-Pelion
Sylleste Davis, R-Moncks Corner
Cezar McKnight, D-Williamsburg
Carl Anderson, D-Georgetown
Mike Sottile, R-Isle of Palms
Bill Crosby, R-North Charleston
Jeff Bradley, R-Hilton Head Island
S.C. House of Representatives
Incumbent runoffs
Neal Collins, R-Easley, 49.2%, with Allan Quinn, 26.4%
Joe McEachern, D-Columbia, 36.5%, with Kambrell Garvin, 36.4%
William Cogswell, Jr., R-Charleston, 46.2%, with Russell Guerard, 42.7%
S.C. House of Representatives
Incumbent defeats
Phyllis Henderson, R-Greenville, to Bobby Cox
MaryGail Douglas, D-Winnsboro, to Annie McDaniel
Bill Bowers, D-Hampton, to Shedron Williams
Greg Duckworth, R-North Myrtle Beach, to William Bailey (automatic recount)
Below are the final SC primary results. You can also find the official results at scvotes.org.
A candidate with a bolded name has won the primary. If there are two bolded candidates in the same category, they will compete in a runoff election on June 26.

Governor, Democratic

Phil Noble 10.64%
James Smith 61.81%
Marguerite Willis 27.55%

Percent reporting: 100%

Governor, Republican

Kevin Bryant 6.74%
John Yancey McGill 1.73%
Henry McMaster (I) 42.32%
Catherine Templeton 21.39%
John Warren 27.82%

Percent reporting:  100%

Secretary of State, Republican
Nelson Faerber 12.46%
Mark Hammond (I) 65.43%
Joshua Putnam 13.39%
Kerry Wood 8.72%

Percent reporting: 100%

(Democrat Melvin T. Whittenburg running in general election)

Attorney General, Republican

Todd Atwater 29.74%
William D Herlong 21.63%
Alan Wilson (I) 48.63%

Percent reporting:  98%

(Democrat Constance Anastopoulo running in general election)



U.S.  House of Representatives, District  1, Democratic

Joe Cunningham 71.51%
Toby Smith 28.5%

Percent reporting:  100%


U.S.  House of Representatives, District  1, Republican

Katie Arrington 50.55%
Dimitri Cherny 2.95%
Mark Sanford (I) 46.5%

Percent reporting: 100%


U.S.  House of Representatives, District  2, Democratic

Phil Black 18.37%
Sean Carrigan 39.82%
Annabelle Robertson 41.81%

Percent reporting: 100%

(Republican Joe Wilson (I) and American Party candidate Sonny Narang running in general election)


U.S.  House of Representatives, District  3, Democratic

Hosea Cleveland  30.27%
Mary Geren 69.73%

Percent reporting: 100%

(Republican Jeff Duncan (I) and American Party candidate Dave Moore running in general election)


U.S.  House of Representatives, District  4, Democratic

Brandon P Brown 28.47%
JT Davis 7.22%
Eric Graben 25.72%
Will Morin 9.13%
Doris Lee Turner 29.46%

Percent reporting:  100%

U.S.  House of Representatives, District  4, Republican

Dan Albert .76%
Barry Bell 0.3%
Lee Bright 24.95%
Stephen H Brown 7.57%
Mark Burns 2.48%
James Epley 8.03%
Dan Hamilton 18.62%
Josh Kimbrell 11.13%
John Marshall Mosser 0.68%
Shannon Pierce 3.64%
Justin David Sanders 0.53%
Claude Schmid 2.11%
William Timmons 19.21%

Percent reporting:  100%

(American Party candidate Guy V Furay is running in the general election)



U.S.  House of Representatives, District  5, Democratic

Mark Ali 13.41%
Steve Lough 9.46%
Sidney Moore 17.17%
Archie Parnell 59.96%

Percent reporting:  100%

(Republican Ralph Norman (I) running in general election)




U.S.  House of Representatives, District  7, Democratic

Bruce Fischer 11.22%
Bill Hopkins 17.78%
Mal Hyman 29.7%
Robert Williams 41.3%

Percent reporting:  100%



U.S.  House of Representatives, District  7, Republican

Larry Guy Hammond 16.42%
Tom Rice (I) 83.58%

Percent reporting:  100%



State  House of Representatives, District  4, Republican

Phillip Healy 31.88%
Davey Hiott (I) 68.12%

Percent reporting:  100%
 
State  House of Representatives, District  5, Republican

Neal Collins (I) 49.25%
David Cox 24.36%
Allan Quinn 26.39%

Percent reporting: 100%



State  House of Representatives, District  6, Republican

Rick Freemantle 27.37%
Brian White (I) 72.63%

Percent reporting:  100%

(American Party candidate Ryan Cowsert running in general election)


State  House of Representatives, District  7, Republican

Dennis Ted Grindstaff 19.68%
Jay West (I) 80.32%

Percent reporting:  100%



State  House of Representatives, District  8, Republican

Don Bowen 41.28%
Jonathon Hill (I) 58.72%

Percent reporting:  100%



State  House of Representatives, District  11, Republican

Craig Gagnon (I) 78.06%
Dale C Phillips 21.94%

Percent reporting:  100%

(Democrat Devon Smith is running in the general election)




State  House of Representatives, District  15, Republican

Samuel Rivers Jr (I) 72.29%
Steven Smith 27.71%

Percent reporting:  100%

(Democrat JA Moore running in general election)


State  House of Representatives, District  17, Republican

Mike Burns (I) 85.02%
Lee B Vining 14.98%

Percent reporting:  100%

(Democrat Judith Buckley running in general election)


State  House of Representatives, District  18, Republican

Tony Gilliard 33.29%
Tommy Stringer (I) 66.71%

Percent reporting:  100%



State  House of Representatives, District  19, Democratic

Carrie Counton 51.88%
Hao Wu 48.12%

Percent reporting:  100%

(Republican Dwight Loftis (I) running in general election



State  House of Representatives, District  20 , Republican

Bobby Davis 40.46%
Adam Morgan 59.54%

Percent reporting:  100%


State  House of Representatives, District  21, Republican

Bobby Cox 62.88%
Phyllis Henderson (I) 37.24%

Percent reporting:  100%




State  House of Representatives, District  22, Republican

Brett Brocato 36.08%
Jason Elliott (I) 58.34%
Samuel Harms 5.58%

Percent reporting:  100%

(Democrat Bruce Brown is running in the general election)

 
State  House of Representatives, District  25, Democratic

Jack Logan 12.44%
Leola Robinson-Simpson (I) 77.11%
Bruce Wilson 10.45%

Percent reporting:  100%

(Republican Stephen Moore and American Party candidate Jemaine Boyce are running in the general election)


State  House of Representatives, District  27, Republican

Garry R Smith (I) 75.33%
Fred Wall 12.4%
Ira Williams 12.26%

Percent reporting:  100%




State  House of Representatives, District  32, Republican

Max Hyde 68.84%
O'Neal Mintz 31.16%

Percent reporting:  100%



State  House of Representatives, District  33, Republican

Tommy Dimsdale 34.51%
Eddie Tallon (I) 65.49%

Percent reporting:  100%



State  House of Representatives, District  37, Republican

Donna Hicks 28.1%
Steven Long (I) 71.90%

Percent reporting:  100%




State  House of Representatives, District  38, Republican

Joan Clyborne 30.97%
Josiah Magnuson (I) 69.03%

Percent reporting: 100 %




State  House of Representatives, District  41, Democratic

Mary Gail Douglas (I) 43.32%
Annie E McDaniel 56.68%

Percent reporting:  100%

(United Citizens candidate Fred Kennedy is running in the general election)



State  House of Representatives, District  42, Republican

Brooks Carwile 7.18%
Doug Gilliam 54.47%
Phillip Russell 38.34%

Percent reporting:  100%




State  House of Representatives, District  43, Republican

Randy Ligon 57.67%
Joe Tate 42.33%

Percent reporting: 100%

(Democrat Tommy Hawk is running in the general election)


State  House of Representatives, District  55, Democratic

Jackie E Hayes (I) 60.45%
Archie Scott 29.87%
Jack Scott 9.68%

Percent reporting:  75%



State  House of Representatives, District  62, Democratic

Joe Ard 5.68%
Linda Byrd-Spearman 31.02%
Robert Williams (I) 63.3%

Percent reporting:  100%

(Republican Billy Baldwin is running in the general election)


State  House of Representatives, District  64, Democratic  

Mitch Ellerby 38.41%
Robert L Ridgeway III (I) 61.59%

Percent reporting:  100%



State  House of Representatives, District  71, Republican

Nathan Ballentine (I)  69.97%
Todd Watlington 5.03%
Britton Wolf 25.01%

Percent reporting:  100%



State  House of Representatives, District  76, Democratic

Leon Howard (I) 69.09%
T'Nae Parker 30.91%

Percent reporting:  100%




State  House of Representatives, District  77, Democratic 

Kambrell Garvin 36.38%
John A McClenic 3.56%
Joe McEachern (I) 36.5%
Deyaska Spencer 23.56%

Percent reporting:  100%

(Libertarian Justin Bishop is running in the general election)



State  House of Representatives, District  87, Republican

Austin Bowers 13.02%
Paula Rawl Calhoon 45.74%
Todd Carnes 41.24%

Percent reporting:  100%

(Democrat Diane Summers is running in the general election)



State  House of Representatives, District  89, Republican

Micah Caskey (I) 64.87%
Billy R Oswald 35.13%

Percent reporting:  100%



State  House of Representatives, District  94, Republican

Con Chellis 62.35%
Evan Guthrie 31.4%
Glenn Zingarino 6.26%

Percent reporting:  100%

(Democrat Damian Daly is running in the general election)


State  House of Representatives, District  95, Democratic

Gene Gartman Jr 5.29%
Jerry Govan (I) 68%
Kevin Ray 26.70%

Percent reporting:  100%

(Republican Chester Palmer is running in the general election)


State  House of Representatives, District  96, Republican

Perry Finch 35.62%
Kit Spires (I) 64.38%

Percent reporting:  100%

(Republican Robert Vanlue is running in the general election)


State  House of Representatives, District  97, Republican

Don Johnson 34.11%
Mandy W Kimmons 65.89%

Percent reporting:  100%

(Democrat Patsy Knight (I) running in general election)


State  House of Representatives, District  98, Republican

Larry Hargett 39.69%
Chris Murphy (I) 60.31%

Percent reporting:  100%



State  House of Representatives, District  100, Republican 

Automatic Recount
Sylleste H Davis (I) 50.45%
Tom Fernandez 49.55%

Percent reporting:  100%

(Democrat Michael Yates running in general election)


State  House of Representatives, District  101, Democratic

Alfred Darby 30.25%
Cezar McKnight (I) 69.75%

Percent reporting:  100%



State  House of Representatives, District  103, Democratic

Carl L Anderson (I) 80.95%
Dedric Bonds 15.09%
John D Henry 3.97%

Percent reporting:  100%




State  House of Representatives, District  104, Republican

Automatic Recount
William Bailey 50.18%
Greg Duckworth (I) 49.82%

Percent reporting:  100%




State  House of Representatives, District  110, Republican

William S Cogswell Jr (I) 46.27%
Will Freeman 11.04%
Russell Guerard 42.69%

Percent reporting:  100%

(Democrat Benjamin Pogue running in general election)


State  House of Representatives, District  112, Republican

Jason Clouse 22.58%
Mike Sottile (I) 77.42%

Percent reporting:  100%

(Democrat Josef Preston running in general election)


State  House of Representatives, District  116, Republican  

Charles A Glover 37.09%
Carroll O'Neal 62.91%

Percent reporting 100%


State  House of Representatives, District  117, Republican

Bill Crosby (I) 55.89%
Jordan Scott Pace 44.11%

Percent reporting:  100%

(Democrat Krystle Simmons running in general election)


State  House of Representatives, District  122, Democratic 

Bill Bowers (I) 47.45%
Shedron Williams 52.55%

Percent reporting:  100%




State  House of Representatives, District  123, Republican 

Jeff Bradley (I) 51.15%
Phil W Hartman 48.85%

Percent reporting:  100%
(Democrat Mario Martinez Caballero running in general election)



ADVISORY QUESTIONS

Democratic Question  1

Do you support passing a state law allowing doctors to prescribe medical marijuana to patients?

Yes 82.03%

No 17.97%
Democratic Question  2

Do you support passing a state law requiring the governor of South Carolina to accept all federal revenues offered to support Medicaid and Medicaid expansion efforts in the state?

Yes 92.75%

No 7.25%

Republican Question  1

Do you believe that voters should have the option to choose to affiliate with a political party when they register to vote or change their voter registration in South Carolina?

Yes 82.35%

No 17.65%

Republican Question  2

Do you believe that South Carolina's tax code should be brought into conformity with the new Trump tax cuts in the federal tax code for maximum simplification and to lower the overall tax burden on South Carolina taxpayers and businesses?

Yes 92.30%

No 7.7%