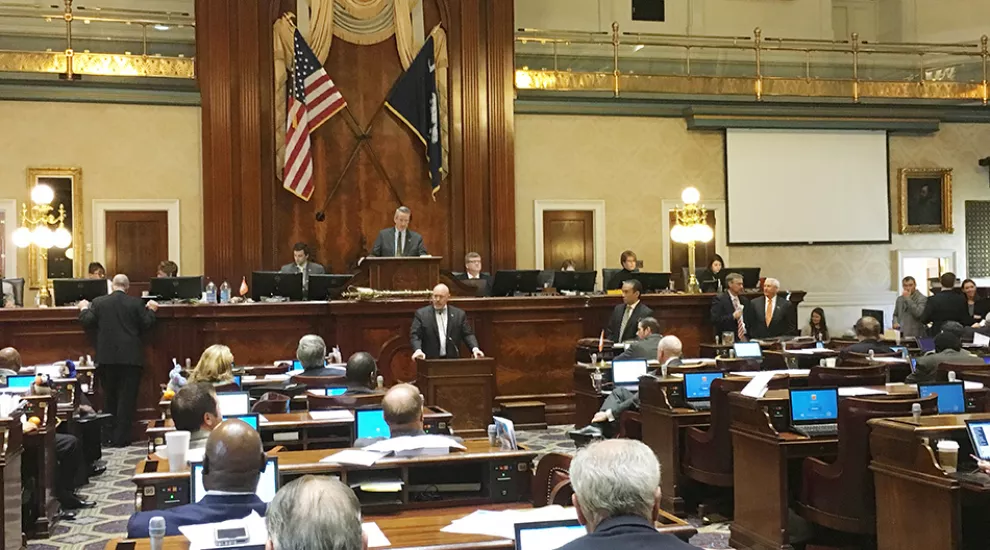 Legislative Update
March 7, 2017
Vol. 34, No. 9
Legislative Update, March 7, 2017 HOUSE WEEK IN REVIEW
The House of Representatives amended, approved, and sent the Senate H.3516, a bill revising INFRASTRUCTURE FUNDING AND GOVERNANCE as a means of providing reliable sources of additional revenue for addressing South Carolina's deteriorating roads and supporting the infrastructure system needed for public safety, quality of life, and economic development. In order to increase infrastructure funding by an estimated $177 million in the first year and an estimated $532 million a year upon full implementation, the legislation increases existing fees and establishes new fees to allow for more effective collection of revenue from all those who make use of South Carolina's roads, including out-of-state residents and businesses. The legislation provides for an increase in the state's motor fuel user fee of 10 cents a gallon that is phased in gradually with an increase of 2 cents each year over the course of five years. The increase is expected to generate $69 million in the first year and ultimately allow for an additional $401 million each year for the state's roads. The first 2 cents of revenue is devoted to the South Carolina Department of Transportation's Rural Road Safety Program. An increase is phased in for the C-Funds that are distributed to counties so that the current 2.66 cents of the motor fuel user fee allotted for C-Funds will rise to 3.99 cents. Ultimately allowing for an additional $52 million a year for county infrastructure priorities, the additional C-Fund revenue must be used only for repairs, maintenance, and improvements to the state secondary highway system. A $16 dollar increase is provided for the state's biennial motor vehicle registration fees to generate an estimated $25 million a year. New fees are established for vehicles that make little or no use of the gasoline and other motor fuels that have been the traditional revenue source for infrastructures needs. Biennial fees of $60 for hybrid vehicles and $120 for electric vehicles are established to generate an estimated $1.35 million a year. The state's motor vehicle sales tax is eliminated and an infrastructure maintenance fee is established instead. In making these changes, Education Improvement Act funding is held harmless so that the EIA continues to receive the level of funding it has been allotted in the collection of sales taxes on motor vehicles. For a vehicle purchased in South Carolina, the one-time infrastructure maintenance fee is set at 5% with a cap of $500 and is collected by dealers at the point of sale. For a vehicle purchased in another state and registered in South Carolina, the one-time fee is set at 5% with a $250 cap. Collected by the Department of Motor Vehicles upon initial registration, the fee is expected to produce $20 million a year in previously uncaptured revenue. Active duty military, spouses, and dependents are exempt from this fee for transferring vehicles into the state. The infrastructure maintenance fee is expected to produce $90 million each year in new revenue for roads. In order to collect revenue from out-of-state truckers, a motor carrier road use fee is imposed on large commercial vehicles instead of property taxes. Expected to generate $9 million a year in new revenue, the fee is based on fair market value, the average statewide millage rate, an assessment ratio of 9.5%, and the portion of miles driven in South Carolina compared to total miles driven. With the exception of shielded Education Improvement Act funding and C-Fund increases, the revenue generated by the legislation is to be deposited in a newly-created Infrastructure Maintenance Trust Fund to be used by the Department of Transportation only for repairs, maintenance, and improvements to the existing transportation system. All interest earned on trust fund deposits is retained by the fund.
The legislation also provides clarifications and revisions for some of the Department of Transportation restructuring provisions approved in Act 275 of 2016. H.3516 clarifies that SCDOT exercises the central coordinating authority over transportation infrastructure funding by authorizing the department to delay transfers of funds indefinitely in the interest of the state's infrastructure needs. Debt service payments on bonds are, however, considered automatic transfers and may not be delayed by the department. While retaining the composition of the commission that oversees the Department of Transportation, H.3516 eliminates the Joint Transportation Review Committee along with the elaborate legislative approval and screening process for the Governor's appointees, and instead simply provides that DOT Commissioners are to be appointed by the Governor upon the advice and consent of the General Assembly. Commissioners serve at the pleasure of the Governor.
The House amended, approved, and sent the Senate H.3726, the RETIREMENT SYSTEM FUNDING AND ADMINISTRATION ACT. This bill implements recommendations of the joint legislative committee formed to study the unfunded liability facing the state retirement systems and propose changes that could allow the state's pensions to remain viable by continuing to deliver benefits to retirees without undermining the state's finances.
H.3726 decouples employer and employee contribution rates into pension systems by eliminating the required differential between the two rates which is currently set at 2.9% for the largest pension plan, the South Carolina Retirement System which serves most state government employees, teachers, various local government employees, and others, and 5% for the Police Officers Retirement System. The legislation provides for a 2% increase in the employer contribution rates for these systems effective July 1, 2017, so that the SCRS employer contribution rate will increase from the current 11.56% to 13.56% and the PORS employer contribution rate will increase from the current 14.24% to 16.24%. Each year thereafter, a 1% increase is scheduled for these employer contribution rates until Fiscal Year 2022-2023. The legislation increases and places a cap on the employee contribution rate for these systems with the SCRS employee contribution rate increasing from the current 8.66% to 9% and the PORS employee contribution rate increasing from the current 9.24% to 9.75%. The assumed rate of return on pension plan investments is reduced from 7.5% to 7.25%. Future changes to the assumed rate of return, beginning with Fiscal Year 2021-2022, are to be recommended by the Public Employee Benefit Authority, with the General Assembly afforded an opportunity to disagree with PEBA's recommendation prior to the new rate taking effect. The total cost contemplated for state general fund agencies and the Education Improvement Act for both SCRS and PORS is $73.6 million for Fiscal Year 2017-2018 and an additional $36.8 million for each of the next 5 years. The amortization period for unfunded liabilities is reduced from 30 years to 20 years over the course of the next 10 years. By applying the 2% employer contribution rate increase in year 1, the funding period will be reduced an additional 3 years in the first year, and an additional $100 million payment would be applied to the negative interest payment, which is now approximately $220 million annually. Provisions are made for how employer and employee contributions are to be reduced should the pension systems reach the point of comparative financial health when actuaries find them to be at least eighty-five percent funded.
H.3726 implements recommendations for improving governance of the retirement systems and simplifying lines of authority which draw upon findings of South Carolina's Legislative Audit Council and the private firm that conducted the independent audit of the state's pension systems. The legislation provides greater definition for the role of the Executive Director of the Public Employee Benefit Authority, who is designated by PEBA's Board of Directors and serves at the pleasure of the board. PEBA's organizational structure is clarified such that all employees are hired by and report to the Executive Director. The legislation provides revisions for PEBA's Board of Directors in order to: extend terms for board members from two years to five years to match terms of the Retirement System Investment Commission; stagger terms so that they do not all expire at the same time; include diversity language for new appointees; allow for board members to be removed only for cause by the Governor; and, require the board to meet quarterly rather than monthly. The Board of Directors and Executive Director are named fiduciaries of PEBA, and penalties are established for failing to fulfill fiduciary responsibilities that are identical to those already established for the Retirement System Investment Commission. The legislation provides greater definition for the role of the Chief Executive Officer of the Retirement System Investment Commission, who is designated by the commission and serves at the commission's pleasure. The organizational structure of the RSIC is clarified such that all employees, including the Chief Investment Officer, report to the CEO. Qualification requirements for the RSIC are revised to allow for a more diverse composition, including commissioners with a significant amount of broad business experience and commissioners with investment experience reliant on professional certifications. Diversity language is included for new appointees. Term limits are provided such that commissioners are allowed to serve two consecutive five-year terms. The legislation provides an additional voting member to avoid tie votes. Rather than serving on the RSIC, the State Treasurer is to appoint a member to the commission. The retired stakeholder position appointed by the commission is removed and an appointment is given instead to the President Pro Tempore of the Senate. An active stakeholder positon is added to be appointed by the Speaker of the House of Representatives. A certification process is added to ensure that commission members meet qualifications. The RSIC is authorized to engage attorneys in consultation with the Attorney General on a fee basis for investment and management of assets. The legislation adds prohibitions regarding lobbyists, placements agents, and investments in which a commissioner has an interest. Fee reporting requirements are included. The commission is authorized to delegate to the CIO, under the direct oversight of the CEO, the authority to invest up to 2% of the value of portfolio assets in publicly-traded investments or up to 1% of assets if the investments are not publicly-traded. The legislation establishes a four-year rotation schedule for fiduciary audits of PEBA and RSIC conducted by a private firm hired by the State Auditor. The legislation simplifies and clarifies fiduciary governance by reducing conflicting and overlapping authority of the State Treasurer, the State Fiscal Accountability Authority, and PEBA. SFAA approval is no longer required for implementation of PEBA policy decisions. The Treasurer is removed as the custodian of the state's five retirement systems. PEBA and RSIC are to be co-trustees of retirement system assets and SFAA is removed as a co-trustee. The PEBA Board, rather than the Treasurer, is to be the custodian of the retirement system assets. The RSIC is afforded the exclusive authority to select the custodial bank that meets qualifications.
The House amended and gave second reading approval to H.3358, legislation that provides a framework for issuing and renewing state driver's licenses and identification cards to bring South Carolina into COMPLIANCE WITH THE FEDERAL REAL ID ACT of 2005. South Carolina's compliance deadline of January 31, 2017, was extended by the U.S. Department of Homeland Security upon the request of former Governor Haley until June 6, 2017, contingent upon the state's commitment to attain compliance. If compliance deadlines are reached without a further extension, South Carolina driver's licenses and identification cards would no longer be accepted where federal law requires the use of REAL ID compliant credentials for establishing personal identity and those who present South Carolina-issued ID will not be allowed to enter federal buildings and military installations, and, beginning in late January of 2018, will no longer be able to board commercial flights at airports. Other, compliant forms of identification would need to be presented, and, in the case of airport security, a United States Passport would be needed to board even domestic commercial flights. South Carolina is currently out of compliance with six of the forty-four provisions of the federal REAL ID Act of 2005. To bring the state into compliance, the bill first repeals the state statute that was adopted specifically to prohibit South Carolina agencies from complying with the provisions of the federal REAL ID Act. In order to comply with federal mandates, the legislation: transitions South Carolina licenses from a ten-year to an eight-year renewal cycle; provides for the inclusion of a Department of Homeland Security approved image, a star, for marking compliant state licenses or IDs; and, makes provisions for scanning and retaining copies of original personal documents like birth certificates, social security cards and proof of residency that are required for establishing identity. A REAL ID compliant card may only be issued to individuals who present all supporting documents required for a compliant credential. The legislation provides an individual the option of obtaining a noncompliant driver's license or identification card lacking the star emblem from the SC Department of Motor Vehicles, with the understanding that the credential will not satisfy security requirements at places, such as federal office buildings, military bases, and airports where REAL ID compliant documents are needed. To begin to meet implementation costs, the legislation authorizes the Department of Motor Vehicles to expend $1.7 million from its current cash balances in order to hire additional personnel and offer Saturday hours of operation at DMV offices in anticipation of public demand for obtaining REAL ID compliant driver's licenses and identification cards. Passage of the bill would indicate to the federal government South Carolina's intention to comply with the mandates; however, even without the changes proposed in the bill, South Carolina has largely become comparable with many aspects of the federal law and similar to other states. In recognition of this, a letter from Speaker Lucas and the Chairs of the House Education and Public Works Committee and Ways and Means Committee dated February 8, 2017, was sent to the new Secretary of Homeland Security John F. Kelly seeking regulatory relief from the six outstanding requirements on the grounds of budgetary limits and South Carolina's continued efforts for compliance, as evidenced by the legislative action taken to advance H.3358 towards enactment.
The House concurred in Senate amendments to S.263 and enrolled the bill for ratification. The legislation makes provisions for the Department of Motor Vehicles to issue "CLEMSON UNIVERSITY 2016 FOOTBALL NATIONAL CHAMPIONS" SPECIAL LICENSE PLATES.
HOUSE COMMITTEE ACTION
EDUCATION AND PUBLIC WORKS
The Education and Public Works Committee met on Wednesday March 1, 2017 and passed out six bills.
The Committee passed H.3256 so as to provide that the Department of Motor Vehicles may issue PALMETTO CROSS SPECIAL LICENSE PLATES for recipients of the Palmetto Cross Medal. The application for a Palmetto Cross Medal special license plate must include proof the applicant is a recipient of the Palmetto Cross Medal. (The Palmetto Cross Medal is a National Guard award presented by the Adjutant General in the name of the Governor to any citizen of the State, military or civilian, who has distinguished themselves conspicuously by extraordinary heroism at the risk of their own life under justifiable circumstances, or who has performed exceptionally outstanding service so as to make a lasting contribution to the State or Nation.)
H.3513, RETIRED EDUCATOR TEACHING CERTIFICATES, was approved by the Committee and provides retired educator teaching certificates for people who meet certain criteria and provides that initial retired educator certificates are valid for thirty years and may be renewed for an additional ten years. Renewal of a retired educator certificate does not require completion of professional learning or renewal credit. An educator who works under the retired certificate must work under a letter of agreement. This does not exempt an educator from taking part in professional development that is required by the local school district. The State Board of Education is to develop guidelines for implementation.
H.3587 was passed by the Committee (amended) and is a joint resolution creating the SEIZURE SAFETY IN SCHOOLS STUDY COMMITTEE to examine issues related to epilepsy and seizure safety awareness in public schools (to be completed before January 31, 2018). These issues include the state of epilepsy awareness among public school teachers, staff, and administrators; basic training in seizure response appropriate for public school teachers, staff, and administrators; existing laws, regulations, and policies affecting epilepsy and seizure safety in public schools; and other areas related to epilepsy and seizure safety in public schools that the committee considers necessary and relevant to its work. The study committee must be composed of fourteen members, four of whom are legislative representatives with the others representatives of the medical, education and parent communities.
H.3793 is a bill passed by the Committee (with an amendment) to change the Higher Education section of the code of laws relating to the mission and goals of institutions of higher learning, so as to authorize certain DOCTORAL DEGREE PROGRAMS at four-year colleges and universities (a doctoral degree in Nursing Practice approved by the Commission on Higher Education at Francis Marion University; a doctor of philosophy degree in Education Administration approved by the Commission on Higher Education at Coastal Carolina University; and a doctor of philosophy degree in Computer and Information Science approved by the Commission on Higher Education at the College of Charleston.
The committee passed with an amendment, S.198 which provides that a minor may apply for a beginner's permit, instruction permit, or drivers' license under the authorization of a responsible adult if the ADULT IS WILLING TO ASSUME THE OBLIGATION IMPOSED FOR THE LICENSES OR PERMITS. The bill seeks to ease and normalize the procedures for adults sponsoring minors under their care for permits and licenses. Specifically, the bill makes changes as to who may sign the application for a beginner's permit or driver's license of an unemancipated minor. In addition to the mother, father, and guardian, individuals responsible for the minor, including individuals appointed by the Department of Social Services, may sign the application. DSS must provide written approval prior to certain individuals signing the application of a minor when DSS has guardianship or legal custody of the minor. The disclosure of information by DSS to the Department of Motor Vehicles in order to provide approval shall not be in violation of dissemination of confidential information.
S.263 as passed by the committee is a bill to provide that the Department of Motor Vehicles shall issue "CLEMSON UNIVERSITY 2016 FOOTBALL NATIONAL CHAMPIONS" special license plates.
LABOR, COMMERCE AND INDUSTRY
The House Labor, Commerce and Industry Committee met on Thursday, March 2, and reported out several bills.
The committee gave a favorable report on S.218, a bill PROHIBITING LOCAL GOVERNMENTS FROM REQUIRING AN EMPLOYEE BENEFIT. This bill revises labor and employment provisions, by providing that counties, municipalities, and other political subdivisions of this state may not establish, mandate, or otherwise require an employer to offer an employee benefit, such as health benefits, disability benefits, death benefits, group accidental death and dismemberment benefits, paid days off for holidays, paid sick leave, paid vacation leave, paid personal necessity leave, retirement benefits, and profit-sharing benefits. The legislation does not limit the authority of political subdivisions to establish benefits for their own employees.
The committee gave a favorable report on H.3653, a bill imposing LIMITATIONS ON NUISANCE SUITS RELATED TO MANUFACTURING AND INDUSTRIAL USES OF REAL PROPERTY. Addressing situations where urban growth has prompted residential development to expand into previously outlying areas where established industrial facilities have long been operating, the legislation imposes limitations on nuisance suits that residents can bring against nearby industrial, manufacturing, and warehousing facilities that are complying with environmental permits and are otherwise operating lawfully. Affording legal protections like those already provided for agricultural operations, the legislation proposes to codify the common law defense of 'coming to the nuisance' in the interest of promoting economic development.
The committee gave a report of favorable with amendments on H.3234, a bill addressing the APPLICATION OF RESIDENTIAL LANDLORD AND TENANT ACT PROVISIONS TO PREMISES USED BY THE OCCUPANT PRIMARILY FOR AGRICULTURAL PURPOSES. This legislation revises exemptions to the provisions of the Residential Landlord and Tenant Act, so as to eliminate the exemption currently provided under the act for occupancy under a rental agreement covering the premises used by the occupant primarily for agricultural purposes.
The committee gave a report of favorable with amendments on H.3649, a bill that provides for various revisions to allow for greater CONFORMITY BETWEEN THE ARCHITECTURE AND ENGINEERING PRACTICE ACTS.
The committee gave a favorable report on H.3861, a bill making revisions needed for MAINTAINING REAL ESTATE LICENSE RECIPROCITY ARRANGEMENTS WITH OTHER STATES. The legislation revises the authority of the Real Estate Commission to recognize nonresident real estate licenses on active status from other jurisdictions which reciprocate, so as to remove the requirement that these out-of-state applicants seeking licensure in South Carolina must complete successfully the state portions of the applicable examinations before their licenses will be recognized.
The committee gave a report of favorable with amendments on H.3792, a bill addressing MINIMUM STANDARDS FOR RESTROOMS AVAILABLE AT MIDDLE AND HIGH SCHOOL FOOTBALL STADIUMS. This legislation establishes new minimum standards for the numbers of toilets and sinks available for men and women at middle school and high school football stadiums as a means of relieving public schools from the financial burden placed upon them by current requirements. The legislation's minimum standards apply notwithstanding otherwise applicable building codes and plumbing codes.
BILLS INTRODUCED IN THE HOUSE THIS WEEK
AGRICULTURE, NATURAL RESOURCES AND
ENVIRONMENTAL AFFAIRS
H.3856 SOUTH ATLANTIC FEDERAL FISHERY REP. HEWITT
This resolution opposes the privatization of South Atlantic Federal Fishery resources through catch share management and efforts through exempted fishing permits or other means to conduct pilot catch share programs or studies.
H.3890 WITHDRAWAL OF SURFACE WATER Rep. J. E. Smith
Beginning July 1, 2017, a person seeking to withdraw surface water for agricultural uses must apply for a permit to withdraw surface water.
JUDICIARY
S.107 JOINT GOVERNOR/LIEUTENANT GOVERNOR TICKET Senator Campsen
Beginning with the 2018 General Election, if the Lieutenant Governor resigns, or is removed from office, the Governor will appoint a successor, with the advice and consent of the Senate. Gubernatorial candidates will select their Lieutenant Governor running mate. The Governor would be responsible setting the duties and responsibilities of the Lieutenant Governor. Requires the Governor and Lieutenant Governor to be elected jointly. They will be considered as a single candidate regarding campaign contributions or establishing election committees. Revises contribution amounts for candidates, including statewide candidates and jointly elected candidates. Future contribution caps could be increased based on the changes in consumer price index. Revises statutory references from President Pro Tempore of the Senate to Senate President.
S.118 MAGISTRATES COURT JURISDICTION Senator Campsen
Increases Magistrates Court civil jurisdiction from $7,500 to $10,000. Requires mediation for any case with $5,000 or more in controversy. Excludes landlord and tenant cases from mediation.
S.168 PROSTITUTION PENALTIES Senator Shealy
Strengthens penalties for soliciting a prostitute, establishing or keeping a brothel, or enticing anyone to participate in prostitution. Establishes the affirmative criminal defense of being a victim of human trafficking. Establishes penalties for soliciting, causing, or inducing anyone with a mental disability to become a prostitute.
H.3860 TRAFFICKING IN HEROIN AND SYNTHETIC OPIATES Rep. Fry
Definitions and other information relating to illegal drugs, including heroin, synthetic opiates, and other drugs, will be standardized. These revisions will be made to our state Schedule I and II controlled substance possession, distribution, and trafficking criminal statutes.
H.3862 CHILD SUPPORT ENFORCEMENT Rep. Henderson
Clarifies what utility companies, cable TV providers, financial institutions and others must provide to aid the SC Division of Child Support Services [SCDCSS] in paternity determinations and child support payment collection actions. Establishes penalties for failure to comply. Financial institutions must encumber or surrender the assets of delinquent payers, after they are given notice by SCDCSS of any lien or levy filings.
H.3864 CHILD SAFETY SEATS Rep. Bernstein
Revises the age, weight, and position of children who must be secured in approved motor vehicle child safety seats. Children will have to use these seats until they are at least 8 years old, 57 inches tall, and appropriately fit in seat belts designed for adults.
H.3865 SOUTH CAROLINA PREGNANCY ACCOMMODATIONS ACT Rep. Bernstein
Enacts the "South Carolina Pregnancy Accommodations Act." Revises definitions of "because of sex" and "on the basis of sex" when used in the context of equal treatment for woman affected by pregnancy, childbirth, and other related medical conditions. Unlawful employment practices will include any failure to provide reasonable accommodations or notice to employees who have limitations due to pregnancy, childbirth, or other related medical conditions. Allows exemptions to employers who can show undue business operation hardships if required to comply. The South Carolina Human Affairs Commission would be tasked with developing regulations that will set out appropriate accommodations for these employees.
H.3870 COUNTY GRAND JURY EVIDENCE PRESENTMENT AND SESSION RECORDING Rep. Weeks
Limits grand jury witnesses to those listed in an indictment. Prohibits hearsay testimony by law enforcement officers as the sole evidence to obtain a True Bill return by the grand jury. Requires a county grand jury foreman to put any material evidence presented to the grand jury in its records.
H.3871 UNIFORM INTERSTATE FAMILY SUPPORT ACT Rep. Henderson
Updates the "Uniform Interstate Family Support Act" by requiring consents to court jurisdiction to be in the record, correcting typos, and making other technical amendments.
H.3872 CHILD SUPPORT Rep. Henderson
Removes "suggested minimum contribution" language from existing law to instead mandate using state child support guidelines when establishing payments to be made by an absent parent.
H.3879 WORKERS COMPENSATION BURIAL BENEFIT Rep. Davis
The workers compensation burial expense maximum award amount would be increased from $2,500 to $7,500 under this proposed legislation.
H.3880 COUNTY GRAND JURY TRANSCRIPTS Rep. Weeks
County grand jury transcripts, reporter notes, records, and related documents would be retained by county clerks of court as set forth in this bill. Excluded from these records are actual grand jury deliberations and votes.
H.3882 DEATHS DUE TO ILLEGAL DRUGS Rep. Fry
When illegal drugs, controlled substances, their analogues, or other unlawful substances are sold and then causes the death of users, a criminal charge of involuntary manslaughter could be made against the seller or distributor.
H.3883 PYRAMID PROMOTIONAL SCHEME PROHIBITION ACT Rep. Sandifer
Modernizes South Carolina laws covering Ponzi, pyramid, and other such scams under our South Carolina Unfair Trade Practices Act [SCUTPA]. Entitles victims to seek the relief contained in it.
H.3884 TRAFFIC VIOLATION PENALTIES Rep. Clemmons
Adds a new code section to declare certain traffic violations not already classified as felonies to be misdemeanors punishable by fines of up to $100 or sentences of up to 30 days in jail.
H.3885 LEWIS BLACKMAN HOSPITAL PATIENT SAFETY ACT UPDATES Rep. Bannister
New definitions for 'health care practitioner' and 'health care facility' would be added by this law. It also would require health care practitioners to display identification badges while treating patients. These badges must contain practitioners' names, titles, and levels of training, as well as the state licensing boards that regulate their work.
H.3887 PORNOGRAPHY AS A HEALTH HAZARD Rep. Burns
This proposed concurrent resolution would acknowledge pornography to be a public health hazard causing several listed individual and societal harms. Also calls for regulating internet-based pornography.
H.3891 WORKPLACE FREEDOM ACT Rep. Smith
This bill would prohibit employment discrimination based on anyone's sexual orientation or gender identity. Sets out definitions of "sexual orientation" and "gender identity."
LABOR, COMMERCE AND INDUSTRY
S.297 PERFORMING SECURITY OFFICER DUTIES PENDING THE ISSUANCE OF A REGISTRATION CERTIFICATE Sen. Saleeby
This bill revises provisions relating to security officer registration certificates issued by the State Law Enforcement Division, to provide that, pending issuance of a registration certificate, a security officer may perform professional duties for up to thirty days, rather than twenty days, after receipt by SLED of his application for registration.
H.3861 MAINTAINING REAL ESTATE LICENSE RECIPROCITY ARRANGEMENTS WITH OTHER STATES Rep. Hixon
This bill revises the authority of the Real Estate Commission to recognize nonresident real estate licenses on active status from other jurisdictions which reciprocate, so as to remove the requirement that these out-of-state applicants seeking licensure in South Carolina must complete successfully the state portions of the applicable examinations before their licenses will be recognized.
H.3863 EMPLOYEE NEW HIRE REPORTING PROGRAM FOR CHILD SUPPORT Rep. Henderson
This bill makes revisions relating to the Employee New Hire Reporting Program at the Child Support Services Division of the Department of Social Services, so as to clarify that reporting under this program is mandatory and to add reporting requirements.
H.3879 WORKERS' COMPENSATION BURIAL EXPENSES FOR ACCIDENTAL DEATH Rep. Davis
This bill enhances burial expenses payable under workers' compensation laws for accidental death by increasing the maximum payable amount from twenty-five hundred dollars to seventy-five hundred dollars.
H.3886 "SOUTH CAROLINA HOMEOWNERS ASSOCIATION ACT" Rep. Crawford
This bill enacts the "South Carolina Homeowners Association Act" to establish comprehensive provisions governing the operation of homeowners associations including: new requirements for providing potential owners disclosures relating to homeowners association governing documents and financial information; provisions that homeowners association boards may not take action to add or increase HOA fees, fines, and assessments without giving required notice to homeowners; provisions that homeowners may attend meetings at which such actions are to be taken; directives for the South Carolina Real Estate Commission to offer an online instructional course covering the basics of homeowners association management and the rights and responsibilities of homeowners; provisions granting magistrates concurrent civil jurisdiction in certain actions between homeowners associations and homeowners; and, the creation of the Office of Homeowners Association Ombudsman in the Department of Consumer Affairs.
WAYS AND MEANS
H.3867 TAX EXEMPTION FOR LOW INCOME HOUSING PROPERTY OWNED BY AN INSTRUMENTALITY OF A NONPROFIT HOUSING CORPORATION Rep. Herbkersman
This bill revises property tax exemptions, so as to exempt all property devoted to housing low income residents if the property is owned by an instrumentality of a nonprofit housing corporation. For purposes of this legislation, 'instrumentalities' means partnerships, limited liability companies, or other corporations of which the nonprofit housing corporation is a partner, member, or shareholder.
H.3881 "SOUTH CAROLINA TWENTY-FIRST CENTURY HIGHWAY SYSTEM COST BALANCING ACT" Rep. Pope
This bill enacts the "South Carolina Twenty-First Century Highway System Cost Balancing Act" to eliminate the four, five, and six percent income brackets and instead tax those incomes at three and seventy-five one hundredths percent.
The Legislative Update is on the Worldwide Web. Visit the South Carolina General Assembly Home Page (http://www.scstatehouse.gov) and click on "Publications," then click on "Legislative Updates." This will list all of the Legislative Updates by date. Click on the date you need. Also available on the website is a bill summary index, where bills referenced in one or more issues of the Legislative Update are listed in numeric order. Links to the specific text of the Legislative Update issue are provided in the bill summary index.
NOTE: THE LEGISLATIVE UPDATE IS AVAILABLE TO LEGISLATIVE TRACKING SUBSCRIBERS. YOU MAY REGISTER FOR THIS FREE SERVICE ON THE SOUTH CAROLINA GENERAL ASSEMBLY HOME PAGE BY CLICKING ON "TRACK LEGISLATION" (ON THE VERTICAL MENU BAR).
NOTE: THESE SUMMARIES ARE PREPARED BY THE STAFF OF THE SOUTH CAROLINA HOUSE OF REPRESENTATIVES AND ARE NOT THE EXPRESSION OF THE LEGISLATION'S SPONSOR(S) OR THE HOUSE OF REPRESENTATIVES. THEY ARE STRICTLY FOR THE INTERNAL USE AND BENEFIT OF MEMBERS OF THE HOUSE OF REPRESENTATIVES AND ARE NOT TO BE CONSTRUED BY A COURT OF LAW AS AN EXPRESSION OF LEGISLATIVE INTENT.