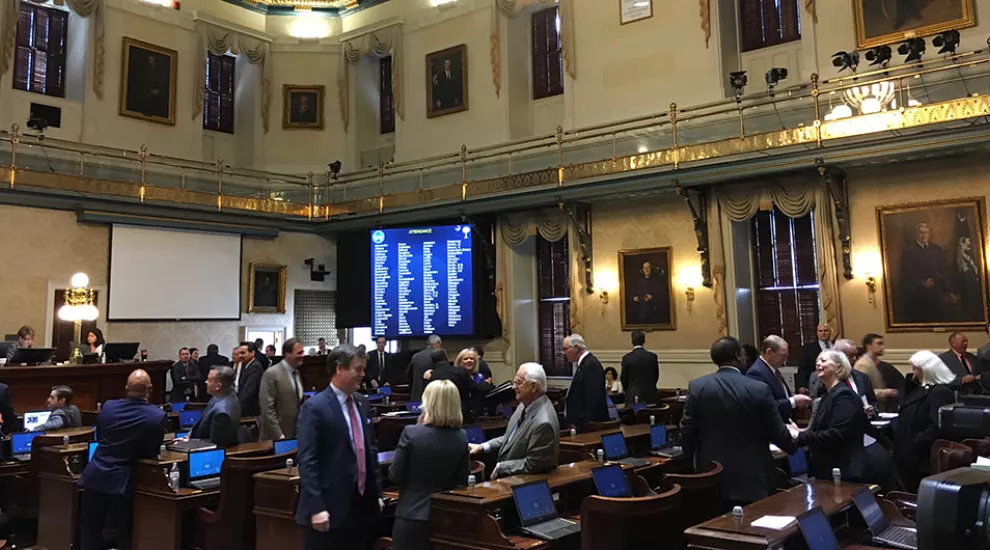 Legislative Update
January 17, 2017
Vol. 34, No. 2
HOUSE WEEK IN REVIEW
On Tuesday, January 10, 2017, lawmakers gathered in Columbia to commence the 122nd South Carolina General Assembly. On Wednesday, the House of Representatives and the Senate sat in joint assembly to receive the Governor's annual State of the State Address. During the week, committees began their work on legislation to report out for consideration by the full House.
The House adopted and sent the Senate H.3456, a concurrent resolution to declare January 2017 as "HUMAN TRAFFICKING AWARENESS MONTH" in South Carolina and to encourage all efforts to raise awareness of, and opposition to, human trafficking in all of its forms.
The House adopted and sent the Senate H.3398, a concurrent resolution to raise the awareness of the Bradley Blake Foundation surrounding the issue of gun violence and to declare the month of June 2017 "GUN VIOLENCE AWARENESS MONTH".
The House adopted and sent the Senate H.3402, a concurrent resolution to declare January 18, 2017, "SC UNITED IN TEAL & WHITE LOBBY DAY" in South Carolina and to encourage all citizens to be aware of the need for early screening for cervical cancer.
The House and Senate adopted H.3400, a concurrent resolution to RECOGNIZE AND HONOR KATHERINE "KATIE" JOHNSON, a South Carolina native and former slave who left a legacy for her descendants that still resounds and inspires today.
The House adopted and sent the Senate H.3457, a concurrent resolution to declare March 6, 2017, the anniversary of the date of the final siege and fall of the Alamo fortress in San Antonio, Texas, as "ALAMO DAY" in South Carolina to honor and remember the seven brave South Carolinians, including William Barret Travis and James Butler Bonham, who died in this fight for freedom and independence.
BILLS INTRODUCED IN THE HOUSE THIS WEEK
AGRICULTURE, NATURAL RESOURCES AND ENVIRONMENTAL AFFAIRS
H.3408 FISHING AND COMBINATIONS LICENSES Rep. Huggins
This bill states that the Department of Natural Resources may issue a combination license or a fishing license to a constable, reserve police officer, volunteer firefighter, or member of the State Guard, at no cost.
EDUCATION AND PUBLIC WORKS
H.3412 SCHOOL CROSSING GUARDS Rep. Howard
This bill specifies that school crossing guards shall carry and use handheld stop paddles.
H.3414 DYSLEXIA SCREENING Rep. Clary
This bill requires the State Department of Education to provide a universal screening tool for use (beginning with the 2017-2018 school year) by local school districts to screen students in kindergarten through second grade for characteristics of dyslexia.
H.3415 LITERACY AND DYSLEXIA Rep. Clary
This bill (relating to requirements for certain teacher certification requirements and for literacy endorsements in the South Carolina Read to Succeed Act) includes training in identifying and assisting students with dyslexia among the required coursework and to make these requirements effective beginning with the 2017-2018 school year.
H.3427 "SOUTH CAROLINA COMPUTER SCIENCE EDUCATION INITIATIVE" Rep. Lucas
This bill enacts the "South Carolina Computer Science Education Initiative" and provides that (beginning with the 2018-2019 school year) public high schools and public charter high schools shall offer certain computer science coursework, require the State Board of Education to adopt and ensure implementation of grade-appropriate standards for computer science and computational thinking for public school students in kindergarten through twelfth grade, provide related requirements of the State Department of Education, and to provide requirements for the Office of the Governor to establish criteria and processes for designating science, technology, engineering, and math communities and regions.
H.3444 "CHARLIE'S LAW" (VEHICLE TOWING) Rep. Bernstein
This bill enacts "Charlie's Law" (relating to the use of safety devices by a vehicle which is towing another vehicle) so as to define the term "vehicle" and to revise the type of equipment that must be used to attach a towing vehicle to a towed vehicle.
H.3470 ALAMO MONUMENT COMMISSION Rep. Govan
This Joint Resolution creates the Alamo Monument Commission to design and establish (on the grounds of the State House Complex) an appropriate statue or monument to honor the memory of the brave South Carolinians who died at the Alamo and to provide for the commission's membership, duties, and related matters.
JUDICIARY
H.3405 ZONING REGULATION AND MAP CHANGES Rep. Ridgeway
Would amend existing laws so that only landowners, their appointed representatives, or governing bodies responsible for the zoning regulations and maps regarding the property, could amend or change any zoning regulations applicable to, or map of, it.
H.3406 WORKERS' COMPENSATION SELF INSURERS Rep. G.M. Smith
The workers' compensation maintenance tax imposed on self-insurers, will continue to be in effect and not terminate in five years after its July 1, 2014 effective date, as the original enactment had provided.
H.3407 STATE PARK ADMISSION Rep. Huggins
Allows constables, police officers, volunteer firefighters, or members of the state guard, who are South Carolina residents, to enter any state park free of charge.
H.3411 VOTING DISQUALIFICATIONS Rep. G.R. Smith
Proposes an amendment for our state constitution to disqualify anyone, convicted of a crime while holding elective office, from voting.
H.3416 ENVIRONMENTAL BILL OF RIGHTS Rep. Neal
This constitutional amendment ballot question would ask voters whether our 1895 South Carolina Constitution should be amended to include an environmental bill of rights. With such an amendment, citizens would be extended the right to enforce the conservation, and protection, of our state environment. Local governments would also be empowered to enact environmental laws, regulations, ordinances, and charter provisions that are more restrictive and protective than ones adopted by state government.
H.3422 STATE GRAND JURY INSURANCE FRAUD INVESTIGATIONS Rep. Huggins
State grand jury authority would be expanded to include insurance fraud. Filing false claims for payment under an insurance policy, under certain conditions, would allow seizure and forfeiture of assets associated with the fraudulent scheme. Revises penalties. The state may petition for the conversion of seized assets into state assets. Sets out when these ill-gotten assets may be disposed of, as well as the disposition of the sale proceeds from their deacquisition.
H.3429 BANKRUPTCY EXEMPTION REVISIONS Rep. Clemmons
The property exempt from bankruptcy proceedings-- as well as attachment, levy, or forced sale-- are revised in this proposed legislation to include the interest of a deceased spouse, up to $50,000 as well as up to $5,000 worth of firearms.
H.3441 WORKERS' COMPENSATION PAYMENTS Rep. Gagnon
Requires workers' compensation benefits to be paid in the form of a check or via direct deposit.
H.3442 NONRESIDENT ADOPTIONS Rep. Delleney
Amends existing adoption laws. Adds circumstances when nonresidents may adopt children in our state.
H.3445 COUNTY RECREATION COMMISSION ABOLISHMENT Rep. Bernstein
This bill would authorize county legislative delegations to abolish county recreation commissions. To do so, county legislative delegations would have to first adopt a resolution transferring all county recreation commission authority to county councils.
H.3446 REMOVAL OF LEGISLATIVE DELEGATION APPOINTEES Rep. Bernstein
County legislative delegations would be able to remove, for cause, anyone the county legislative delegation has appointed, or recommended be appointed, to a board, commission, or council. Removal can only be effected after appointees have been given a written statement of reasons for their removal, and an opportunity to be heard.
H.3447 RECREATION COMMISSION AUTHORITY Rep. Bernstein
Allows a county's legislative delegation to remove the governor's appointment authority over any county recreation commission. After doing so, that commission's authority is transferred to that county's council.
H.3448 SOUTH CAROLINA WHISTLEBLOWER AND PUBLIC EMPLOYEE PROTECTION ACT Rep. Funderburk
Establishes the "South Carolina Whistleblower and Public Employee Protection Act."
Revises the definition of "appropriate authority" to include our state inspector general. Eliminates the $2,000 cap on rewards for reports on wasteful practices that result in taxpayer savings. Establishes a procedure for rewarding multiple employees who report the same abuse. In civil actions against state public employers who have retaliated against public employees who reported violations of state or federal laws or regulations, the one-year limitation on their protection from adverse employment actions is repealed.
H.3459 STATE TRAFFIC LAWS PRE-EMPT LOCAL TRAFFIC LAWS Rep. Bales
Any state statute that regulates highway traffic preempts a local ordinance, rule or regulation that conflicts with it. Local governmental bodies cannot enact any provision that conflicts with a state statute that regulates highway traffic. Deletes any current state laws that allow state political subdivisions to adopt traffic regulations which are not in conflict with state highway traffic laws.
H.3460 VOTING BY MAIL Rep. Cobb-Hunter
Establishes procedures for voting by mail.
H.3461 SEXUAL ASSAULT KIT TRACKING SYSTEM Rep. Cobb-Hunter
Directs the State Law Enforcement Division [SLED] to create a statewide sexual assault kit tracking system.
H.3465 SCDSS ABUSE AND NEGLECT CASES/ TERMINATION OF PARENTAL RIGHTS Rep. Delleney
Changes the definition of a "party in interest" to include former foster parents. Requires the South Carolina Department of Social Services [SCDSS] to provide notice in certain additional circumstances. For permanency planning purposes, SCDSS must give permanency planning hearing notices to listed individuals. Sets out rights for individuals to file motions for case review at any time. Grants certain individuals the right to intervene in child abuse or neglect actions. In termination of parental right cases, certain evidence must be in the record before selecting a permanent child placement plan other than terminating parental rights. Adds circumstances under which nonresidents can adopt children in our state. For consents and relinquishments to adopt a child, allows a person, or agency, to specify a person to whom a consent and relinquishment is directed. Clarifies certain rights of foster parents.
H.3466 CRISIS INTERVENTION TEAMS Rep. Hamilton
Provides definitions of "crisis intervention team" and "technical assistance center council" for Criminal Justice Academy training purposes. Class 1-LE law enforcement officers must complete continuing law enforcement education credits in mental health or addictive disorders. The Law Enforcement Training Council would be authorized to establish a crisis intervention training center. Creates a crisis intervention training council, and requires every county to establish at least one crisis intervention team.
H.3467 GENERAL ASSEMBLY TERM LIMITS Rep. Hamilton
Proposes amending the 1895 South Carolina Constitution so that beginning with those House members elected in the 2020 General Election, or who take office after that date, their service is limited to four consecutive terms. State Senators are similarly limited to two consecutive terms.
LABOR, COMMERCE AND INDUSTRY
H.3418 INSURERS PROHIBITED FROM CONSIDERING MARITAL STATUS AND EDUCATION LEVEL IN DETERMINING PREMIUM RATES Rep. Toole
This bill adds marital status and education level to the list of factors that an insurer may not consider when determining premium rates.
H.3419 INSURERS PROHIBITED FROM REQUIRING A HOMEOWNER TO PURCHASE COVERAGE EXCEEDING THE VALUE OF ALL LIENS AGAINST THE INSURED PROPERTY Rep. Toole
This bill prohibits an insurer from requiring a homeowner to purchase coverage for an amount exceeding the value of all liens against the insured property unless the homeowner affirmatively consents to waive rights granted by this legislation.
H.3421 INSURERS PROHIBITED FROM CONSIDERING CREDIT RATING OR METHOD OF PAYMENT FOR THE INSURED VEHICLE IN DETERMINING PREMIUM RATES Rep. Toole
This bill prohibits an insurer from considering the insured's credit rating or method of payment for the insured vehicle while determining premium rates.
MEDICAL, MILITARY, PUBLIC AND MUNICIPAL AFFAIRS
H.3097 PUBLIC BUILDINGS OWNED BY STATE Rep. Rutherford
Every public building owned by the state, or any agency, office, department, division, commission, or institution thereof, must supply feminine hygiene products in each female public restroom, free of charge.
H.3417 MOBILE BARBERSHOP PERMITS Rep. Henegan
The legislation authorizes the State Board of Barber Examiners to issue mobile barbershop permits, as well as establish permit requirements. The legislation further provide for the regulation of mobile barbershops. "Mobile barbershop" means a self-contained unit in which the practice of barbering is conducted, which may be moved, towed, or transported from one location to another. A mobile barbershop includes a portable barber operation.
H.3420 SHINGLES VACCINATION STUDY COMMITTEE Rep. Herbkersman
This bill creates the Shingles Vaccination Study Committee to study whether it is in the public interest for the Department of Health and Environmental Control (DHEC) to establish a shingles vaccination program to offer the vaccination for shingles (herpes zoster) to individuals sixty years and older.
H.3428 PROCESS FOR COMPLAINTS FROM VETERANS REGARDING COUNTY VETERANS' AFFAIRS OFFICERS Rep. J. E. Smith
This bill provides that the director of the Division of Veterans' Affairs shall receive and respond to complaints from veterans regarding county Veterans' Affairs Officers. The Director of the Division of Veterans' Affairs shall forward the complaint, along with a recommendation, to the appropriate legislative delegation for its consideration and final determination.
H.3438 DRUG SUBSTITUTIONS Rep. Henderson
In current law under the Drug Product Selection Act" the term "substitute" means to dispense, with the practitioner's authorization, a 'therapeutically equivalent' generic drug product of identical drug salt. This bill changes the definition of "substitute" to include an interchangeable biological product in place of the biological product ordered or prescribed. The bill further allows a pharmacist to substitute an interchangeable biological product for a specific biological product and allows pharmacists to substitute interchangeable biological products when appropriate.
H.3440 SOUTH CAROLINA COMMISSION FOR THE BLIND Rep. Henderson
In October 2016, the House Legislative Oversight Committee completed the studies and investigations of this agency to determine if the laws and programs were being implemented in accordance with the intent of the General Assembly. As a result, this bill, in agreement with the Committee's recommendations, requires three members of the Commission to meet the legal definition of blindness. In addition, the bill outlines the Commission to employ qualified itinerant counselors instead of teachers to assist teachers in public or private schools who are responsible for the teaching of visually handicapped students.
H.3450 "ELECTROLOGY PRACTICE ACT" Rep. Spires
Among many things, this bill provides requirements for the work of electrology to ensure minimum standards of competency, protect the public from misrepresentation of status and qualifications by persons who hold themselves out to be 'licensed electrologists. "Electrology" means the art and practice relating to the removal of hair from the normal skin of the human body by application of an electric current to the hair papilla by means of a needle or needles so as to cause growth inactivity of the hair papilla and thus permanently remove the hair.
H.3469 DIRECTOR OF THE DIVISION OF VETERANS' AFFAIRS Rep. J. E. Smith
The bill outlines that the director of the Division of Veterans' Affairs must be a veteran. As a result, the revised definition of "veteran" means a person who served in the active military, naval, or air service, and who was discharged or released from that service under conditions other than dishonorable. The bill also revises the minimum active service duty requirement for appointment to county veterans' affairs officer.
WAYS AND MEANS
H.3409 FREE ADMISSION TO THE STATE MUSEUM FOR CONSTABLES, RESERVE POLICE OFFICERS AND FIREFIGHTERS Rep. Huggins
This bill provides that a South Carolina resident who is a constable, reserve police officer, member of the state guard, or volunteer firefighter may enter the State Museum without charge by presenting an identification card or badge.
H.3410 DOUBLING THE MINIMUM FUNDING LEVEL OF THE ATTORNEY GENERAL'S INSURANCE FRAUD DIVISION Rep. Huggins
This bill revises provisions relating to the Insurance Fraud Division of the Office of Attorney General, so as to increase the minimum funding appropriations for the division from two hundred thousand dollars to four hundred thousand dollars.
H.3413 EXEMPTION FROM CREDITOR PROCESS FOR INTEREST OF AN INDIVIDUAL UNDER A RETIREMENT PLAN Rep. Clemmons
This bill revises provisions relating to an individual retirement account being exempt from attachment, levy, and sale, so as to eliminate the provision that the exemption applies only to the extent that is permitted in Section 522(d) of the Federal Bankruptcy Code.
H.3439 SOUTH CAROLINA MOTION PICTURE INCENTIVE ACT REVISIONS Rep. Henderson
This bill revises the South Carolina Motion Picture Incentive Act to provide that, from the funds set aside for the program, any funds committed to film projects and any uncommitted funds must be carried forward from the prior fiscal year and must be used by the department for the same purpose. The funds must be placed in a separate and distinct fund before July thirtieth of the current fiscal year, and the interest accrued by the fund must remain in the fund. From the funds authorized to the department for use in the program, should either the wage rebate source of funds or the supplier rebate source of funds be depleted in a fiscal year, the department may use either rebate source of funds for the purpose of awarding either wage or supplier rebates.
H.3443 MEDICAID ELIGIBILITY Rep. Jefferson
This bill provide that beginning January 1, 2018, an adult sixty-five years of age or younger whose income is at or below one hundred thirty-eight percent of the federal poverty level is eligible for Medicaid as provided for in the Federal Patient Protection And Affordable Care Act.
H.3449 COMPLETE HOMESTEAD EXEMPTION FOR THOSE WHO ARE AT LEAST SEVENTY-FIVE YEARS OLD Rep. Spires
This bill revises property tax exemption provisions, so as to allow an exemption from all property tax equal to one hundred percent of the value subject to tax of an owner-occupied residence if the owner has attained the age of sixty-five years.
H.3463 PROPERTY ASSESSED AS AGRICULTURAL FOR TAX PURPOSES Rep. Martin
This bill provides that if property was assessed as agricultural property or as farm machinery and equipment in 2016, the property must continue to be assessed with the same assessment ratio unless a change of use occurs.
H.3468 TRANSFERABLE TEXTILE MILL REVITALIZATION INCOME TAX CREDITS Rep. Hamilton
This bill revises provisions of the South Carolina Textiles Communities Revitalization Act relating to tax credits allowable for a portion of the expenses incurred by a taxpayer in the rehabilitation, renovation, or redevelopment of a textile mill site, so as to make the income tax credits allowed transferable.
NOTE: THESE SUMMARIES ARE PREPARED BY THE STAFF OF THE SOUTH CAROLINA HOUSE OF REPRESENTATIVES AND ARE NOT THE EXPRESSION OF THE LEGISLATION'S SPONSOR(S) OR THE HOUSE OF REPRESENTATIVES. THEY ARE STRICTLY FOR THE INTERNAL USE AND BENEFIT OF MEMBERS OF THE HOUSE OF REPRESENTATIVES AND ARE NOT TO BE CONSTRUED BY A COURT OF LAW AS AN EXPRESSION OF LEGISLATIVE INTENT.